Ever wonder what supplies you need to keep in your activity closet to ensure that you're ready for any last-minute activities or events? We've shared 7 important supplies that you should always have on hand for activities with your group.
Construction Paper
Construction paper comes in handy as a backdrop for arts and crafts projects, like collages or framing. But it's also great for quick homemade crafts. For instance, use construction paper to create homemade cards for birthdays or welcome home greetings for residents returning to your facility from the hospital. In fact, you can make quick banners to hang in your facility by simply tearing sheets of light-colored construction paper into four pieces, and then using black paint to paint a different letter onto each of the pieces to create a sign. Finally, staple the pieces around curling ribbon to create a quick, homemade banner that says "Welcome Home", "Happy Birthday", or any other sign that you want to make for an activity or event.
Craft Ideas:
Find fun craft ideas using construction paper below:
Paint
Whether it's tempera paint that is easy to wash off, acrylic paint that is permanent, or watercolors that are fun to mix, you definitely need to maintain a supply of paint in your activity closet. It allows you to provide a last-minute project when you need an activity right away, like when an entertainer cancels at the last minute. For instance, you can easily set up a table near a large picture window, and pass out paint and paper for residents to paint the landscape that they see outdoors.
Craft Ideas:
Find fun craft ideas using paint:
View ALL craft blogs here. 
Chalk Pastels
Chalk pastels make anyone look like a true artist. Don't believe us, then just try it out! Simply take a sheet of black construction paper and have residents draw pictures using the colorful chalk pastels. They will create the most amazing pictures because the pastel colors just pop off the dark page. Any other drawing supplies like markers and colored pencils will also add to your program!
Balloons
Do you know the quickest way to brighten up someone's day? Balloons!
They also come in handy for a variety of games and activities:
Fill with dried beans to create bean bags. Simply use a funnel to fill the balloons and then tie off the balloons once they are filled.
Fill with sand to create one-pound weights for your exercise classes.
Inflate and add a marble for a fun game of Crazy Balloon Volleyball (the marble makes the balloon go in unexpected ways).
Inflate with helium and write a point value on each and have residents toss hoops around the balloons to win points.
Crafts & Activity Ideas:
Find fun ideas using balloons below:
Curling Ribbon
Besides tying off your balloons, use ribbon to make last-minute garlands. Simply tie the ribbon around items using one continuous piece of ribbon before hanging. This is also great for around the holidays for crafts, decorating your Activity Room, and also to add to special gifts! Combine colors for each theme or season.
Tissue Paper
Residents can get really creative with tissue paper by creating decorative crafts. For example, wrap toilet paper rolls with orange tissue paper to create pumpkins that can be used as decoration, or show residents how to make autumn flowers by folding colorful tissue paper in an accordion style.
Craft Ideas: 
Find fun craft ideas using tissue paper below:
Yarn
Yarn is essential for your knitting activities. But it also comes in handy with making decorations for the holidays. For instance, wrap Styrofoam cones with green and red yarn to make instant Christmas trees, or teach residents how to weave yarn around sticks to make the God's Eye craft.
Craft Ideas: 
Find fun craft ideas using yarn:
Find more ideas from Notjustbingo on the S&S blog here.
---
About Not Just Bingo: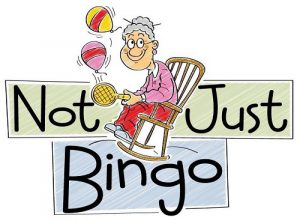 Not Just Bingo is an online resource of fun, senior activity ideas for activity professionals of nursing homes and assisted living facilities. They have been providing fun activity ideas online since 2009, and continue to assist activity professionals across the country by creating meaningful and engaging activity ideas for their residents that go "beyond bingo." Not Just Bingo feels privileged to help activity directors better the living experiences of their residents while demonstrating that a senior's quality of life can actually improve when they move to a nursing facility!
Want even more ideas each month? Sign up for the Notjustbingo Membership to receive specialized activity ideas to keep your residents and staff engaged, active, and having fun!