Need more ideas on how to provide individualized activities for your residents that are still fun? Then consider adding these five clubs to your monthly activity calendar that allows residents to participate in their rooms or to sit socially distant in their doorways:
Latch-Hook Club
Supply club residents with a variety of fun latch-hook kits to complete that they can do on their own. For instance, pass out pretty latch-hook kits like flowers and hearts, or pass out animal latch-hook kits like whales, dogs, and horses.
Puzzle Club
Pass out a variety of different puzzles for residents to fill out. In fact, if your residents are sitting in their doorways, then make a competition out of it by seeing who can finish their puzzle first. Use fun puzzles like crossword puzzles, word search puzzles, and even mazes.
Coloring Club
Encourage residents to showcase their creativity by filling in coloring books using markers and colored pencils. Then once residents have filled in their pictures, provide them with inexpensive frames to hang their pictures on their walls as artwork.
Food Tasting Club
Coordinate with Dining Services to provide a variety of similar items for a weekly taste test for your residents. For instance, pass out plates of three different types of cookies or small cups of three different types of puddings for residents to sample. Then encourage residents to discuss what they liked and didn't like about each food.
Book Club
Provide residents with the URL to access the text of an online book that the residents in the club can all read at the same time. You can also provide them with the books. Then once residents have finished reading the book, encourage them to sit in their doorways to discuss what they enjoyed about the book. If you find that your book readers are scattered throughout your facility, then consider setting up a Zoom call where residents can discuss the book together on video.
Find more ideas from Notjustbingo on the S&S blog here.
---
About Not Just Bingo: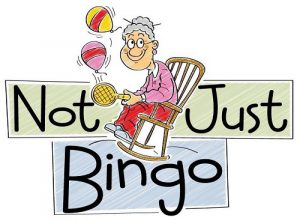 Not Just Bingo is an online resource of fun, senior activity ideas for activity professionals of nursing homes and assisted living facilities. They have been providing fun activity ideas online since 2009, and continue to assist activity professionals across the country by creating meaningful and engaging activity ideas for their residents that go "beyond bingo." Not Just Bingo feels privileged to help activity directors better the living experiences of their residents while demonstrating that a senior's quality of life can actually improve when they move to a nursing facility!
Want even more ideas each month? Sign up for the Not Just Bingo Membership to receive specialized activity ideas to keep your residents and staff engaged, active, and having fun!