A super easy and budget friendly way to create rubbing plates requires some basic supplies, a flat work space and some drying time! This is a great way to explore color and texture using just a few materials that will appeal to creative people of all ages and abilities.
I used inexpensive construction paper and fabric paint to create the rubbing plates. For the sake of visual interest, I used brightly colored paper and contrasting fabric paint but this concept will work with any color paint and paper that you have available. I tend to have a lot of leftover brown construction paper and white fabric paint, this is a great project to try using your excess supplies!
DIY Patterned Rubbing Plate
Materials:
Instructions:
The best part about this process is how easy it is! Simply create all-over patterns by squeezing the fabric paint directly onto the construction paper and lay flat to dry! You can make the plates any size you'd like. I decided to use the full 9″ x 12″ sheets of paper. I found the patterns that were closer together came out more clearly when doing the actual rubbing. The patterns with less paper showing came out the best.
When the paint is dry your rubbing plate is ready to use! This paint dries fast and flattens out a bit but is still dimensional enough to create a nice patterned rubbings using a smooth thin paper and crayons!
A fun way to try out your new rubbing plates is by exploring color and texture with this two-step crayon resist and watercolor activity! This is another easy craft activity that just requires a few basic supplies. Here is a list of the materials needed below.
Crayon Resist Rubbing & Watercolor Activity
Materials:
Instructions
Step 1: Crayon Rubbings
Start by peeling the paper off the top half of your crayons, do this to make the rubbing process easier and faster. On a flat, hard work surface, Place the paper over you rubbing plate and use the side paperless part of your crayon to rub over the textured pattern.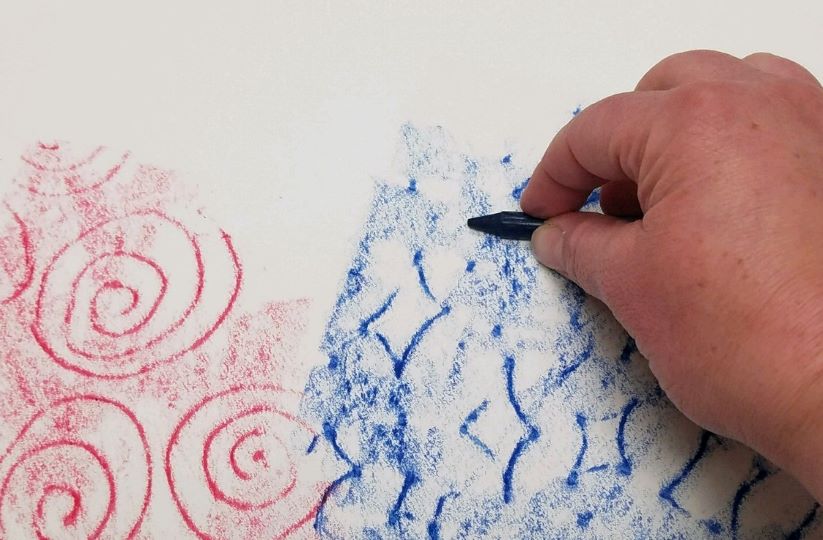 I created a bunch of different patterned rubbing plates, and of coarse I wanted to use them all!  I continued to switch out the patterned rubbing plates and crayons to create an colorful and abstract overall pattern.
Continued this process allowing some of the patterns to overlap. I used our Color Splash crayons that tend to be a softer crayon as compared to a Crayola brand crayon that created a blurry rubbing.
A harder brand name crayon paired with paper that is smooth and thin, helps to create more clear rubbings. I just rolled with the blurry abstract patterns and really like the finished result, even before I painted over the pattern with watercolor paint!
Try this same process using a black crayon for a bold high contrast look. This may not look as exciting as the colorful crayon rubbings after step one is done but after adding the watercolor the patterns really pop!
Step 2: Complimentary Color Watercolor Wash
Brush washes of complimentary color over the crayon rubbing using a soft brush and plenty of water. Do this on color at a time, I started by washing over the red crayon with green watercolor. You refer to the simple complimentary color chart below or create your own design!
| Primary Colors | Secondary Colors |
| --- | --- |
| Red | Green |
| Blue | Orange |
| Yellow | Purple |
Brush complimentary colors over the different patterned crayon rubbings and watch the cool textured patterns appear! Next, I brushed a wash of yellow over the purple crayon rubbing.
The red watercolor wash over the leaf inspired green rubbing really pops!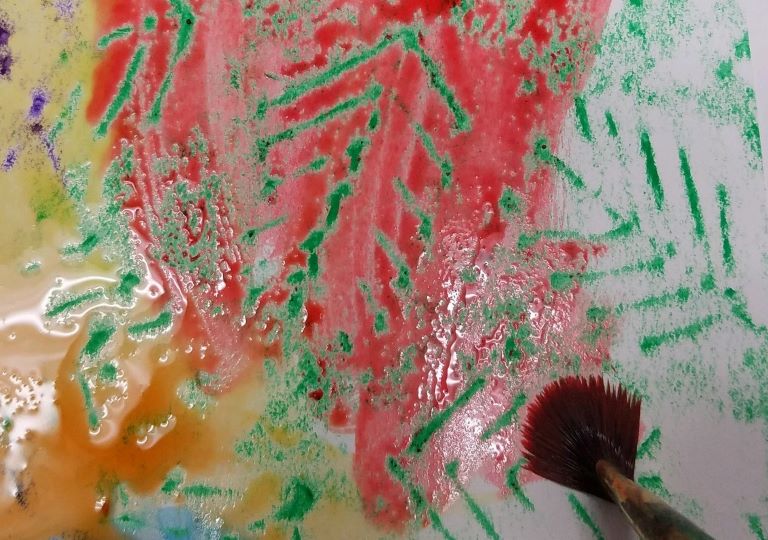 Continue to brush on washes of color until all the crayon rubbing sections are covered! Lay flat to dry. Once the watercolor is dry, hang your colorful creations up on display!
I love this fun process as you never get the same result twice! The colors really seem to pop once the paint is dry. Below is the black crayon rubbing after the watercolor wash has dried.
I've done this same activity to create unique wrapping paper and table covers for craft displays! You can always hang it up as is abstract wall art to liven up any space! You can always use crayon and paint colors to match any holiday theme or event.
Click here for more great DIY craft Ideas!
About the Author:
Kate Algiere aka "Crafty Kate" is our Product/Content Marketing Specialist here at S&S Worldwide. Kate has been with S&S for 13 years and started as an Sales Representative. Since late 2012, she's been a valuable member of our merchandising department.
Kate is a VERY talented artist with great organizational skills. Did you know that Kate is the artist behind many popular velvet art posters and other S&S-exclusive crafts? She's also very involved in testing new crafts to see if they meet our standards for fun and quality.
With Kate's vast knowledge of our products and customers, we think she's the perfect person to take over some blogging/social activities and we hope you all agree!!