With the holidays quickly approaching, encourage residents to create holiday gifts that they can send to their loved ones. Simply set up craft activities that allow residents to personalized pre-made gifts or create the gifts from scratch.
Paintings
Encourage residents to create paintings that they can give to family members that will showcase their talent. For example, for your most artistic residents, provide them with blank canvases that they can paint freehand. However, for residents who may like a little guidance, use craft kits that already have drawings that residents can fill in with paint, sand, or even stickers.
Another fun option is for residents to only use water to paint, in which the design reveals itself once water is brushed onto the picture.
Jewelry
Have fun with residents as you assist them with creating fun jewelry gifts for family and friends. For instance, set up a jewelry station in your Activity Room in which residents can assemble holiday bracelets, decorate wooden bangles, apply glass stain to paint pins, use photos to create personalized pendants, or string faux pearl beads onto jewelry cording to create necklaces.
Personalized Gifts for the Home
Another option is to create fun gifts that would look great in the family home, like personalizing plates and mugs, or creating scratch art frames that family members can fill with pictures to place around their home.
Holiday Gifts
Finally, provide residents with holiday craft kits that allow them to assemble ornaments and decorations that can be gifted to loved ones, like holiday ornaments and snow globe ornaments that are decorated with markers and gems.
Other decorations that can be made include acrylic baubles that loved ones can hang on their trees, holiday snow globes that can be personalized with a picture, and homemade sunburst decorations that family members can hang in their windows.
Also, don't forget about the grandchildren! Be sure to provide residents with stuffed animals that they can decorate and wrap up for Santa to deliver.
Find more ideas from Notjustbingo on the S&S blog here.
---
About Not Just Bingo: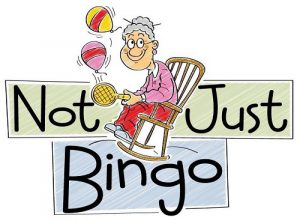 Not Just Bingo is an online resource of fun, senior activity ideas for activity professionals of nursing homes and assisted living facilities. They have been providing fun activity ideas online since 2009, and continue to assist activity professionals across the country by creating meaningful and engaging activity ideas for their residents that go "beyond bingo." Not Just Bingo feels privileged to help activity directors better the living experiences of their residents while demonstrating that a senior's quality of life can actually improve when they move to a nursing facility!
Want even more ideas each month? Visit www.notjustbingo.com for how-to activity ideas, monthly newsletters, and daily holiday ideas. You can also sign up for the Notjustbingo Membership to receive specialized activity ideas to keep your residents and staff engaged, active, and having fun!