A few months ago, your residents probably enjoyed all the armchair travel activities in which they were able to watch travel documentaries in their rooms or spaced out in your Activity Room. But now, your residents may be getting a little bored of the passive activity.
So what can you do? Well one way to liven things up a bit is to turn your Armchair Travel activity from passive to active. Here are 6 ways frm notjustbingo to do just that:
Create a Photo Book – Before the video begins, provide residents with downloaded photos of the city or landmark that will be presented in the video so that residents can create a photo book or collage to document their armchair travel visit. Supply residents with cardstock and glue sticks to create the book or collage.
Serve Snacks – Provide residents with tasty snacks that are relevant to the subject matter in the video. For instance, if residents are watching a travel documentary about the Great Wall of China, be sure to pass out fortune cookies for residents to enjoy.
Use a Sketch Journal – Supply residents with colored pencils and sketch booklets to fill in with their sketches of the famous landmarks that are shown in the video.
Serve a Beverage from the City – Before the video begins, serve a beverage, like a wine from the region or a variation of the way coffee is made in the area, for residents to enjoy while watching the video.
Write a Travel Story – During the travel video, encourage residents to jot down notes that they can use to write a fun travel story afterwards.
Use Zoom – Connect residents on Zoom where you can share your screen of the travel video so that residents can experience watching the travel documentary together while in their own rooms.
Find more ideas from Notjustbingo on the S&S blog here.
---
About Not Just Bingo: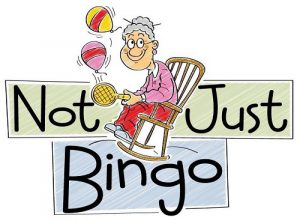 Not Just Bingo is an online resource of fun, senior activity ideas for activity professionals of nursing homes and assisted living facilities. They have been providing fun activity ideas online since 2009, and continue to assist activity professionals across the country by creating meaningful and engaging activity ideas for their residents that go "beyond bingo." Not Just Bingo feels privileged to help activity directors better the living experiences of their residents while demonstrating that a senior's quality of life can actually improve when they move to a nursing facility!
Want even more ideas each month? Sign up for the Not Just Bingo Membership to receive specialized activity ideas to keep your residents and staff engaged, active, and having fun!