Switch up your senior living activities for 2019 by adding in a few fun and unexpected games. Try out one of the following ideas to shake things up a bit with your senior activities.
Host an Axe Throwing Contest
Help your residents take out their frustrations in a fun axe-throwing contest. Set up a safe-to-play foam axe target toss game in your Activity Room. Pass out foam axes to test the throwing skills of your residents, and award points for each successful throw.
Organize a "Cat Fight" Game
If your Activity Room is usually empty in the afternoons, then add the activity "Cat Fight" on your activity calendar to see how many residents are suddenly interested in your afternoon activities. Once residents arrive, supply them with inflatable kitten mitts to wear so that they can participate in a cat fight. Next, set up your volleyball net, and have seated residents use their kitten mitts to hit a balloon back and forth over the net.
Do the Funky Chicken
During your Exercise Class, teach residents how to do the Funky Chicken. However, instead of showing them the 1960s dance, invite them to participate in the fun card game, the Funky Chicken. To play, have residents pick a card to find out which action move they or their team must complete. Play fun music in the background as residents show-off their dance moves.
Take a Trip Around the World
Lead your residents on a trip around the world by playing a fun word search contest. For the activity, pass out Around-the-World word search puzzles for residents to complete. Each week, host this contest to see who can complete their Around-the-World word search puzzle first. Afterwards, start a reminiscing discussion about some of the locations featured in the word search puzzle, and ask residents to share their travel memories of those locations.
Go Camping
Take your senior residents on a fun camping trip while playing Camping Bingo. To play, pass out the camping bingo cards for residents to mark as they learn fun facts about camping from the calling cards. Instead of using the game's bingo squares as the bingo markers, use small pebbles or stones from outdoors to help residents get into the camping spirit.
Blow Off Some Steam
Help your residents blow off some steam by having them use squeeze heads stress balls. Simply pass out the squeeze heads and encourage residents to let out their stress as they squeeze the heads while exercising their hands.
About Not Just Bingo: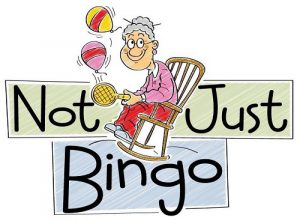 Not Just Bingo is an online resource of fun, senior activity ideas for activity professionals of nursing homes and assisted living facilities. They have been providing fun activity ideas online since 2009, and continue to assist activity professionals across the country by creating meaningful and engaging activity ideas for their residents that go "beyond bingo." Not Just Bingo feels privileged to help activity directors better the living experiences of their residents while demonstrating that a senior's quality of life can actually improve when they move to a nursing facility!
Want even more ideas each month? Visit www.notjustbingo.com for how-to activity ideas, monthly newsletters, and daily holiday ideas. You can also sign up for the Notjustbingo Membership to receive specialized activity ideas to keep your residents and staff engaged, active, and having fun!