There are several patriotic holidays and observances throughout the year that you can celebrate and recongize at your senior facility. Below are 6 patriotic symbols with activity ideas from notjustbingo.com for each.
Patriotic Holidays, Observances, & Days of Honor
Armed Forces Day –  May 16th
Memorial Day – May 25th
D-Day – June 6th
Flag Day – June 14th
Independence Day – July 4th
Labor Day – September 7th
Veterans Day – November 11th
1. Uncle Sam
Host an Uncle Sam Contest in which residents wear their red, white, and blue to dress like Uncle Sam. In fact, inspire your Activity Staff to wear their Uncle Sam attire for the event as well.
Print out and pass around pictures of military recruitment posters for World War II.
Reminisce about World War II rations and victory gardens that were implemented to help Uncle Sam win the war.
2. American Flag
Organize a Red, White and Blue Fashion Show.
Color American flags that can be given out as party favors.
Decorate patriotic puzzles that can be given as gifts to the grandkids.
3. Stars and Stripes
Decorate and fly patriotic kites outdoors.
Make colorful tissue paper stars to use as decoration on each of your residents' room doors.
Sing Yankee Doodle Dandy and other patriotic songs for a Patriotic Sing Along.
4. Betsy Ross
5. Liberty Bell
Provide air-dry clay for residents to make their own Liberty Bell.
Play a tossing game using bell balls.
Organize a Handbell Choir to play handbells to patriotic music.
6. American Eagle
7. Statue of Liberty
Assemble Statue of Liberty wood models with residents
Host an Armchair Travel and take residents on a visit to the Statue of Liberty 
Invite residents to play a fun table game of America-Opoly with the grandchildren
8. White House
Additional Articles for Patriotic Holidays
About Not Just Bingo: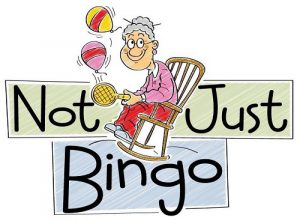 Not Just Bingo is an online resource of fun, senior activity ideas for activity professionals of nursing homes and assisted living facilities. They have been providing fun activity ideas online since 2009, and continue to assist activity professionals across the country by creating meaningful and engaging activity ideas for their residents that go "beyond bingo." Not Just Bingo feels privileged to help activity directors better the living experiences of their residents while demonstrating that a senior's quality of life can actually improve when they move to a nursing facility!
Want even more ideas each month? Visit www.notjustbingo.com for how-to activity ideas, monthly newsletters, and daily holiday ideas. You can also sign up for the Notjustbingo Membership to receive specialized activity ideas to keep your residents and staff engaged, active, and having fun!