Are you planning to celebrate National Activity Professional Week from January 19th to the 25th with your activity staff this year? If you're wondering how to recognize your activity staff, then keep reading to find 6 fun ways from notjustbingo.com to show them how much you really appreciate them.
1. Say Thank You
One of the easiest ways to celebrate Activity Professional Week is to say "Thank You!" You can do so by having residents and administrators sign greeting cards for each of your activity staff members. If, instead, you want to get your residents even more involved, then consider organizing a crafts activity in which the residents make their own DIY cards with markers or colored pencils. They can even create watercolor greeting cards using watercolor sets.
2. Provide Breakfast Treats Each Day
Another fun way to show your appreciation to your activity staff is to provide breakfast for them each day throughout the week. Simply provide a different breakfast treat for your activity staff to enjoy each day. Here are a few ideas to consider:
Danish Sunday – Beforehand, recruit your facility's Baking Club or handy volunteers to help you make a batch of Danishes for your staff members to enjoy on Sunday morning.
Coffee and Donuts Monday – Make your own mini donuts or stop by the local donut shop on your way in to work to pick up a box of donuts for your staff to have as a fun, morning get-together before your morning activities begin.
Breakfast Smoothie Tuesday – Take out your blender to make tasty morning smoothies for your staff using yogurt and a variety of berries.
Waffle Wednesday – Set up a mini waffle maker to deliver made-to-order waffles to your activity staff. Ask Dining Services to whip up a waffle batter for you to use for the activity. Be sure to provide a variety of toppings for your staff to enjoy, like fruit, nuts, and whipped cream.
Oatmeal Bar Thursday – Coordinate with Dining Services to make an extra batch of oatmeal for your staff to enjoy in your Activity Room as your residents are eating their breakfasts in the Dining Room.
Fresh Fruit Friday – Set out a tasty display of fresh fruit, including pineapple, cantaloupe, honeydew, and bananas for staff members to enjoy with their morning coffee.
French Toast Saturday – Reward your hard-working Saturday employees with a tasty French toast breakfast. If Dining Services is unable to make an extra batch of French toast for your staff members, then just plug in an electric griddle to easily make the breakfast treat in your Activity Room.
3. Host a Spa Day (in Your Activity Room)
A fun way to show your appreciation is to schedule a "Spa Day" in your Activity Room, in which you schedule a manicurist to give free manicures to your staff throughout the day. Simply set up an area in your Activity Room for staff and interested residents to make appointments during the day to get professional manicures. Set up an aromatherapy station with a diffuser and essential oils to give off a relaxing vibe.
4. Pass Out Swag
Contact your Administrators to see if they have swag that you can give out in swag bags (a goodie bag loaded with promotional items or samples) to your activity staff, like shirts or mugs featuring your facility's logo. If not, no worries. Simply recruit your residents to help you make the swag, like designing mugs or even making tie-dyed t-shirts (using a tie-dye kit). Then encourage your staff to use or wear their swag some time during the week.
5. Host an Awards Ceremony
Organize an awards ceremony where you can honor your staff members in front of other staff members, residents, and family members. First, pick out an exceptional characteristic for each staff member (e.g., most energetic, best karaoke leader, most likely to get residents up and dancing, etc.) and then create certificates to pass out to each of your activity staff members during the ceremony. Also, don't forget to reward the care staff who help take your residents to and from activities, as well as those who step in to help lead activities when needed. (Be sure to let their boss know how helpful they are in your activity program.)
6. Take a Trip (Off the Premises)
National Activity Professionals Week is the perfect time to plan a fun "field trip" for your activity staff. For instance, invite your administrator to join you as you treat your activity staff at a local restaurant. As an alternative, especially if your staff is competitive, treat them to pizza and a bowling game at your local bowling alley or an afternoon at the local Dave and Buster's restaurant and arcade.
About Not Just Bingo: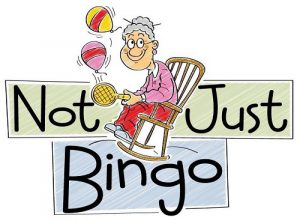 Not Just Bingo is an online resource of fun, senior activity ideas for activity professionals of nursing homes and assisted living facilities. They have been providing fun activity ideas online since 2009, and continue to assist activity professionals across the country by creating meaningful and engaging activity ideas for their residents that go "beyond bingo." Not Just Bingo feels privileged to help activity directors better the living experiences of their residents while demonstrating that a senior's quality of life can actually improve when they move to a nursing facility!
Want even more ideas each month? Visit www.notjustbingo.com for how-to activity ideas, monthly newsletters, and daily holiday ideas. You can also sign up for the Notjustbingo Membership to receive specialized activity ideas to keep your residents and staff engaged, active, and having fun!