Invite the grandkids to your facility to enjoy this last holiday of summer by planning fun activities that celebrate the occupations of your residents. Here are a few ideas from notjustbingo.com to add to your Labor Day festivities.
Labor Day Parade
Host a Labor Day parade in your facility by inviting residents to march in the parade. Along the parade route, ask each resident to stop and give a brief account of their occupation or to just give hints about their occupation so that the spectators can try to guess their occupation. Invite the grandchildren to join in on the parade as well. Ask each of the children to tell everyone what they want to be when they grow up. Be sure to pass out mini flags to the spectators to wave as the parade-goers march past them.
Labor Day Coloring Books
Download coloring pages of people in different occupations for residents to bind together to create mini coloring books to pass out to the visiting kids. In addition, set up a coloring table, with crayons for the kids and colored pencils for the adults, for people to color Labor Day pictures.
Labor Day Interviews
Encourage the grandkids to interview their grandparents about their former occupations. Set up several interview areas throughout your facility with a list of questions for the kids to ask. For those residents who do not have their grandkids there to interview them, consider doing the interviews yourself and recording them to send to the residents' family members.
Labor Day Decorating Party
A few days before Labor Day, recruit residents and any visiting kids to assist you with decorating for the big holiday. Organize craft activities to assemble patriotic decorations, like patriotic pinwheels, necklaces, or fans. In addition, on the morning of Labor Day, inflate lots of red, white, and blue balloons to create a more festive environment. In fact, encourage your residents to challenge their grandkids to a seated volleyball game using the red, white, and blue balloons.
Labor Day Cookout
Finally, coordinate with your facility's Dining Services to host a barbecue in the backyard. Set up several fun games for the kids to play with your residents, like jumbo bowling, a knock-down can game, or a tossing game.
About Not Just Bingo: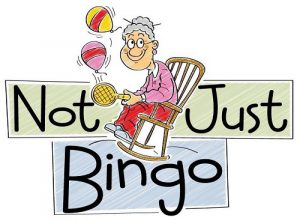 Not Just Bingo is an online resource of fun, senior activity ideas for activity professionals of nursing homes and assisted living facilities. They have been providing fun activity ideas online since 2009, and continue to assist activity professionals across the country by creating meaningful and engaging activity ideas for their residents that go "beyond bingo." Not Just Bingo feels privileged to help activity directors better the living experiences of their residents while demonstrating that a senior's quality of life can actually improve when they move to a nursing facility!
Want even more ideas each month? Sign up for the Notjustbingo Membership to receive specialized activity ideas to keep your residents and staff engaged, active, and having fun!