Are you looking for more fun hand-and-eye coordination activities for your residents? Then look no further than your basic jigsaw puzzle. It's a great activity that can help your residents with their coordination, while also helping them improve their memory and problem-solving skills. So if you're looking for more activities to do with jigsaw puzzles, view these 6 ideas from our friends at notjustbingo.com.
You can also use these ideas to celebrate National Game and Puzzle Week in November! This observance always occurs during the week of Thanksgiving, so it's a great time to plan a Family Game Night and invite all of your resident's family members to your facility for a night of fun.
1. Tournament Jigsaw
Challenge your residents to compete in a fun jigsaw puzzle tournament. For the activity, simply place a different jigsaw puzzle on each table in your Activity Room and have residents compete to finish their puzzle first. Be sure to provide puzzles with the same number of pieces for all your participants.
Also, try to use puzzles that match the puzzle-solving skills of your residents. For instance, if you have residents who are new to solving jigsaw puzzles, then use smaller, simple puzzles like 24-piece puzzles. However, if you have more expert participants, then use more difficult puzzles that have more pieces like 300-piece puzzles.
2. Blindfold Jigsaw
As a fun one-on-one activity, take on your resident to see if the two of you can solve a jigsaw puzzle without looking at the picture. For the activity, first give yourself and your resident one minute to examine the puzzle picture before putting it away and solving the puzzle.
The first time that you attempt this activity, consider using smaller puzzles like an easy 12-piece puzzle. Then once you and your resident get better at recalling the picture from memory, move on to larger puzzles, like a seasonal 35-piece tray puzzle.
3. Partner Jigsaw
Schedule a fun partner jigsaw puzzle as a way for your residents to get to know one another. For example, if you have a new resident, then organize a fun jigsaw puzzle for her and another resident to work together as they chit chat and familiarize themselves with one another.
One idea is to use a puzzle that is of interest to your new resident. For instance, if your new resident is an art lover, then consider providing jigsaw puzzles that feature art from famous artists. Similarly, if your new resident is a dog lover, then provide jigsaw puzzles that feature adorable dogs.
4. Homemade Jigsaw
Have fun with your resident by making a homemade jigsaw puzzle using a family photo of your resident. To make the puzzle, simply print out the image onto heavy cardstock. Then place the cardstock back in the printer to print out a jigsaw puzzle template on the back of the image. Finally, cut out the jigsaw pieces and have your resident put the puzzle together.
As a fun gift idea, take a picture of your resident and have her make multiple jigsaw puzzles of her image to give to her loved ones as gifts for the holidays.
5. Hallway Jigsaw
Instead of having residents go to your Activity Room to complete a jigsaw puzzle, consider setting up a small table along one of the hallways in your facility. Simply find a less traveled hallway, and invite residents to stop by to work on the puzzle. By placing the puzzle in the hallway, you can encourage even more residents to spend a few minutes each day working on the puzzle.
In addition, consider using puzzles that relate to the current time period. For instance, set out a penguin puzzle on World Penguin Day in April or a giraffe puzzle on World Giraffe Day in June.
Share with us your favorite puzzle themed activity!
Find more ideas from Notjustbingo on the S&S blog here.
---
About Not Just Bingo: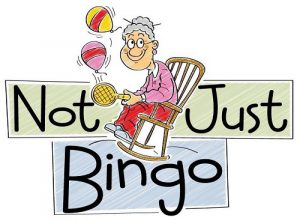 Not Just Bingo is an online resource of fun, senior activity ideas for activity professionals of nursing homes and assisted living facilities. They have been providing fun activity ideas online since 2009, and continue to assist activity professionals across the country by creating meaningful and engaging activity ideas for their residents that go "beyond bingo." Not Just Bingo feels privileged to help activity directors better the living experiences of their residents while demonstrating that a senior's quality of life can actually improve when they move to a nursing facility!
Want even more ideas each month? Visit www.notjustbingo.com for how-to activity ideas, monthly newsletters, and daily holiday ideas. You can also sign up for the Notjustbingo Membership to receive specialized activity ideas to keep your residents and staff engaged, active, and having fun!