If you have residents who like to fidget throughout the day, then try to provide them with simple activities that they can easily capture their attention while keeping their hands busy. Here are 3 types of activities from notjustbingo.com to consider for your restless residents.
Lap & Tabletop Activities
Lap activities are great for your wheelchair bound residents, as your residents can easily hold them in their lap. For instance, use an activity pillow or an activity apron that provides a variety of lacing, buckling, and zipping activities for your residents. A smaller option is the fidgety bag that allows residents to easily move beads back and forth.
In addition, muffs that residents can easily fit on their hands work well too. Use an activity muff to help residents with their fidgety hands.
Use squishy discs, giant bead balls, massage balls, or even giant bubble balls to help your residents get a fun finger workout while keeping busy. You can also provide residents with squishy toys that they can squeeze after decorating them with markers.
Another option is to provide your residents with fidget widget tools that they can easily hold while engaging in the repetitive motions that keep them calm.
Lacing Activities
Lacing activities provide residents with a fun project where they can use their fingers to lace an image or pattern. For instance, residents can use lacing cards where they can improve their hand-eye coordination by stringing large laces in jumbo lacing cards that feature images of cute animals or vegetable gardens which is great for a nutrition theme.
You can use a geo shape lacing set to for residents to experiment with color, patterns, letters, and pictures within the frames.
If you also want to help your residents improve their color and pattern recognition, then use a rubber band and peg pattern card set that allows them to add colorful rubber bands to the pegs on the board.
Games
Schedule fun games that will keep your residents' hands occupied. For example, set up a fun tactile matching maze that allows your resident to match up patterns using blocks, or provide your resident with a catch-a-ball toss game to play. If the catch-a-ball toss game is too difficult, then use the classic paddle ball game for your resident to test out his paddling skills.
Finally, another fun game to play, especially when the grandchildren are around, is the Lite Brite game that allows your resident to be creative with color while sticking the pegs into the pattern.
Find more ideas from Notjustbingo on the S&S blog here.
---
About Not Just Bingo: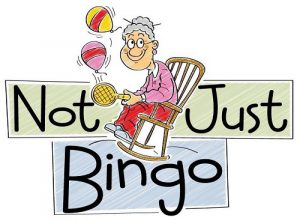 Not Just Bingo is an online resource of fun, senior activity ideas for activity professionals of nursing homes and assisted living facilities. They have been providing fun activity ideas online since 2009, and continue to assist activity professionals across the country by creating meaningful and engaging activity ideas for their residents that go "beyond bingo." Not Just Bingo feels privileged to help activity directors better the living experiences of their residents while demonstrating that a senior's quality of life can actually improve when they move to a nursing facility!
Want even more ideas each month? Sign up for the Not Just Bingo Membership to receive specialized activity ideas to keep your residents and staff engaged, active, and having fun!