The holidays are just around the corner and the winter season upon us! It can be tough to find activities that are not specific to the Christmas holiday, so we put together a list of winter craft ideas that anyone can enjoy no matter what holiday they celebrate. These crafts can be used in classrooms, afterschool programs, and make great gifts for the season.
Snowman Ornament
Our fillable ornaments can be used to make these adorable snowmen! Fill them with white material, like Poly-fil, cotton balls, or just white paper cut into pieces. You can also paint the inside with white acrylic paint, or spread clear glue on the inside and shake glitter onto it. Then draw a face with permanent markers, or use a hole puncher and glue black dots for the eyes and mouth. You can also use orange sticky felt for the nose.
Pom Pom Wreath
These mini wreaths are a super easy winter craft for kids. Choose a color pattern you'd like, whether it's holidays colors or winter colors. String the pom pom beads onto a chenile stem. Wrap the ends of the stems together to close the wreath. Tie mini yarn around the wreath so you can hang it up, and then add a bow using trim or ribbon!
Snow Globes
Our Color-Me Snow Globes are perfect for winter crafting. They can be decorated in so many fun ways. Draw your artwork on the paper insert, fill the globe with water, then place the paper into the center slot! Watch glitter and snow fall around your creation. For ideas and a tutorial, view our Snow Globe Craft Ideas for the Holiday blog.
Paint Stick Snowman & Reindeer Ruler
Kids can measure how much snow has fallen with a snowman or reindeer paint stick ruler! This is a fun hands-on craft activity that allows kids to learn and enjoy the outdoors! View the step by step instructions how to make them here.
Penguin Paper Craft 
How cute are these penguins? Our very own Crafty Kate came up with a fun way to use paper to create penguins with moveable heads! You can make a whole family, large and small. View our DIY Paper Penguin blog post including a video tutorial for step by step instructions on how to make them. It's a great craft if you're on a budget, since you only need construction paper, glue, and wiggly eyes!
Polar Bear Mask
This fuzzy polar bear mask is definitely our favorite winter craft! Use our animal masks or blank cardboard face masks to make your own winter characters. To make the polar bear, cut out circular ears from construction paper and glue them to the existing ears, just to make them a bit more round. Add pink construction paper. For the nose, glue a black pom pom onto a small craft cup and draw a smile, then glue the cup onto the center of the mask to give it a 3D look. To make it look fuzzy, pull apart pieces of cotton ball and glue them along the entire surface of the mask. Add a craft stick so kids can hold it up to their face!
Mitten Stringers
A perfect decoration for your classroom or afterschool program! These mittens can be colored with markers or paint, and you can add stickers, gems, and glitter to personalize them even more. Each string comes with 3 pairs of mittens, so you can make it a group activity! Have 3 students each decorate one pair of mittens that are strung together. Then you can have the entire class tie their mittens together for a fun collaborative winter craft project.
Winter Hat Craft
This simple paper craft is great for young kids. Use a printable template like this one from Easy Peasy and Fun or create your own. Kid can use color pencils, markers or crayons to color and design their winter hats. Then, add some cotton balls for warmth.
Craft Stick Snowflakes
Make beautiful snowflakes using craft sticks! Paint them white, blue, gold, or any other seasonal color using acrylic paint. Then add craft trims like: glitter, buttons, gems, stickers, and more. We love the snowflakes made by Crafts by Courtney. You can also use glitter glue to decorate the snowflakes, like the one shown below by Not So Idle Hands.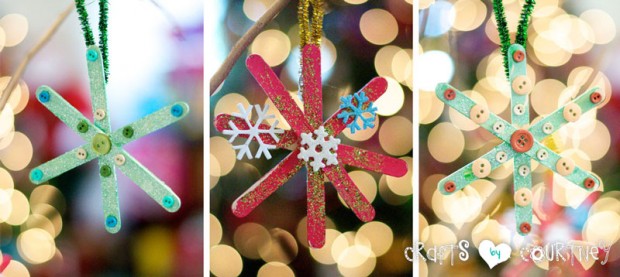 Winter Pine Trees
Decorate your own wood pine tree for the winter season! Kids can create their own unique treee and then display them together to create a holiday forest. View the tutorial here.
Find even more winter craft ideas here!