Need help decorating your facility and your residents' rooms for the winter? Here are a few easy decorating tips from notjustbingo.com to help your residents enjoy the winter season!
1. Decorate the Windows and Walls – Use window markers or chalk markers to draw snowflakes and winter sayings like "Let It Snow" on your resident's windows for the season. Add a Winter Scene to the wall and bring it to life with the paper cutouts of snowflakes and winter wildlife that come with the set. You can also add a pop-up fireplace to the room for a cozy feel. 
2. Involve Your Resident With the Decorating – Ask your residents to help you make a few decorations for their room. For example, fold a piece of plain white paper several times for your resident to cut out notches to make snowflakes that can be placed in front of her windows. If your resident is unable to assist with the activity, simply ask her for her opinion as to "what goes where" as you begin to decorate the room.
3. Include Hanging Decorations – Add string to a few homemade paper snowflakes to hang throughout your facility or use winter-themed hanging décor, like snowflake banners or snowflake mobiles.
4. Decorate the Bedposts – Wrap your resident's bedposts with blue garland to create a blue and white winter theme for the season. Be sure to also use some light sets on your tree or string them along your facility.
5. Winter-Themed Party Favors– Get your group excited for the winter season with this assortment of winter themed party favors, like novelty glasses, pencils, carnival prizes, and more!
6. Ask Volunteers to Help – Put your resident's name and room number on your volunteer list for volunteers to drop off seasonal balloons to your resident's room on occasion.
7. Don't Forget the Door – Make winter wreaths for residents to place on their room doors by wrapping rope wreaths with holiday garland. Then encourage residents to use the inside of their doors or even a closet door as a place to hang any greeting cards that they receive from loved ones.
8. Decorate Your Resident – Be sure to plan a winter pin craft activity for your residents that can be given to your facility's bedridden residents to wear during the season. For instance, make snowflake pins using these blank round pins along with colored pencils or markers.
9. Involve Family Members – If your resident has grandchildren, ask them to send you winter artwork that can be framed and displayed in your resident's room. Another option is to have child volunteers assist with a winter craft, like coloring a picture to be placed in a snow globe for your resident's room, or snow globe ornaments.
10. Create Wall Art – Dress up your resident's wall with seasonal decorations like a snowman banner that your facility's Craft Club can assemble. If your resident is unable, then have them assist with sewing the banner.
Find more ideas from Notjustbingo on the S&S blog here.
---
About Not Just Bingo: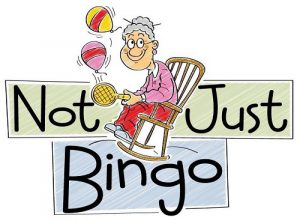 Not Just Bingo is an online resource of fun, senior activity ideas for activity professionals of nursing homes and assisted living facilities. They have been providing fun activity ideas online since 2009, and continue to assist activity professionals across the country by creating meaningful and engaging activity ideas for their residents that go "beyond bingo." Not Just Bingo feels privileged to help activity directors better the living experiences of their residents while demonstrating that a senior's quality of life can actually improve when they move to a nursing facility!
Want even more ideas each month? Sign up for the Notjustbingo Membership to receive specialized activity ideas to keep your residents and staff engaged, active, and having fun!