New Favorite Product Alert! I love our new wooden paint sticks pack. Not the actual sticks by themselves, but the possibilities of activities and crafts you can use them for. Paint sticks are great to use for organization, classroom lessons and of course an unbelievable amount of fun DIY crafts. Here is a list of my favorites from the following categories: Educational Lessons, Organization Ideas, and Crafts.
Educational Lessons with Paint Sticks
Creative Learning:
Identifying the planets in our solar system and what they look like is easy with this paint stick solar system lesson from 123 Homeschool 4 Me. You can even have children paint them! There are so many ideas that stem from an activity like this besides using our solar system. Imagine identifying food groups and the foods in them with vegetables, fruits, meats and dairy. Math lessons using factor families and having the clothespins be the multiplier. So many opportunities to connect children with what they are learning in a fun and visual way.
Book Activity:
What a fun and creative way to deepen the understanding and love for books in children!  Over at Muchkins and Moms are some great ideas on using paint sticks as support activities to books in early childhood. The examples below are from Caps for Sale and There Was An Old Lady That Swallowed a Fly.
Bible Facts Lesson:
Kids are engaged when things are new and fun. The Hands on Bible Teacher Blog came up with this really cool way of teaching bible facts to her students. The Apostles, Fruit of the Spirit, Plan for Salvation, 10 Commandments and so much more can be listed.  As she teaches each new item, the children get to add it to the paint stick.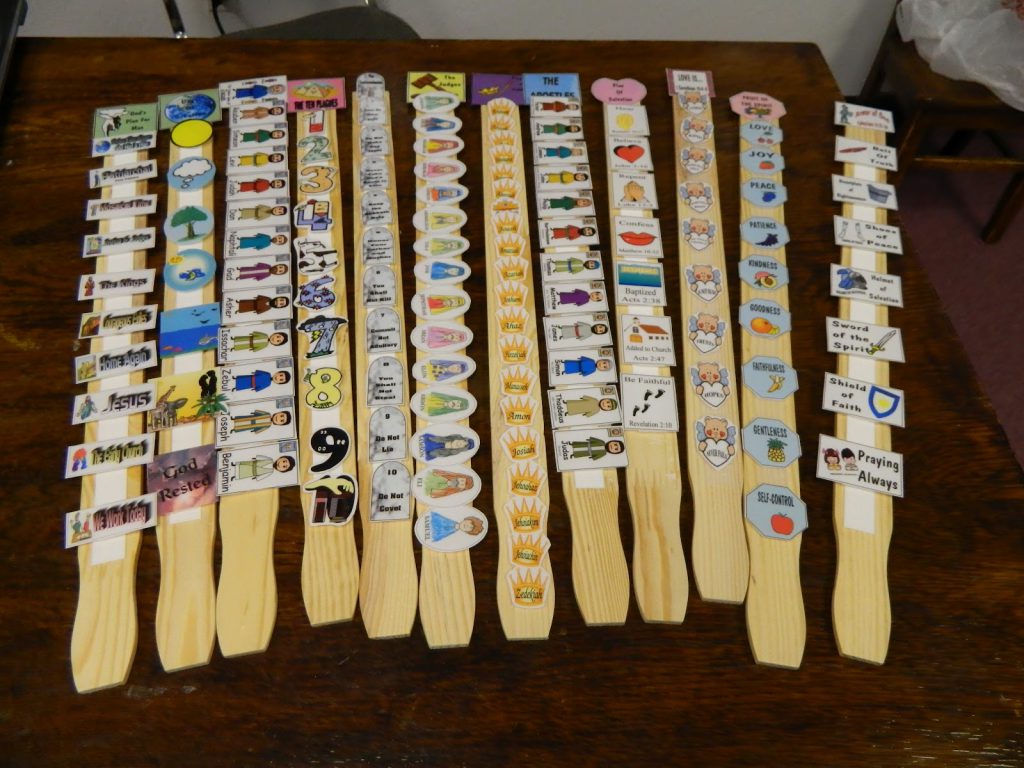 Classroom Organization Ideas
Library Book Divider:
This Pinterest pin from Buzzfeed shows how to use paint sticks as dividers for books! You can use them to organize the books by date of the lesson, alphabetical order, or author.
Hall Passes:
Another great idea from Pinterest! Create colorful hall passes for students to use for the bathroom, library, nurse, and office. You can spray paint them, use mod podge, watercolor, or regular acrylic paint. A fun and affordable teacher tip!
Craft Activities with Paint Sticks
Our friend Amanda over at Crafts by Amanda made this beautiful Wooden Flag with paint sticks. She created a beach themed flag, but this would also be great in red, white and blue or painted as the outline of a state.
Our very own craft expert Crafty Kate used our wooden paint sticks to make cute and silly cartoon animals, like owls, cats, dogs, and chickens. Kids can use their imagination to design their own unique character using markers. Then, they can set up a stage and work together to create a play with their characters!
You can also make a reindeer or snowman ruler for a winter craft to measure how much snow has fallen. Learn how to make them here!
Have one to add to our list?  Let me know below in the comments!