Pick a December afternoon to host a fun Craft Ornaments Party for your residents to help you make ornaments for your facility's Christmas trees and garlands. Here are a few ideas from notjustbingo.com to consider.
Wooden Ornaments:
Invite residents to decorate holiday characters including a snowman, Christmas bear, angel, and gingerbread man. Use colorful paint to make them stand out in vibrant colors on your Christmas trees. Designate one of your facility's Christmas trees or a smaller tabletop tree as your Woodshop Club Christmas tree, and adorn it with the finished crafts made by your club members.
Beaded Ornaments:
Gather the participants of your facility's Beading Club to make pretty ornaments using pipe cleaners and holiday beads. If your residents would rather make specific ones, then supply easy-to-use kits to create candy canes, hearts, or snowflakes. If your residents enjoy this beading activity, then add it to the weekends for residents to hand them out as holiday favors to visitors throughout the holidays.
Stitched Ornaments:
Encourage the members of your facility's Sewing Club to assemble ornaments using sewing kits to make bird and heart. In addition, if you have professional sewers in your club, then ask them to use needle and thread to sew holiday words like "Noel", "Joy", and "Peace" onto fabric that can be hung on your Christmas trees or around the facility.
Simple Ornaments:
Finally, provide easy-to-assemble ornaments, like self-stick kits, for your residents who may have a hard time using wood, beads, or needles. For instance, show residents how to peel-and-stick foam pieces to make foam snowmen. This simple craft also makes for a fun intergenerational activity for your residents and their grandchildren.
Find more ideas from Notjustbingo on the S&S blog here.
---
About Not Just Bingo: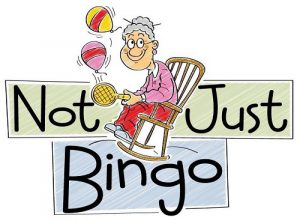 Not Just Bingo is an online resource of fun, senior activity ideas for activity professionals of nursing homes and assisted living facilities. They have been providing fun activity ideas online since 2009, and continue to assist activity professionals across the country by creating meaningful and engaging activity ideas for their residents that go "beyond bingo." Not Just Bingo feels privileged to help activity directors better the living experiences of their residents while demonstrating that a senior's quality of life can actually improve when they move to a nursing facility!
Want even more ideas each month? Sign up for the Notjustbingo Membership to receive specialized activity ideas to keep your residents and staff engaged, active, and having fun!