Decorate your own DIY ornaments to make the holidays even more special! This is one of the most popular craft activities for the winter season. You can personalize these ornaments in so many different ways.
Ornaments to decorate
Color-Me™ Ceramic Bisque Ball Ornament
Create a special keepsake for someone special by decorating this ceramic bisque ball ornament for holidays or other events! We recommend using paints, markers, and more to decorate. This ornaments come in a pack of 12.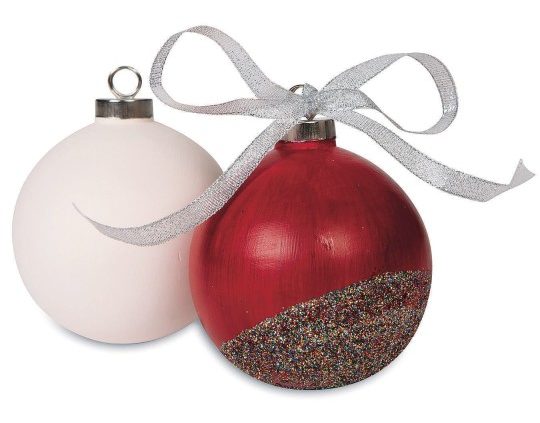 These fillable, paintable plastic ornaments are so versatile for crafting projects! Swirl paint inside, add glue and glitter on the inside, or decorate the outside with glitter, sequins, gems, and stickers. The ornaments come with a silver metal top. These come in 3 different sizes!
Craft Idea: DIY Paint Swirl Ornament Activity
This pack of 12 ornaments comes in either a star shape or round! They are a holiday favorite, but can also be used for year-round crafting fun. Fill the two piece, snap-together ornaments with assorted craft items like pom poms, beads, ribbon, and more. Or, add paint, markers, and glitter to make decorations, ornaments and gifts.
Craft Idea: Top 10 Winter Craft Ideas for Kids
Beaded Ornaments
This kit comes with beads and chenille stems to make a 4″ candy cane and 2-1/2″ wreath ornaments. The pack of 32 makes it a perfect group craft activity.
Snowflake and Icicle Beaded Ornament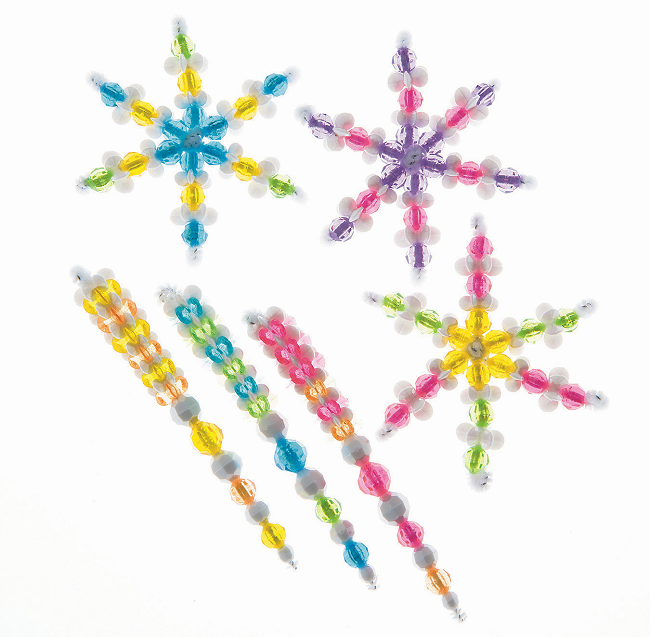 Combine assorted color beads and chenille stems to make snowflakes and icicle ornaments! The pack comes with 48 projects and instructions. Use ribbon to hang them on your tree or as a decoration.
Wood Ornaments
Unfinished Wooden Christmas Ornaments
Make your favorite Christmas characters come to life! This pack of 48 ornaments comes with 12 each of a snowman, gingerbread man, angel, and bear. The prepainted outlines make them easy to decorate. They also come with gold string, making them easy to hang up!
Unfinished Wood Frame Ornaments
Personalize your own ornament or gift tag using our wood frames. This pack comes with hearts, stars, flowers, diamonds, square, and oval shapes to decorate. They can be used for the holidays and all year round.
Paper Ornaments
This pack of holiday shaped ornaments comes with 6 each of 8 different designs. Each ornament design has flat stamped details that make decorating easy! Decorate with markers, crayons, gems and glitter! Use ribbon to hang them on the tree or on a gift as a personal keepsake!
Our exclusive velvet art ornaments come ready to decorate! Use markers, colored pencils, or crayons, then add gems or glitter for an extra sparkle. Hang them in the window, on the Christmas tree as ornaments, or tie them to a gift as a special personalized gift tag!
Holiday Velvet Frame Craft Kit
An adorable gift for kids to give their parents! Just color the white space with marker, then add a personal photo to the center. This makes a great classroom craft activity. You can also hang them on gift bags for family members.
Color-Me™ Embossed Holiday Ornaments
These ornaments come in a pack of 12, with 3 each of the star, Christmas tree, gingerbread man, and snowflake designs cut-out in the center. Color them with marker, then use a dry paintbrush to go over the marker with metallic acrylic paint to get a shimmery look. Add glitter foam, felt, or tissue paper to the back to make the shapes in the center stand out even more. Hang them on the tree, or use as a gift tag!
Craft Idea: Top 10 DIY Christmas Crafts
Color-Me™ Embossed Snowflake Ornaments
Color and decorate your own snowflake ornament! Use markers, colored pencils, glitter, and gems to make them one of a kind. You can also use them as gift tags. Leave a space for the To and From when decorating.
Color-Me™ Snow Globe Ornaments
We love these new snow globe ornaments! This pack of 48 snow globe ornaments is great for groups of kids. Each ornament design has embossed details on the heavyweight chipboard that make it fun to decorate. Use markers, crayons, gems, and glitter. Then add a ribbon or rafia for hanging.
Use markers or crayons to color these cardstock designs on both sides. The pack of 30 comes with 5 each of 6 designs. There is also an idea guide included!
Bisque Ornaments
Color-Me™ Ceramic Bisque Star Ornaments
Decorate these ceramic bisque ornament with paint or permanant markers. The ornaments also come with ribbon for hanging. The pack comes with 24 starts. Note: We do not recommend glazing and firing this item due to the metal ribbon hanger, which is embedded in the clay.
Color-Me™ Ceramic Bisque Tree Ornament
Create your own holiday tree with this 24 pack of ceramic bisque ornaments. They also have a ribbon attached for hanging. We recommend using paints or permanent markers to decorate.
Craft Idea: Top 10 DIY Christmas Crafts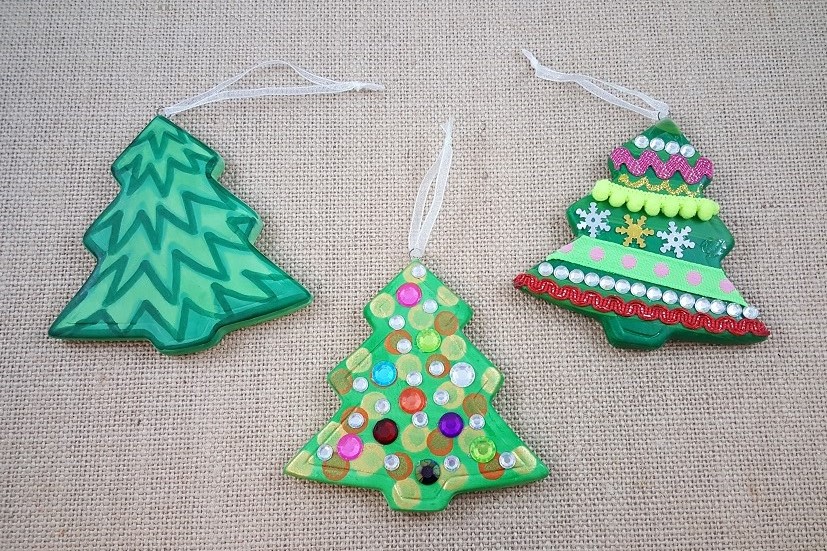 Foam Ornaments
This craft kit makes 72 colorful ornaments, with no glue needed! Just cut the adhesive foam glitter squares into different shapes, and decorate the styrofoam balls! There are so many options that it really encourages creativity.
A super cute snowman ornament for the winter season! Help him bundle up with scarf and fuzzy ear muffs! The pack of 12 includes self-sticking foam pieces, poms, and ribbon.