International Women's Day is March 8th! Help your senior residents celebrate this annual observance with a variety of fun activities that celebrate, remember, and assist women.
Celebrating Women
Celebrate the women in your nursing facility by first decorating your facility with lots of balloons. Choose red balloons or pink balloons to display femininity. In the morning, recruit residents to help you blow up the balloons and scattered them throughout your facility for the day.
As a fun morning activity, invite the women to get to know one another with a fun game of Toss and Talk, in which they toss a ball back and forth while answering fun questions about "women's stuff."
In the afternoon, host an entertaining tea party that is just for the ladies. Coordinate with Dining Services to serve special tea sandwiches and cookies for the women to enjoy with their tea. Before the party, encourage residents to dress up for this annual event. Then at the tea party, present each of the ladies with a rose pin that they can wear for the day.
Remembering Women
In addition, during the day provide interesting activities that allow your residents to remember the great women in their lives and their past accomplishments. For instance, provide residents with journals that they can decorate before using the journals to write about the women who were influential in their lives.
For the activity, simply provide residents with markers to color the journals, and then encourage them to write a few stories about those women in their journals. In fact, ask the female residents to share a few personal stories about themselves in their journals so that they can pass along the personal stories to their loved ones.
Likewise, if your residents are socially conscious, then consider hosting a Women's March in your facility, where residents – both men and women – can make posters and signs before marching through your hallways for a peaceful protest march. After the march, host a discussion group to get residents talking about women's rights and how far they have come.
Assisting Women
Don't forget to include activities that allow your residents to help other women. For example, show residents how to make no-sew fleece blankets and teddy bears that can be donated to a local women's and children's shelter.
Additionally, have the ladies in your facility make their own red hats so that you can host a monthly Red Hat Ladies Club Meeting, where the ladies of your facility get to bond with one another and socialize. You can also use a Red Hat Event Easy Pack to double the fun! Or simply purchase hats that are red with a purple ribbon!
---
About Not Just Bingo: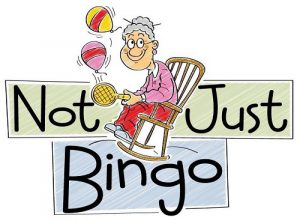 Not Just Bingo is an online resource of fun, senior activity ideas for activity professionals of nursing homes and assisted living facilities. They have been providing fun activity ideas online since 2009, and continue to assist activity professionals across the country by creating meaningful and engaging activity ideas for their residents that go "beyond bingo." Not Just Bingo feels privileged to help activity directors better the living experiences of their residents while demonstrating that a senior's quality of life can actually improve when they move to a nursing facility!
Want even more ideas each month? Visit www.notjustbingo.com for how-to activity ideas, monthly newsletters, and daily holiday ideas. You can also sign up for the Notjustbingo Membership to receive specialized activity ideas to keep your residents and staff engaged, active, and having fun!