To celebrate Earth Day on April 22nd at your senior living facility, host a variety of fun activities throughout the day that get your senior residents thinking about the environment. Check out a few of the following ideas from notjustbingo and add them to your Earth Day festivities.
Plant a Tree
If you have space available in your facility's yard, then purchase a small tree to plant in the yard during a fun Earth Day ceremony. If space is not an option, then invite residents to plant their own small trees in containers using a pine tree planter kit.
Stop Drinking From Bottle Waters
Get your residents to stop drinking bottled water by encouraging them to decorate their own metal bottles that they can keep and reuse. Simply use the markers that come with the kit to decorate the metal containers.
Invite Birds Into Your Backyard
Provide residents with wooden birdhouse kits to decorate before placing outdoors for your neighborhood birds. Additionally, encourage residents to assemble and decorate butterfly houses  that can be set near large picture windows so that residents can sit indoors and watch the beautiful butterflies that are attracted to the yard.
Start a Walking Club
Use Earth Day to convince your residents to walk more as you start a Walking Club in your facility. Each week, lead residents on a walking tour through a different area of your facility. Before the walk, organize a craft activity to have residents decorate their canes with Washi tape or create their own walking sticks with paint.
Fly a Kite!
Put the amazing energy of the wind on display for your residents as you host a fun kite-flying contest in the backyard. First, provide residents with kites to decorate. Then seat residents on your backyard patio and have volunteers try to get the kites into the air before handing the kites back to your residents to fly.
Grow Your Own Vegetables
Recruit residents to organize a garden in your backyard for your vegetables. To make things simpler, start with an herb garden kit that residents can use before transferring the vegetables outdoors to your backyard garden. Supply residents with a variety of vegetable seeds, including cucumbers, bell peppers, tomatoes, and squash.
Start an Environmental Club
On Earth Day, schedule your first Environmental Club, where residents can meet and discuss environmental issues. Organize the club to meet monthly, and plan various types of activities for the club to participate in like a recycling program, a litter clean-up event, or a trash-to-treasure craft class.
Don't forget to plan fun social events, too, like a garden party or a seeding party, in which residents plant flower seeds for the season.
Use Reusable Bags
Provide residents with tote bags to decorate so that they no longer have to use plastic bags. If most of your residents have walkers, then provide them with walker bags to decorate instead.
Teach the Grandchildren About Solar Energy
Invite the grandchildren to your facility to teach them about electrical, solar, and wind energy using an energy workshop kit to conduct fun solar experiments.
Host an Earth Day Fair
Set up tables in your Activity Room and Invite local environmental clubs and leaders to stop by to share information about how your residents can be more environmentally aware. Decorate the room with fun Earth balloons and coordinate with Dining Services to serve a vegetable and fruit snacks.
Start a Wildflower Garden
Find an area in your backyard for residents to plant wildflower seeds to attract beautiful butterflies and bees to help pollinate your vegetable garden nearby.
Donate Old Clothes
Set up cardboard boxes throughout your facility to collect clothes from residents and staff members to donate to a local homeless shelter
Start a Compost Bin
Teach residents about the green practice of composting in your facility's backyard – which can be as simple as burying vegetable trimmings in your garden's soil.
Shop at a Local Farmer's Market
Take a trip to your local farmer's market to view and sample the fresh and seasonal produce in your area.
---
About Not Just Bingo: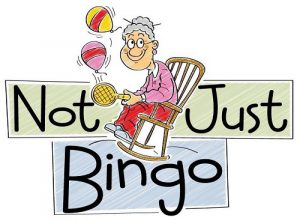 Not Just Bingo is an online resource of fun, senior activity ideas for activity professionals of nursing homes and assisted living facilities. They have been providing fun activity ideas online since 2009, and continue to assist activity professionals across the country by creating meaningful and engaging activity ideas for their residents that go "beyond bingo." Not Just Bingo feels privileged to help activity directors better the living experiences of their residents while demonstrating that a senior's quality of life can actually improve when they move to a nursing facility!
Want even more ideas each month? Visit www.notjustbingo.com for how-to activity ideas, monthly newsletters, and daily holiday ideas. You can also sign up for the Notjustbingo Membership to receive specialized activity ideas to keep your residents and staff engaged, active, and having fun!