Did you hear the Big News? Crafty Kate is Back!
What!? That is just Bananas!
I'm Crafty Kate here at S&S Worldwide, and I'm back in action and excited to share these super fun and silly ideas using a basic craft supply that I hold so near and dear to my heart! Wiggly Eyes!! So let's "Get Wiggly" and bring some new life and expression into everyday objects! Make someone smile today!
Fruits & Vegetables
I find that most produce looks so much better with eyes! I prefer our largest 30mm Wiggly Eyes, but we have all sorts of options available!
Being someone who loves to garden and aspires to mostly eat fruits and veggies, I find the possibilities to be endless and oh so entertaining!  Depending on the size, color and placement of the eyes you can end up with so many different hilarious expressions and GIF making options! 
This activity can really help kids use their imaginations to look at the world around them with a fresh and creative perspective. I like to use the non-adhesive wiggly eyes so I can play with my food, take pictures and then re-purpose the set of eyes elsewhere.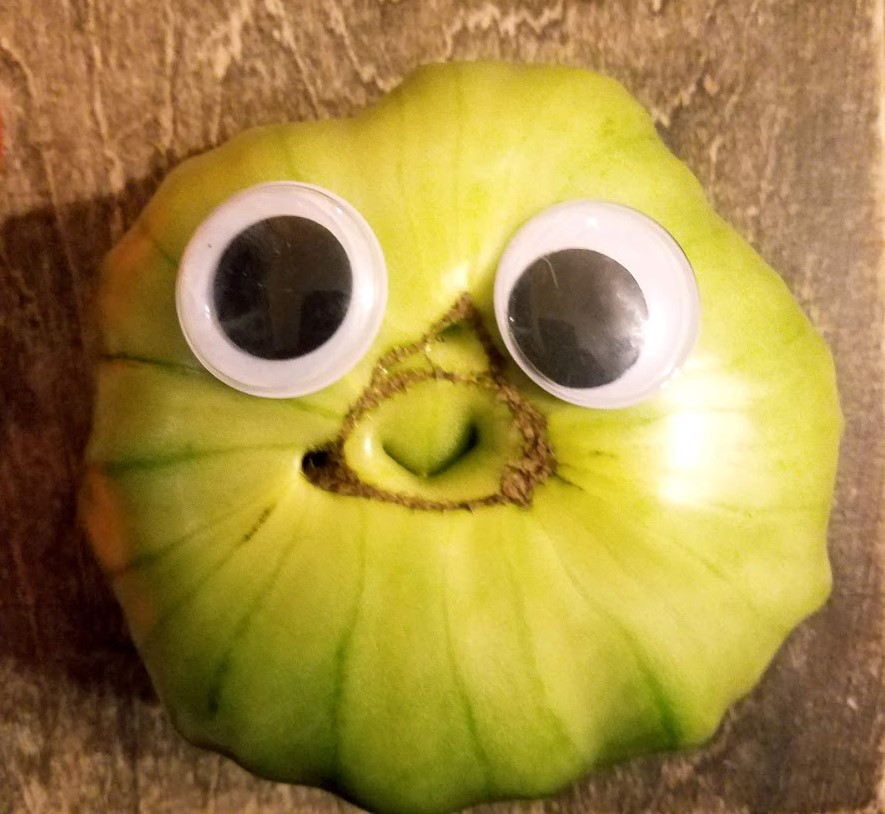 However we do have adhesive backed options for those with less fear of commitment. I have found our peel and stick wiggly eyes come in handy when your trying to eye bomb on the go!
I took this gem at a fall festival last year….Yes, that's right I happen to keep a couple sets of extra eyes and glue dots with me at all times!
You never know when inspiration will strike, so it's best to always be prepared. Sometimes an unexpected opportunity will show up when your out eating lunch with a friend!
I like to take this ridiculous activity to the next level by making up commentary to go along with my creations. For example: This is Sally, It seems she wasn't picked in time and sadly it shows on her face. Yet we still think she's super cute! Sally's just a bit overdue for some fun! 
Once in a great while, something magical will happen! I created this Homer Simpson look alike by mistake after picking some fresh veggies last summer!
Friends & Family
Don't be afraid to let your third eye get wiggly from time to time!! This certainly sparked some joy for my best friend Amy and I, especially when we added silly hats into the mix!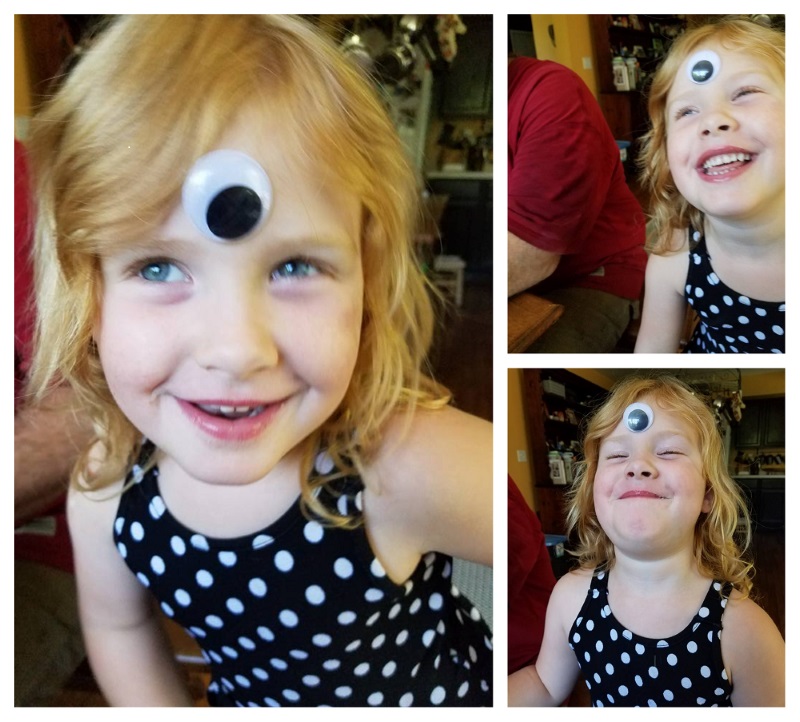 This is my adorable niece Audrey, who loves to let her third eye wiggle just like her Auntie Kate! This is one of our go to Sunday Funday activities!! It truly is the little things in life! Honestly, look at that smile!!
Here's my brother Ben, and all his bearded glory, showing off one of the awesome pool noodle horse's we made last summer for Audrey's 6th birthday party! The kids loved them! 
This is my toy rat terrier Pete. He's on the fence about this sticker eye, maybe because it doesn't wiggle but I think he's a cutie pie either way!
Home and Office
This is one of my all time favorites! Last spring the town was doing road work in front of my house and luckily for me at the end of the day the road crew left their sign right at the top of my driveway!! 
Sometimes large household investments, like my new oil tank that was installed a couple years back, deserves a little wiggle too! Or A lot of wiggle, these bad boys even glow in the dark!
This is that magic I was talking about earlier….This awesomeness happened when I was cleaning up after a family party! My furnace friend turned into an Angry Bird character with just a lean of a chair!!!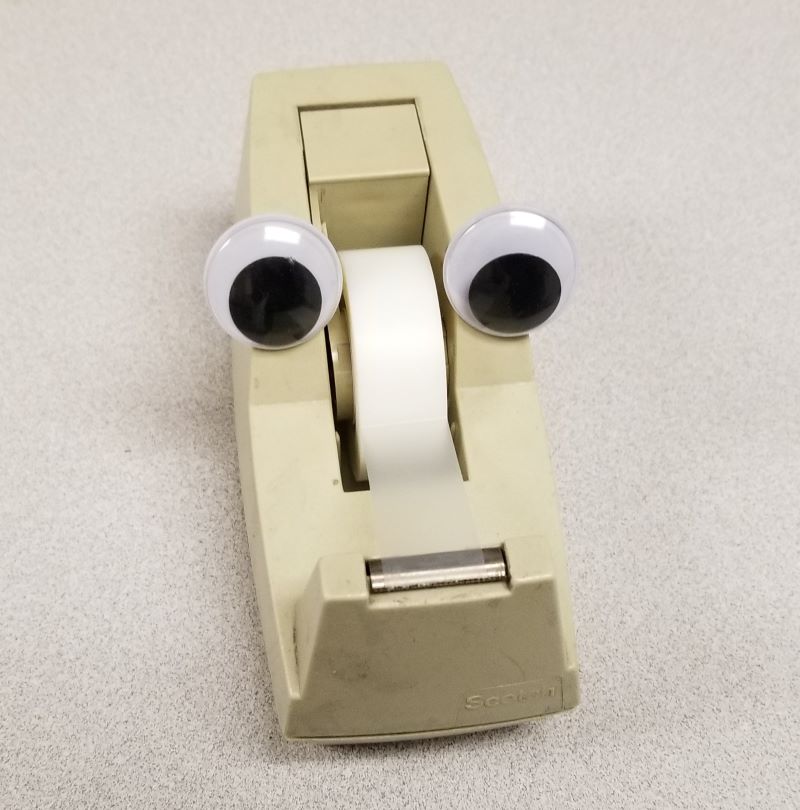 Wiggly eyes are a great tool to help breathe some new life into boring office supplies! 
Workplace Happiness Matters!!
This old wall phone now looks a little like a cute elephant! 
Look how the side handles of my toolbox transform into the face of a bull with a couple wiggly eyes!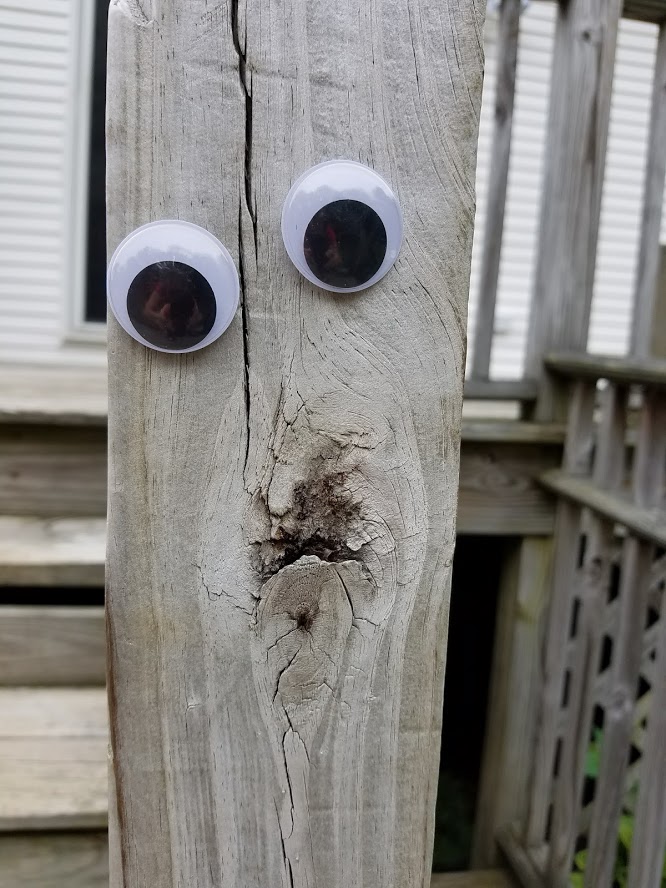 This knot on my deck post was just begging for a set of wiggly eyes!
Arts and Crafts
I made this fun desktop buddy using Plast'rcraft® over newspaper, acrylic paint, mini wooden and terracotta pots, a paper flower and most importantly, a set of our 10mm Wiggly Eyes! 
I think the eye's really made this craft! Learn how to make your own yarn monster here! 
Plants and Garden
Planters and wiggly eyes seem to be a natural fit!
Remember, placement is everything!
Wiggly eyes really worked wonders for this watering can!
Wiggly Eye Fails
As we all know, there are always exceptions to the rule! Just for a laugh, here's a couple examples of the rare instances that wiggly eyes didn't seem to make things better.
Perhaps it was the two different sized eyes but these Wiggly didn't do much for this cute Color-Me™ Animal Clip Bookmark, but it did make me laugh!
The 2nd exception is demonstrated by my friend and fellow wiggly eye enthusiast Liz! It turns out wiggly eyes don't make the best eye-wear accessory but they do provide a very bold and shocking look! LOL 
---
About the Author
Kate Algiere aka "Crafty Kate" is now our Product/Content Marketing Specialist here at S&S Worldwide. Kate has been with S&S for 13 years and started as an Inside Sales Representative. Since late 2012, she's been a valuable member of our merchandising department.
In addition to being a Wiggly Eye enthusiast, Kate is a VERY talented artist with great organizational skills. Did you know that Kate is the artist behind many popular velvet art posters and other S&S-exclusive crafts? She's also very involved in testing new crafts to see if they meet our standards for fun and quality.
With Kate's vast knowledge of our products and customers, we think she's the perfect person to take over some blogging and social activities and we hope you all agree!!