Paper crafts are one of our favorite craft activities for kids, and perfect for at home learning to spark creativity! These dragon puppets are cute and silly, so kids will love creating their own character with different colors and expressions. Once the DIY dragon is assembled, it can be used as a puppet! This inspires imaginative and dramatic play. 
With only a few materials, this is a budget friendly craft that can be enjoyed by a variety of ages. We do recommend for younger crafters that cut out the pieces ahead of time, and they can have fun simply folding and gluing the pieces. 
Materials:
Video Tutorial
Instructions
Step 1:
Fold a full piece of construction paper (9×12 inches) to make the body of the dragon.
You will first fold the paper twice – holding the paper vertically, fold one end slightly less than halfway. We measured about 3 centimeters should be remaining, then fold that piece over. Then, you will basically fold it 3 times, accordian style – fold it in half, then fold the top part to the center point, and the bottom part to that center point. View the photo for a visual and video tutorial above to see exactly how we folded the paper. 
Now you will glue that section you folded originally. The goal is to fold it so that you can use the dragon as a puppet once you are done.
Step 2:
Cut several shapes out of different colored construction paper. You will use these throughout each step below. Tip: The folded paper is 10 centimeters long and 8 centimeters tall. Your shapes should be relative to this size. We've included measurements below in centimeters as an easy guide, but feel free to make some shapes smaller.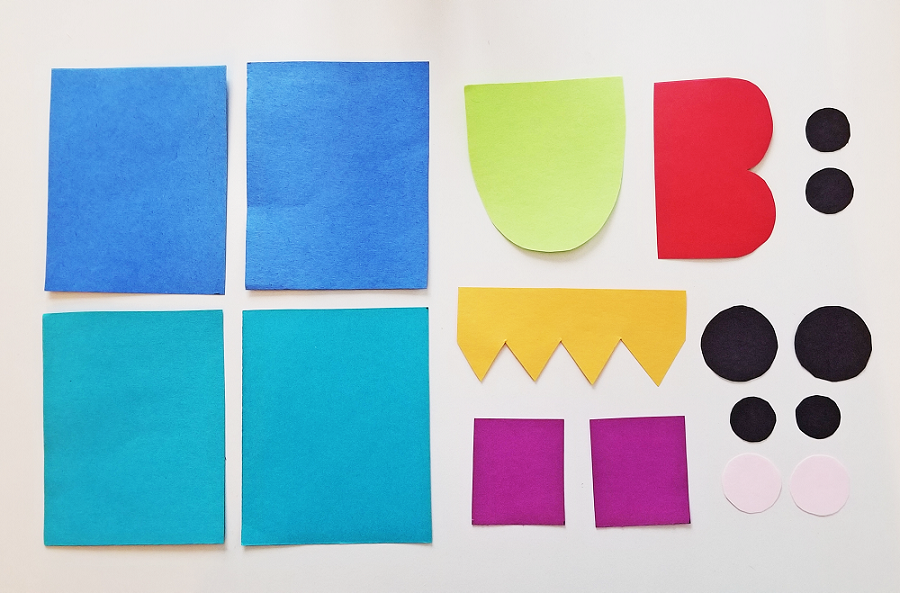 Body/Puppet – 1 piece of 9×12 construction paper
Outer eyes – 2 dark cirles (3 cm wide)
Inner eyes – 2 smaller light circles and 2 smaller dark circles (less than 3 cm)
Eye holders – 2 rectangle shapes (4 L and 4.5 H)
Nostrils – 1 nose shaped like the letter B (7 L x 4 H) and 2 small circles (less than 4 cm)
Teeth – 1 jagged shape (10 L x 4 H)
Hair – 4 rectangles, 2 of each color, cut into sections at the end (10 L x 7 H)
Tongue – 1 shape (7 L x 7.5 H)
Step 3:
Glue your pieces on, starting with the tongue, then the teeth, nose, eyes, hair. First, draw the shapes and then cut them out.
Tongue – This shape is easiest to glue first. Line it up to the inside of the mouth and glue.
Teeth – For this shape, you will add glue to the top of the shape and glue to the top of the inside of the mouth. Then the teeth will stick out!
Nose – Once you cut your nostrils and the nose shape out, glue the nostrils on first. Then, fold the nose slightly so you have a section to add glue to, and that is the part you stick to the top of the dragon's head. That holds the nose in place.
Eyes – You will have 6 shapes for the eyes. Glue the small circles on to the bigger ones. Then fold the 2 rectangle shapes in half, and fold another time. This is where you add the glue and will place the eyes on. Then, glue these rectangle eye-holder shapes to the dragons head. You can use white, tan, pink, any light color for the lighter eyeballs, and black for the darker ones. 
Hair – Put all 4 rectangles together and cut sections at the top, leaving about 2 cm at the bottom uncut. That is the part you will glue to the dragon. Then use either scissors or the edge of a table to curl the hair. Once you are happy with the curl, glue to the dragon.
Enjoy playing with your new dragon puppet!
Lesson Ideas – At Home Learning
Dramatic or imaginative play is an important part of development for kids! This craft can also be combined with a few different types of learning. 
Kids can use these dragons as a fun way to tell a story. For example, have them write a short story about a friendly dragon who is looking for a friend. Then they can act it out.
You can also combine this craft with a lesson about color recognition. What color is the nose? What color is the tongue? Or, use it to help kids learn the alphabet. D is for Dragon, T is for Teeth, etc. See also this construction paper lesson plan. 
Finally, add even more crafty creativity by making your own DIY Puppet Theater and put on a show!