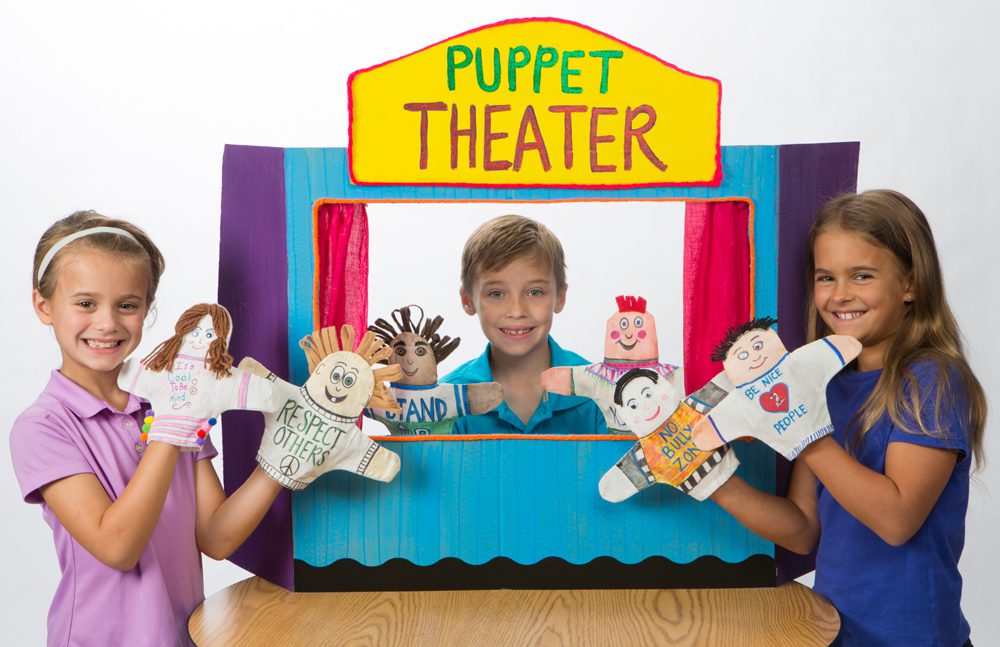 This DIY Puppet Theater can be used for many different themes in the classroom, afterschool, daycare, and other educational programs. Kids can learn storytelling, role playing, self expression, and more. It is great to use in categories such as Youth Character Development and a Bullying Prevention unit. Learn how to make the theater with step by step instructions below.
Suggested Materials: 
DIY Puppet Theater Tutorial
Cardboard Frame:
Start with a large piece of cardboard. Our cardboard was 25″ high and about 46″ long. If you don't have cardboard that large, you can always check your local retail or furniture stores. Our theater was designed to be used as a table top theater, but with a larger box, you can create something children may be able to stand behind.
Score your cardboard by using a yardstick to measure and mark your side panel. We found that 9″ seemed to give the theater a good sturdiness when in the upright position. Draw the line from top to bottom where you will fold the cardboard.
This part can be a bit tricky. On what will be the back of your theater, use an X-Acto knife to cut through the back and middle layers of cardboard, keeping the front layer intact. This will allow you to fold your flaps.
Mark out your opening for the window: 24″ across (this will leave about 2″ on each side), 13" tall (starting 3 inches down from the top of your theater, and leaving about 9" on the bottom). Carefully cut out, putting the removed piece aside for later.
Short cut Tip: Start with a presentation or science fair board, they are inexpensive, and gives you a nice pre-made base to jump start your project.
Painting:
Choose the paint colors for your theater. Two coats work best to get good coverage on the cardboard. We recommend using acrylic paint.
Short Cut Tip: Use a large brush, or foam roller to paint with for fast coverage. Allow paint to dry in between coats. Cardboard will lay flat once dry if you paint both sides. 
Curtains:
You will need 2 pieces of fabric, both 16" wide by 18" long, one for each side of the window. You can recycle from old sheets, pillowcases, tablecloths, even a pant leg or top. Our fabric was white, and we really wanted a red curtain, so we dyed it using liquid watercolor paint.
Smooth your fabric flat, iron if needed. Fold over the top 1 ½ "length wise. Hot glue the fabric edge straight across, creating the loop that you will string the curtains up with.
Put a 30" heavy cord through both curtain loops and attach to the back of the theater to the 3″ space between the top of the theater and the window opening. Pull the cord tight and staple it on each end and a few times in the middle. Your curtains should be able to open and close by sliding the fabric along the cord.
Final Touches & Decorations:
Take the piece of cardboard that you cut out for the window. You will use this to make your Puppet Theater sign. Cut the piece of cardboard to about 20" wide and 9" tall. Cut the top in a half round or scallop type pattern. Base paint the sign with a solid light color, and then use a small brush or markers to create the lettering. Center and attach this sign to the top of your theater with duct tape.
Use other trims or decorations to further embellish and personalize your theater. We used a thick craft yarn to outline the window and sign. We also added glitter glue just for fun!
Be sure to visit our blog on Bullying Prevention Using Dramatic & Cooperative Play to learn how to make the puppets related to this theme.
Submitted by: Denise Carter, Product Manager at S&S Worldwide