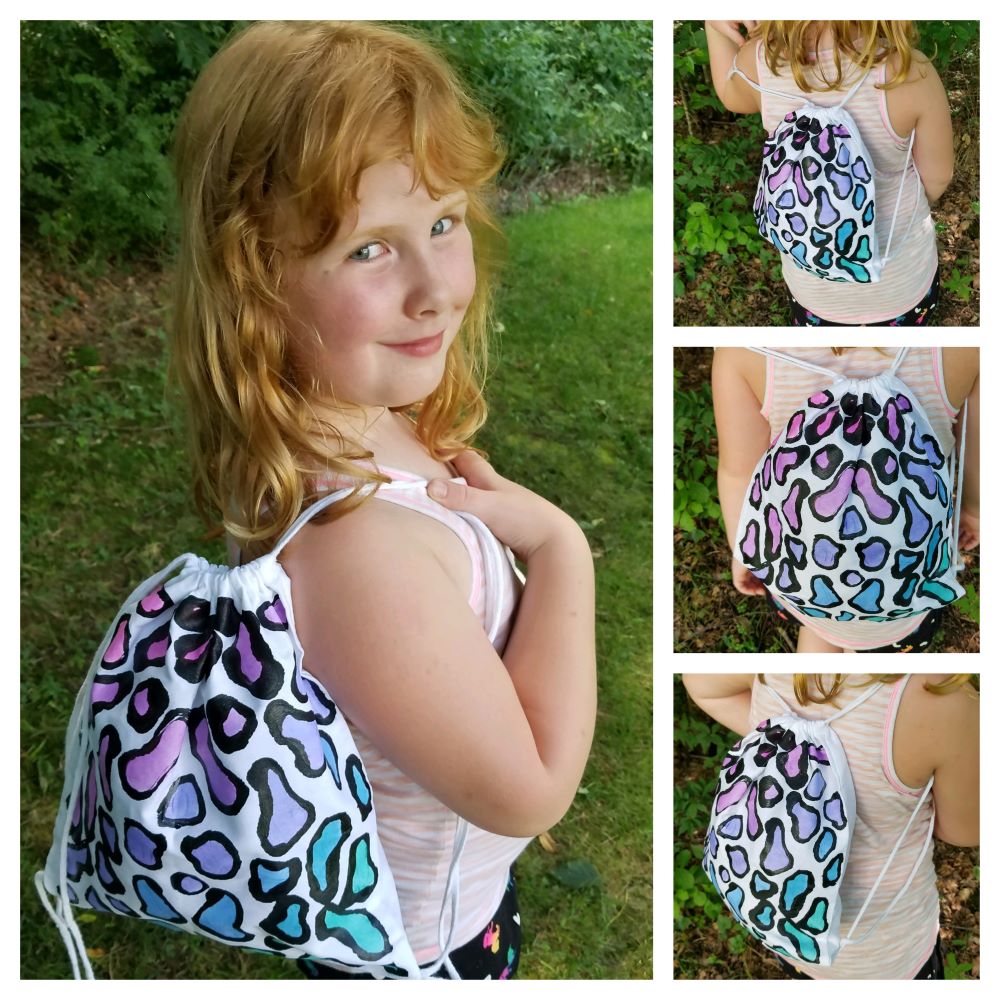 Here's a fast paced & easy project that requires just a few basic craft supplies, that's focused on great results for your whole group.  Many people love the look of cheetah print but find it really hard to recreate. Now, anyone can create a seriously fierce, fast and fur-ocious feline pattern by following this simple Paint & Press method explained below!
Materials:
Video Tutorial:
Instructions:
Step 1. Open the backpack and place the scrap paper inside to prevent the fabric paint from bleeding through to the back layer. Lay the backpack down flat on your work surface and fold it in half vertically to create a middle fold line. Now unfold and layout flat.
Step 2. Paint the first layer of your cheetah print pattern. Only apply paint on the half of your backpack. Creating the irregular shapes is made easier with the small tip of the fabric paint bottle! You can go back and add more paint to thicken up the lines.
TIP: This can be a fast process as the shapes are going to get pressed down and squished anyways, so they don't have to be perfect. Have your group do this step fairly quickly so the paint doesn't start to dry. 
Step 3. Once you have created the first layer of black paint, fold the unpainted part of the backpack down on top of the wet paint. Smooth it out with your hand on a flat surface.
Step 4. Immediately open the fold to reveal the first layer of your cheetah print! Allow time for this layer to dry before adding a second color of paint.
TIP: You can speed up the drying process by using a fan, hair dryer or even a heat gun.
Step 5. Now, add color inside your shapes! Quickly fill in the center spaces of irregular shapes with a generous amount of paint. You can choose as many colors as you'd like.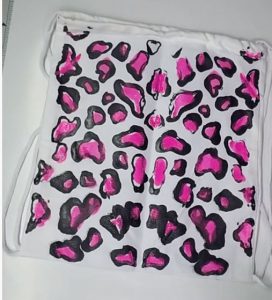 Step 6. While the paint is still wet, press the two halves of the backpack together with your hand on a flat surface. Quickly unfold to reveal your super awesome cheetah print backpack!
Lay flat to dry before removing the scrap paper and rocking your fierce new creation!
Check out these fascinating cheetah facts from National Geographic that you can share with your group while they create their own fierce printed backpack.
---
About the Author:
Kate Algiere aka "Crafty Kate" is now our Product/Content Marketing Specialist here at S&S Worldwide. Kate has been with S&S for 13 years and started as an Sales Representative. Since late 2012, she's been a valuable member of our merchandising department.
Kate is a VERY talented artist with great organizational skills. Did you know that Kate is the artist behind many popular velvet art posters and other S&S-exclusive crafts? She's also very involved in testing new crafts to see if they meet our standards for fun and quality.
With Kate's vast knowledge of our products and customers, we think she's the perfect person to take over some blogging and social activities and we hope you all agree!!