If you find it too cold, too hot, or too rainy outdoors, then try bringing the outdoors in for your senior residents with fun games and activities. Here are a few ideas from notjustbingo to get you started.
Indoor Table Activities
While most people play cornhole in the backyard, there is a new tabletop version of the game called Table Cornhole, where residents simply toss coins instead of beanbags into the holes.
Another fun table game to show your residents is Table Top Curling, where residents roll stones down the game board to try to get their stones closest to the center of the target.
Finally, consider setting up an indoor sandbox for residents to have fun making sand castles or playing a fun game of Sand Pictionary.
Indoor Floor Activities
No need for outdoor grass if you have a foam croquet set that you can easily set up in your Activity Room. Use the foam set, which includes foam mallets, foam balls, and foam wickets, for a safe and fun croquet game indoors.
In addition, use a portable washer toss game for residents to play in your Activity Room, where they simply toss plastic washers to land on the targets.
Indoor Gardens
Set up a fun indoor garden area for residents to tend to their gardens without having to deal with the weather. For instance, use sand for a miniature Zen garden, or set up flower gardens, including Zinnia and Morning Glory.
If real flower gardens won't do, then set up a butterfly garden or even a plastic air garden for your residents to look after.
About Not Just Bingo: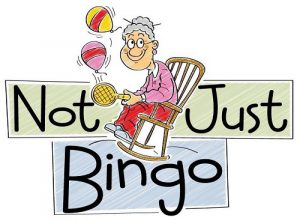 Not Just Bingo is an online resource of fun, senior activity ideas for activity professionals of nursing homes and assisted living facilities. They have been providing fun activity ideas online since 2009, and continue to assist activity professionals across the country by creating meaningful and engaging activity ideas for their residents that go "beyond bingo." Not Just Bingo feels privileged to help activity directors better the living experiences of their residents while demonstrating that a senior's quality of life can actually improve when they move to a nursing facility!
Want even more ideas each month? Visit www.notjustbingo.com for how-to activity ideas, monthly newsletters, and daily holiday ideas. You can also sign up for the Notjustbingo Membership to receive specialized activity ideas to keep your residents and staff engaged, active, and having fun!