9 Fun Activities to Kick Off the Spring Season in Your Nursing Facility
Plan to include a few of these fun, spring-inspired activities from notjustbingo.com into your March activity calendar as you and your residents celebrate the arrival of spring.
Garden Ribbon Cutting Ceremony – Host an official ribbon-cutting ceremony in your garden to official start the gardening season. Invite residents to help you brainstorm the types of flowers and vegetables that they want to plant this year. Leading up to the ceremony, get residents involved in preparing for the garden service by painting colorful terra cotta & ceramic crafts, making garden mosaics, and crafting bird feeders.
Lemonade for Charity – Recruit residents to assist you with putting on your facility's first lemonade stand of the season. Encourage staff and family members to stop by to purchase cups of refreshing lemonade as well as cookies that are baked by your facility's Baking Club. Beforehand, ask your residents to decide on which local charity to send the proceeds.
Spring Tea Party – Coordinate with your Dining Services department to prepare a special tea party for your residents, featuring a variety of teas and delicious tea sandwiches and cookies. Make the tea even more special by encouraging the ladies to wear their hats and brooches to the party, and asking the men to wear their ties. Take plenty of photos of this special spring event to place in your facility's newsletter or magazine.
Baseball Opener – If the weather permits, officially open your facility's backyard for baseball. Invite the grandkids to play a baseball game in the yard as you encourage residents to sit on the back patio to root on their little-leaguers. Serve fresh popcorn and peanuts as you lead residents in singing "Take Me Out to the Ballgame."
Butterfly Social – Plant colorful flowers or place butterfly houses near your backyard patio to attract beautiful butterflies. Then, schedule a fun afternoon social on your backyard patio for residents to admire the butterflies in your area. At the party, teach residents how to catch butterflies using butterfly nets and place them in your own indoor butterfly garden. If catching butterflies is not an option, set up a butterfly kit in your facility for residents to watch the magical transformation of caterpillars into butterflies.
Spring Break – Transform your Activity Room into Cancun, Mexico as you treat residents to a fun-filled, beach-inspired spring break. Encourage residents to play a fun game of beach volleyball in your Activity Room as you serve tropical drinks with little umbrellas. If the weather is ideal, take residents outdoors to play in the sand, and provide them with items to add to the sensory tray. For added fun, and in keeping with the Cancun theme, set up a fun in the sun piñata for residents to try to break.
Cherry Blossom (or Azalea) Watch – Encourage residents to get excited about the blooming flowers and plants in your neighborhood as spring arrives by scheduling special scenic rides for residents to identify the budding flowers in your area. In addition, plan a few field trips to local parks and botanical gardens to view their blooms.
For your residents who are unable to get out, be sure to bring the flowers to them in different ways. For instance, show documentaries of butterflies or a video of beautiful nature with soothing music in the background. Other options including bringing beautiful flowers inside from the garden for residents to sort and assemble into vases, or even sharing a few memorable scents with residents during a fun "What's That Scent?" guessing game.
March Madness Brackets – Invite residents to participate in a fun March Madness contest in which they try to pick the schools that will advance in the men's college basketball tournament. At the end of the tournament, which ends in April, award a prize to the participant who made the most correct picks. Additionally, as the weather warms up, consider moving a few of your games outdoors to enjoy the weather. For example, set up a pop-up basketball game or floor basketball game on your back patio for seated residents to practice their shooting skills.
Spring Ball – Finally, host an annual spring ball in your facility, and ask your residents to dress up for the event. Hire an entertainer for the ball to help your residents welcome in the new season with a fun evening of music and dancing. Consider scheduling the ball right after a special dinner coordinated by your facility's Dining Services staff.
---
About Not Just Bingo: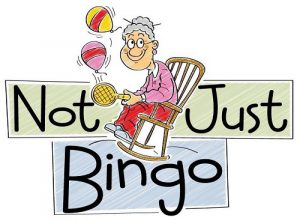 Not Just Bingo is an online resource of fun, senior activity ideas for activity professionals of nursing homes and assisted living facilities. They have been providing fun activity ideas online since 2009, and continue to assist activity professionals across the country by creating meaningful and engaging activity ideas for their residents that go "beyond bingo." Not Just Bingo feels privileged to help activity directors better the living experiences of their residents while demonstrating that a senior's quality of life can actually improve when they move to a nursing facility!
Want even more ideas each month? Visit www.notjustbingo.com for how-to activity ideas, monthly newsletters, and daily holiday ideas. You can also sign up for the Notjustbingo Membership to receive specialized activity ideas to keep your residents and staff engaged, active, and having fun!