Celebrate National Hobby Month this January by creating several different hobby clubs for your residents to join. Here are 10 ideas from notjustbingo.com to give you inspiration.
1. Latch Hook – If you have a small group of residents who like to keep busy, provide latch hook kits and latch hooks for them to make a variety of projects like butterflies, flowers, or animals.
2. Singing – Organize a group of residents who enjoy singing to meet each week for sing-alongs. Play a variety of music for residents to sing to, like music from the 1950s, church hymns, or popular oldies.
3. Reading – Borrow books from your local library to place on a bookcase for residents to check out to read.
4. Playing Cards – Pick a designated time each afternoon to teach residents a few new card games, like Uno or Skip-Bo.
5. Word Search – Supply residents with large-print word search books to use as an independent hobby. To make it into a group hobby, make a copy of a word search puzzle to pass out to residents to see who can complete their puzzle the fastest. You can also have residents team up and play a Jumbo Crossword Game that is similar to Scrabble®.
6. Traveling – Schedule weekly Armchair Travel activities in your Activity Room to allow residents to discover popular landmarks, like national parks or beautiful world cities.
7. Mosaics – Expose residents to the art of mosaics as you schedule weekly mosaic projects, like making coasters, frames, and even butterfly feeders for the Spring time.
8. Writing – Provide residents with writing pens and stationery for them to write letters to loved ones each week. Encourage residents to write about the activities and games that they have played over the last week.
9. Painting – Stock up on canvases and painting supplies to host a weekly painting class for residents. Vary the classes each week. For instance, one week encourage residents to paint a bowl of fruit; the next week, set the canvases near picture windows for residents to paint the outdoors.
10. Dancing – Arrange for weekly dance competitions in your facility for residents to pair with one another to compete for "best dancing couple." Challenge residents to show-off their best jive, Charleston, and jitterbug dances.
About Not Just Bingo: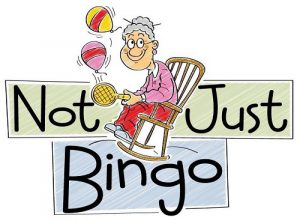 Not Just Bingo is an online resource of fun, senior activity ideas for activity professionals of nursing homes and assisted living facilities. They have been providing fun activity ideas online since 2009, and continue to assist activity professionals across the country by creating meaningful and engaging activity ideas for their residents that go "beyond bingo." Not Just Bingo feels privileged to help activity directors better the living experiences of their residents while demonstrating that a senior's quality of life can actually improve when they move to a nursing facility!
Want even more ideas each month? Visit www.notjustbingo.com for how-to activity ideas, monthly newsletters, and daily holiday ideas. You can also sign up for the Notjustbingo Membership to receive specialized activity ideas to keep your residents and staff engaged, active, and having fun!