Opening Day in Major League Baseball begins on March 26th, the earliest in league history, with all 30 teams playing on the same day. Get your residents back into the baseball spirit with a few of these fun ideas from notjustbingo.
Hitting Practice
Help residents improve their swing by scheduling a baseball hitting practice. Use plastic bats and foam baseballs or plastic Wiffle balls to see how far residents can hit a ball. Set up a target in the backyard to help measure distance. If going outside is not an option, simply toss inflated balloons in the air for residents to hit with pool noodles.
Grandkids T-Ball Game
Invite the grandkids over to play a fun T-ball game in your facility's backyard. Set up a T-ball set for the kids to play. Pass out popcorn and Cracker Jack for residents to enjoy as they sit around the "field" to help cheer on the kids as the kids run the bases.
Baseball Art & Crafts
Invite residents to make baseball art that can be used as decoration for Opening Day. Provide residents with baseball sand art bottles to fill with colorful sand. In addition, supply residents with mini baseball hats that can be decorated and used as snack bowls.
For even more decoration, encourage residents to color or paint pennant flags that can be hung throughout your facility for Opening Day. Encourage residents to decorate the flags using the color schemes of their favorite baseball teams.
Baseball Attire
Persuade your facility's Beading Club to make special baseball bracelets using baseball beads and jewelry cording. Encourage residents to wear their bracelets on Opening Day.
---
About Not Just Bingo: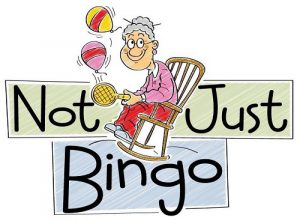 Not Just Bingo is an online resource of fun, senior activity ideas for activity professionals of nursing homes and assisted living facilities. They have been providing fun activity ideas online since 2009, and continue to assist activity professionals across the country by creating meaningful and engaging activity ideas for their residents that go "beyond bingo." Not Just Bingo feels privileged to help activity directors better the living experiences of their residents while demonstrating that a senior's quality of life can actually improve when they move to a nursing facility!
Want even more ideas each month? Visit www.notjustbingo.com for how-to activity ideas, monthly newsletters, and daily holiday ideas. You can also sign up for the Notjustbingo Membership to receive specialized activity ideas to keep your residents and staff engaged, active, and having fun!