You may plan several craft activities throughout the year, but a fun time to focus on crafts is in March for National Craft Month! Consider stepping up your normal routine to include a few of these fun crafting session ideas from notjustbingo.com.
Weekend Craft Fair
Host a fun craft fair on a Saturday and Sunday, preferably on a weekend when you're expecting lots of traffic, like an open house or a family event. Throughout the week leading up to the craft fair, recruit residents to make crafts that can be sold during the fair. Gather your facility's hobby clubs to make crafts that relate to their hobbies that they can donate to the craft fair. For example, ask your Sewing Club to make sock animals, ask your Woodshop Club to assemble and/or color birdhouses, and ask your Art Club to create beautiful velvet artwork, and ask your Weaving Club to weave baskets. Use the proceeds from the craft fair for your activity supplies.
Craft Club Rush
Host a fun Craft Club Rush (think "college sorority rush") for your residents. Invite all the crafting clubs in your facility, like the Scrapbooking Club or the Collage Club, to set up shop in your Activity Room for an afternoon to talk to interested residents about the benefits of joining their club. Even if your facility does not have organized clubs, use this time to start creating them. For instance, if you have a few people who make birthday cards for your residents, then organize them into a Card-Making Club and have them come out to the activity to recruit more members. Likewise, if you have a person or two who help you make door wreaths for your new residents, then organize them into a Welcome Wreath Club and use the rush activity to find more members. By hosting a rush activity, more of your residents will be able to see the different types of activities or clubs that you provide and may be more willing to share their talents and knowledge by joining one of the clubs.
D.I.Y. Challenge
Recruit some of your gifted crafters to compete in a fun D.I.Y. craft challenge. Provide each participant with a lackluster object, like a terra cotta vase or flower pot, and provide them with a variety of supplies, like markers, watercolors or ribbon to give their object a new look. Set the finished objects out for your facility's administrators to judge and announce the winner of the best D.I.Y. makeover.
Jewelry Expo
Pick a week during the month of March to set up a jewelry station in your Activity Room for interested residents to stop in and make pieces of jewelry. Provide residents with jewelry cording and a variety of beautiful beads, like wooden beads, wooden pendants, and specialty beads. Encourage residents to showcase their jewelry during a Jewelry Expo to be held at the end of the week in your Activity Room. During the expo, recruit a few residents and staff members to model a few of the pieces during an impromptu jewelry fashion show.
Craft Competition
Have fun with residents as you host a team crafting competition to see who can use their imagination and a box of craft supplies to create a unique craft. Simply divide residents into teams and provide each team with a box of everyday crafting supplies (e.g., buttons, felt, Mod Podge, etc.). Then ask residents to create a unique "spring" craft using the items. Ask those residents who did not participate in the competition to vote on the best spring craft.
If creating crafts from a box of supplies is not structured enough for your residents, then encourage residents to compete in decorating pinwheels, in which residents use permanent markers to design their own pinwheels.
Crafting for Others
Start a crafting group in your facility that makes items that can be donated to charities and other groups. For example, make beaded cross necklaces to donate to a local Sunday School class or make Easter baskets to donate to a local women's and children's shelter.
Also, don't forget about the people within your facility, like decorating mandala dreamcatchers to place in the rooms of your facility's bedridden residents or creating wreaths by adding colorful pom-poms to self-adhesive wreath rings to place on the doors of your facility's newest residents.
Crafting Class
During each week of National Craft Month, host a different craft class to teach a new crafting technique to residents. For instance, show residents how to tie-dye t-shirts, make paper-mache crafts, or makes gnomes for your spring garden.
Crafting With Kids
Don't forget about the grandkids! Pick a Saturday morning in March to host a special intergenerational craft activity for your residents and their grandkids. Try to provide several different types of crafts that are appropriate for the different age levels of the children, like designing kites or building race cars for the older kids and coloring bears or coloring butterflies for the younger kids.
Patio Crafting
If the weather permits, take residents onto the back patio to create a few fun crafts that can liven up the backyard. For example, assist residents with assembling and decorating apple bird feeders, creating mosaic garden buddies, or constructing garden rain gauges.
Coloring Crafts
Organize fun crafts for your residents who enjoy coloring. For instance, provide stress-relieving toys that residents can use after they color them with permanent markers, like donuts, hearts, dogs, unicorns, and even cacti.
---
About Not Just Bingo: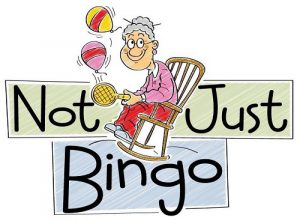 Not Just Bingo is an online resource of fun, senior activity ideas for activity professionals of nursing homes and assisted living facilities. They have been providing fun activity ideas online since 2009, and continue to assist activity professionals across the country by creating meaningful and engaging activity ideas for their residents that go "beyond bingo." Not Just Bingo feels privileged to help activity directors better the living experiences of their residents while demonstrating that a senior's quality of life can actually improve when they move to a nursing facility!
Want even more ideas each month? Visit www.notjustbingo.com for how-to activity ideas, monthly newsletters, and daily holiday ideas. You can also sign up for the Notjustbingo Membership to receive specialized activity ideas to keep your residents and staff engaged, active, and having fun!