Celebrate National Arbor Day with your senior residents by providing a variety of fun tree-related activities. Here are 5 ideas from notjustbingo to get you started.
Wood Craft
Help your facility's Craft Club practice their sanding and decorating skills by painting these wood pine trees. The kit comes with unfinished wooden trees that can be personalized with different colors and designs. Encourage your residents to display their finished wooden trees in their windows for the observance or use them as centerpieces.
Jigsaw Puzzle Competition
Host a fun jigsaw competition among residents using a Spring themed jigsaw puzzles. For the activity, divide residents into teams and have each team work together to complete their jigsaw puzzle. Award a fun prize to the first team who finishes their tree jigsaw puzzle.
Ornament Crafts
Invite residents to assemble pine cone ornaments for your backyard trees to help feed your neighborhood birds. For the craft, attach twine to pine cones so that you can hang the finished pine cones as ornaments. Next, slather peanut butter over the pine cones before sprinkling them with birdseed. Finally, hang the finished tree ornaments (bird feeders) on your outdoor trees to feed the birds.
Ribbon Decorating
Provide residents with ribbon or decorative crepe ribbon to decorate your facility's trees on this National Arbor Day. Show residents how to tie the ribbons to make beautiful bows around the trees.
Outdoor Matching Game
As a fun sensory game, gather leaves from each of your trees and pass the leaves out to residents to see if they can match the leaves to the outdoor trees. Pair residents with volunteers or staff members as they walk through the yard to make as many matches as they can.
About Not Just Bingo: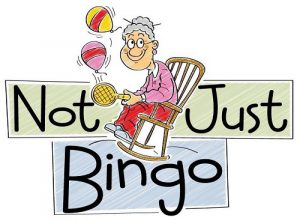 Not Just Bingo is an online resource of fun, senior activity ideas for activity professionals of nursing homes and assisted living facilities. They have been providing fun activity ideas online since 2009, and continue to assist activity professionals across the country by creating meaningful and engaging activity ideas for their residents that go "beyond bingo." Not Just Bingo feels privileged to help activity directors better the living experiences of their residents while demonstrating that a senior's quality of life can actually improve when they move to a nursing facility!
Want even more ideas each month? Visit www.notjustbingo.com for how-to activity ideas, monthly newsletters, and daily holiday ideas. You can also sign up for the Notjustbingo Membership to receive specialized activity ideas to keep your residents and staff engaged, active, and having fun!