Are you looking for fun themes to add to your activity program? A Nautical Theme is the perfect theme to add to your Spring or Summer calendar. Whether you are planning a summer camp theme, activities for VBS, classroom or afterschool ideas, or a theme for your senior center. We've shared our favorite craft and activities for all ages. Many of these can be used for educational lesson plans, makerspace, sensory needs, and collaborative group projects.
Plan an Ocean Week or Nautical Week where you set up stations for your group to experience each activity hands-on. Refer to the list below for other related theme names. Then, check out over 15+ crafts and activities for your theme!
Lighthouses
Wind Chimes
Our new lighthouse wind chimes come in a pack of 6 and are made out of laser cut wood. Paint or color them with marker, then string the the five chimes on with jute that is supplied in the pack. Hang these in a window and listen to the chimes to set the tone for your Nautical Theme! The projects are individually bagged, which makes it easy to pass these out to the participants in your group. The total height of the chimes is approximately 14 inches.
Watercolor Posters
Add color to your Nautical or Coastal Theme with this pack of four watercolor posters! Each lighthouse scene is pre-printed on watercolor paper. Painting these peaceful seascapes may help reduce fidgeting and stress, and help calm your participants.
Canvas Paintings
If your group would prefer to color on stretched canvas, use this pack of twelve Cape Hatteras Lighthouse Paintings for the craft portion of your Ocean Theme. This is one of the most recognized lighthouses in the U.S. Your group can decide to create their own version or download our Color Key. The kit includes paints, brushes, and basic instructions.
Sand Castle Lighthouse Kit
If you are looking for a maker activity, have your group build their own lighthouses with cardboard cones, terrarium sand, shells, glue and paint. The kid comes with these materials plus instructions, but you can have your group get creative with additional items in your makerspace. The lighthouses can be decorated in many different ways. You can also use this as a project to augment a lesson about the sea.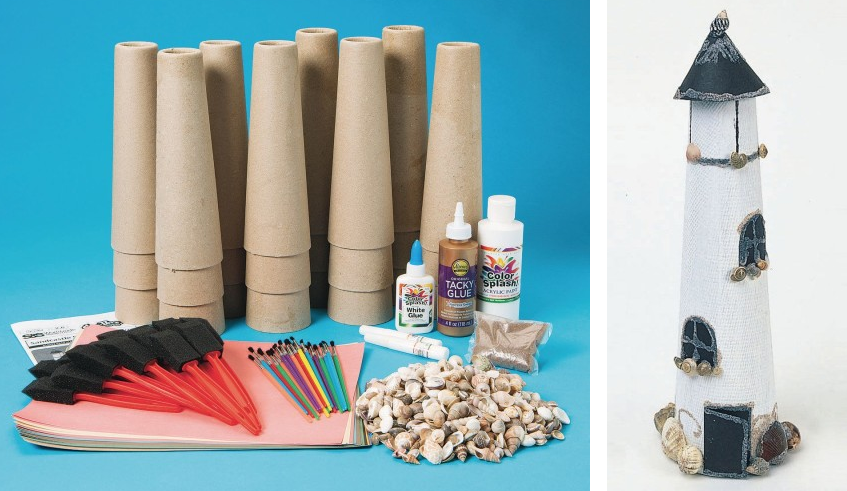 Messages in a Bottle
Mini Vials
We love this message in a bottle necklace craft kit! Write a message or dream and capture it inside the necklace. The kit includes mini glass vials with cork and eyelet, black cord, glitter, feather charms, and instructions. It makes 24 necklaces. You can also use these mini glass vials to create a DIY message in a bottle, ocean potions, or mermaid sand! Fill the bottles with your choice of glitter or sand, write a message on a small piece of paper, then roll it up and place it in the bottle. Then add the black cord to turn it into a necklace! The vials come in a pack of 24.
Plastic Bottles
Host a Nautical Week for your program and have your group write a message or dream and capture it using these plastic bottles. The pack comes with 24 bottles and corks. Provide your group with colorful sand or natural sand to create beautiful sand scenes – add sea shells, sea glass, driftwood, and more. They can get super creative. Display the bottles in your classroom or program during Nautical Week, then have students volunteer to read their messages out loud!
Suggested items to add:
Shells
Color-Me™ Seashells
This new pack of seashells to color allows your group to express creativity and escape to an underwater world. They can use acrylic paints or permanent markers to decorate. We love how the metallic gold paint came out on the white plastic shells – it almost looks magical! This is a fun, simple, and fast craft activity to add to your Ocean or Beach Theme.
Sand Art Bottles
Kids will love this colorful sand art seashell craft for your Nautical Theme! The pack of twelve includes bottle necklaces, 16 total ounces of sand – 4 ounces each of yellow, blue, pink, and green, and 12 funnels to make filling the seashell bottles easier. Have your group experiment with layering the sand in different patterns and colors. Then they can turn their designs into necklaces. We also love these suggestions from a super crafty customer:
"You can also add some tiny beads or tiny shells to the layers of sand. You may want to write their initials with a permanent marker on the bottom so they know who's is who's. I think it's a great idea to put glue on the inside of the tops before you close them for the last time. This way the kids won't be able to open the bottles later and get sand everywhere."
Collaborative Ocean Craft
Be sure to add a themed collaborative craft kit to your Ocean Theme to encourage kids to work together to create one large piece of art to display! The kit comes with 3 canvas panels with pre-printed ocean scenes, as well as art supplies including paint, markers, paint cups, brushes, sponges, glitter, and little fish pieces to color. It also comes with a complete Educraft® instruction guide.
Ocean Puzzles
Set up a few tables or "stations" with small puzzles for kids to work on while your program is centered around an Ocean Theme. Our Sea Turtle and Dolphin jigsaw puzzles are perfectly aligned to the theme. The specialty die cut puzzles have a uniquely designed "animal-shape". The 100 puzzles pieces are large enough for easy grasping for kids and older adults. You can also include an educational lesson, as the puzzles come with a fun fact insert.
DIY Nautical Decor
Terrarium
Use snap together mini terrariums to make a nautical themed craft, like this seagull sitting on shells with an ocean background. Cut the paper to size, sponge paint it to resemble the ocean, then add a cutout of a seagull or any other ocean animal you'd like.
Wreath
Our new cotton rope covered wreaths are perfect for a nautical themed craft. The wreath shapes are made from 100% natural cotton rope wrapped around a steel ring base. Perfect for nautical and beach-themed projects! Your group can embellish these with shells, jute, ribbon, sea glass, driftwood, and even a handmade anchors made from clay.
Sensory Solutions
Ocean Drum
Another awesome accessory for your program is this new Ocean Drum. Add the relaxing effects of the ocean to your music or therapy program. Rotate the drum in a circular motion to create the sounds of waves crashing on the shore. This is a great way to help kids with auditory sensory and improve gross motor skills.
More Nautical Materials
View our blog for more Under the Sea themed crafts and activities!