Celebrate National Skilled Care Nursing Week and this year's theme – "Together Through the Seasons" – with your residents by showcasing the loving care that's being provided during this unprecedented pandemic. From May 9th – May 15th, provide fun activities for residents that highlight the collaborative effort of staff members and families to keep your residents safe and happy. In fact, provide a few activities that allow residents to thank their caregivers for their selflessness and compassion.
Families – Saying Hello!
Help your residents say hello to their families by arranging online or backyard activities in which family members and residents can bond and enjoy one another's company.
For instance, if your facility is still in lock down, coordinate a parade in your facility's parking lot in which family members can drive by to say hello to their loved ones. Encourage families to decorate their cars, as you assist residents with decorating the chairs that they will be sitting during the parade. For instance, supply residents with balloons, streamers, noisemakers, and party hats to create a festive environment for the parade.
Another alternative is to host a fun backyard concert, where residents and family members can remain at a distance while still enjoying the sounds of an outdoor entertainer. Work with Dining Services to pass out popcorn for concert-goers to enjoy during the entertainment.
Nursing – Saying Thank You!
Encourage residents to pay tribute to the nursing staff by creating fun gifts that show their praise and appreciation. For instance, during this spring season, host a Decorating Session, in which residents stop in to decorate a flower pot to give to their nurse. Another option is to have residents assemble pins that are decorated with glass stain for their nurses to wear.
Don't forget to remind residents that the best gift that they can give their nurses is for them to remain active and fit. So be sure to lead residents in a fun exercise before hosting a few fun bingo games that will keep your residents engaged and having fun.
Administration – Saying Greetings!
Recruit residents to help your facility's administrators thank all the people who have supported them and the staff by creating greeting cards that administrators can easily send out. For the project, supply residents with pre-printed greeting cards that residents can easily color with markers or crayons, or with scratch-art greeting cards that residents can decorate by scraping away the coating to reveal the beautiful colors underneath.
If your residents are a bit more creative, then provide them with blank note cards that they decorate themselves, or with watercolor paper that they can convert into cards using watercolors and stencils.
Activities – Saying Good Times!
Help your residents tap back into their creativity with fun and artistic projects. For instance, recruit residents to help you create suncatchers to place in your Activity Room windows for the season by painting the suncatchers with the glass stain that is provided in the kit.
Also, don't forget to get your residents safely socializing again by playing fun games like Table Topics, in which residents can safely share a few fun facts about themselves through the use of the Table Topics questions. Another option is a fun decision-making game, in which residents are first given two choices before having to make a decision on which one they prefer and why.
Dining Services – Saying Bon Appetit!
Assist residents with showing their appreciation to your facility's Dining Room staff by having them help out with making a few desserts on their own for an upcoming meal. For instance, set up a cotton candy machine to serve mini cotton candy desserts to residents. However, if you have time beforehand, then recruit residents to make their own ice cream by using an ice cream maker ball that makes the ice cream while residents toss the ball back and forth.
Other foods that residents can make include cupcakes and donuts. In fact, consider hosting a fun cupcake decorating contest or donut decorating contest to see which resident can assemble the most creative food.
Landscaping – Saying Wow!
Invite residents to appreciate the beautiful work of your facility's landscaping team by hosting several outdoor activities. For instance, seat residents safely on your facility's front porch to enjoy sno-cones, where you have mixed shaved ice and sno-cone syrup. Another fun activity that will bring residents outdoors is a fun game of trivia, in which you use trivia books to quiz your residents.
If you have more space in the backyard, then be sure to use the back patio for a fun game or two, like a target game, in which you use sidewalk chalk to draw a target on the patio for residents to toss beanbags on, or a tossing game, like washer toss, in which residents toss washers into the target.
Business Office – Saying Welcome!
Invite residents to help your facility's business office welcome your facility's newest members by creating welcome gifts. For instance, provide residents with welcome banners that can be placed on the doors of the new residents. Actually, encourage residents to also use the fabric markers to decorate a banner for their own door.
In addition, encourage residents to help decorate throughout the facility to make it feel even more welcoming by painting vases or creating shadow box frames that add a bit of warmth and character to the facility.
Find more ideas from Notjustbingo on the S&S blog here.
---
About Not Just Bingo: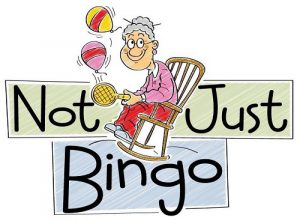 Not Just Bingo is an online resource of fun, senior activity ideas for activity professionals of nursing homes and assisted living facilities. They have been providing fun activity ideas online since 2009, and continue to assist activity professionals across the country by creating meaningful and engaging activity ideas for their residents that go "beyond bingo." Not Just Bingo feels privileged to help activity directors better the living experiences of their residents while demonstrating that a senior's quality of life can actually improve when they move to a nursing facility!
Want even more ideas each month? Visit www.notjustbingo.com for how-to activity ideas, monthly newsletters, and daily holiday ideas. You can also sign up for the Notjustbingo Membership to receive specialized activity ideas to keep your residents and staff engaged, active, and having fun!