As Columbus Day has become more controversial in recent years, it's easy to be hesitant when providing activity ideas for the observance. But don't let that stop you from providing fun activities for your residents on the holiday. Instead of focusing on just one ethnicity for Columbus Day on October 8th, focus on multiple backgrounds while celebrating the true melting pot that America is today. Here is a sample Columbus Day schedule from Notjustbingo to get your creativity flowing.
10 am – Columbus Day Parade
Host a Columbus Day parade in the common area of your facility in which you celebrate all immigrants in your facility. Encourage staff members, administrators, and visiting family members to join in. Beforehand, recruit staff members and residents who are familiar with their family history to participate in the parade. Then set up a parade route through the common area and have each parade participant stop to share the countries that their families immigrated from. If you have staff members participating, encourage them to dress in their homeland's attire for the activity. In addition, keep your parade-goers active as well, by providing them with mini American flags to wave, donuts to nibble on, and coffee to sip.
11 am – Native American Art
Provide residents with Native American art kits for them to experience the beautiful artwork of the Native American people. For instance, invite residents to make sand paintings, which were popular by the Native Americans of the Southwest, like the Navajo Indians. In addition, invite residents to assemble teepees, which were popular dwelling structures of the Native Americans of the Great Plains, like the Cheyenne Indians.
12 pm – Italian Lunch
Who doesn't like spaghetti? Coordinate with Dining Services to serve a delicious Italian lunch, featuring spaghetti and meatballs, with gelato for dessert. During the lunch, quiz residents with Italian trivia and award door prizes (those bingo prizes no one wants) to those who answer correctly.
1 pm – Flamenco Dance Lessons
Well, it was Spanish money that funded Columbus' trip, right? Then add in a fun Spanish activity, like teaching residents basic flamenco hand movements. Simply play flamenco music in the background as you teach seated residents how to move their arms and stomp their feet to the Spanish music.
2 pm – Apple Pie Crust Class
Bring residents back to the U.S. as you invite them to sit in on a pie crust lesson, in which you teach residents (or they teach you) how to make and assemble the top crust for an apple pie. Beforehand, recruit your facility's Baking Club to make several apple pies, without the top crust. In addition, have several balls of dough ready for your pie crust demonstrations. During the activity, demonstrate a few different types of pie crusts, including the traditional slit crust as well as the lattice crust.
3 pm – All American Trivia Social
Show an American Trivia DVD for residents to answer American trivia questions. Pass out pieces of the apple pies that were baked earlier as a snack. If a television is not available for the activity, then divide residents into teams – West Coast natives vs East Coast natives – and read trivia questions for them to answer.
Find more ideas from Notjustbingo on the S&S blog here.
---
About Not Just Bingo: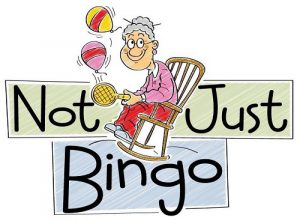 Not Just Bingo is an online resource of fun, senior activity ideas for activity professionals of nursing homes and assisted living facilities. They have been providing fun activity ideas online since 2009, and continue to assist activity professionals across the country by creating meaningful and engaging activity ideas for their residents that go "beyond bingo." Not Just Bingo feels privileged to help activity directors better the living experiences of their residents while demonstrating that a senior's quality of life can actually improve when they move to a nursing facility!
Want even more ideas each month? Sign up for the Notjustbingo Membership to receive specialized activity ideas to keep your residents and staff engaged, active, and having fun!