Do you have an administrator who's a bit uneasy about preparing your senior living facility for Halloween? Or do you have residents who may shy away from activities with witches and ghosts? Instead of focusing on the creatures of Halloween, switch your focus on the fun of Halloween. Here are a few fun ideas from notjustbingo to add to your October activity calendar.
Masquerade Ball
Host a fun masquerade ball for residents. In fact, make it a huge event. For instance, early in the day, schedule a Mask-Making Party in which residents decorate their own masks for the event, using paint and glitter. (But be sure to have a few ready-to-wear masks available for those who decide not to make their own.) Then later in the day, host a fun Happy Hour and invite residents to meet up for mocktails before dinner where they can socialize and see one another dressed in their masks. Afterwards, host a special dinner, which features a delicious meal served in your facility's Dining Room, in which you can pipe music into the speakers for residents to enjoy during their meal. Finally after dinner, encourage residents to dance the night away to a live band.
The Great Halloween Pumpkin
Celebrate pumpkins by hosting a variety of fun pumpkin activities and games for your residents. For instance, schedule a Pumpkin Decorating Contest, in which residents decorate their pumpkins using paint (we love the puffy paint for something new and different!) and glitter instead of carving them. In addition, hollow out one of your pumpkins for a fun Ping Pong Pumpkin Toss, in which residents try to bounce-pass a table tennis ball in hopes of it landing in the pumpkin. Another fun pumpkin activity is a Pumpkin Seed Roasting Party. For this activity, cover a large table with newspaper and place the pumpkin guts (the seeds and flesh) onto the paper for residents to have fun using their fingers to remove the seeds. Then roast the seeds for all to enjoy.
Alfred Hitchcock Movie Marathon
Add a bit of suspense to your Halloween activities by hosting an all-day marathon of popular Alfred Hitchcock movies. Be sure to include the favorites, like The Birds, Vertigo, and Strangers on a Train. Set up a concession stand in the back of your Activity Room for residents to help themselves, whenever they stop in, to popcorn, candy, and peanuts.
Halloween Bingo
Use your regular bingo cards, but have fun this holiday by providing residents with candy corn to use as the bingo markers. Then as prizes, supply residents with candy as a sweet treat. For more game ideas, view our blog on Halloween Party Games for Senior Residents.
Wine & Candy Bar Pairing
Have fun as you invite residents to try various pairings of chocolate candy bars and wine. Pick a nonalcoholic wine and have residents sample it with a few different types of candy bars, like those with nuts, caramel, or peanut butter.
Chocolate Candy Factory
Find a few no-bake truffle recipes for residents to make. Then supply gloves and the ingredients to get your residents imitating the classic Lucy and Ethel candy-making skit from I Love Lucy. Be sure to divide up tasks along the candy-making assembly line so that everyone has something to do.
Practical Joke Party
Invite your facility's funniest residents to try out their jokes and one-liners for your residents. Challenge them to come up with some Halloween themed jokes! In addition, go online to find a few practical jokes that you can play on your residents before treating them to an afternoon of funny stories and jokes.
About Not Just Bingo: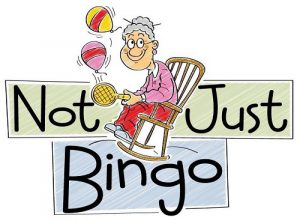 Not Just Bingo is an online resource of fun, senior activity ideas for activity professionals of nursing homes and assisted living facilities. They have been providing fun activity ideas online since 2009, and continue to assist activity professionals across the country by creating meaningful and engaging activity ideas for their residents that go "beyond bingo." Not Just Bingo feels privileged to help activity directors better the living experiences of their residents while demonstrating that a senior's quality of life can actually improve when they move to a nursing facility!
Want even more ideas each month? Sign up for the Notjustbingo Membership to receive specialized activity ideas to keep your residents and staff engaged, active, and having fun!