by artist and licensed Art Teacher Liza
This power of words craft art project incorporates many different materials and applications suitable for elementary, middle school and high school across the immense diversity of student body all over the country. The Power of Words bears a strong multiculturalism component, since it is intended to have students make their own choices and decide on mediums for the completion of their project. Furthermore, student's personal style is to be validated, and admired through discussions and observations.
Recommended ages: Elementary – High School
I.O. Instructional Objective: (SWBAT) Students will be able to think about words and make a creative art piece on canvas
Materials:
Tips For Setting Up The Activity
Have students write down in a notebook some of their favorite words that represent kindness or their favorite quotes. As an alternative, you can write 100 words on a piece of paper and cut and place them in a fish bowl for students to "go fishing" for words if students don't know what words to use. This is great for students with IEP s or who have some learning impairments that need extra support.
You can also provide handouts of famous quotes on love, friendship, loyalty, social justice, equality, truth, etc. Whatever the student feels in their hearts and minds that they wish to express. 
About the "Power of Words"
Students can learn that the power of a "word" has a tremendous impact on the people they talk to or have conversations with. Interaction of the "choice" of words can become tools of empowerment and at the same time words can be hostile, offensive and mean. Kindness is what the world needs now and Unity and Compassion for others. Most importantly we all need to be truthful, respectful of others and be transparent and understanding, especially during these difficult and stressful times of the COVID. Below are some famous quotes!
"You can change the course of your life with your words" – ANONYMOUS
"Raise your word, not your voice. It is rain that grows flowers, not thunder" – RUMI
"One kind word can change someone's entire day" – ANONYMOUS
"Be careful with your words. Once they are said, they can be only forgiven, not forgotten." – Joel Osteen
"Kind words can be short and easy to speak, but their echoes are truly endless" – Mother Teresa
"Words can make you or break you" – ATGW
"All I need is a sheet of paper and something to write with, and then I can turn the world upside down" – Friedrich Nietzsche
Instructions
1) Find a flat surface to prepare your canvas and have a can of water, paper towels, brushes, and acrylic paints ready to go. You may also want to use paint cups (or empty egg cartons work well if you recycle!) to place the paint in and your art supplies. It is recommended to prime your canvas. 
2) Decide on the color shadowing. The sample is in black and white. In the art world I call it the "ombre" effect, because it goes from light to dark and then dark to light, keeping an even horizontal rhythm from left to right.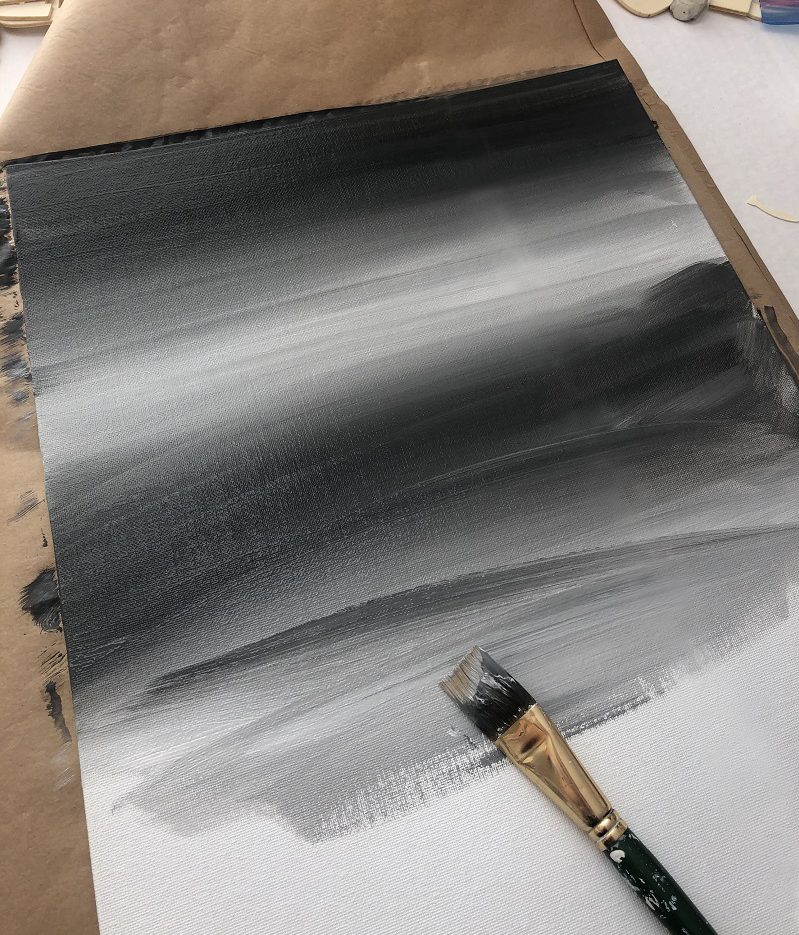 3) Put aside this canvas to dry at least for 2 hours.
4) Gather the chosen words and find the first initial from the wooden letters. Start to find letters from the newspapers. You can either cut them with scissors or use the hand torn effect which is really cool and begin to create the words!
5) Gather the wooden spirals and paint them in the colors you choose and set to dry for about 2 hours.
6) When the wooden spirals are dry, you can begin by writing with a permanent marker the quotes you selected. Make sure you include the author of the quote!
7) Cut up some erasers or corks to be placed on the back of the spirals to create a "lift" effect of these spirals on the canvas. Use either hot glue or regular Elmer's glue to attach to the bottom of the spirals. This adds a nice dimension to your project.
8) Glue down the wooden spirals first. Allow them to go off and outside the canvas if you like the look, but keep in mind you will need space to place the large wooden letters down too.
9) Now you can start to fill in the words using your newspaper cuttings. Use a glue stick evenly next to the wooden letters so it creates the full word.
10) As an extra step, you can place some dots with metallic markers if you want to give some spark to the "sky" ombre which is the background base.
If you are using the canvas panels find the center on the back and glue a hook for hanging up on a wall. 
Make sure you apply a good coat of gloss medium such as Mod Podge or sealer on the whole art piece. Test a small area first. This is used for acrylics so that it does not bleed.
Write the title of your work and sign it with your name and the date and year. 
Congratulations, you have created your very personal art work "The Power of Words"
---
About the Author:
Greetings! I am Liza, active artist and licensed art teacher for over 25 years. I participated in many exhibitions statewide and won numerous awards. I have taught in colleges and at many camps here in L.I., N.Y. as well as giving private lessons and owning my own arts and crafts business. I am experienced in many diverse mediums and genres and I love what I do especially when working with children, young adults and seniors as well as individuals with special needs. My goal is to make art making a memorable and fulfilling experience. Learning new skills, techniques and how art relates to our current global need for expression and communication is necessary for a happy and healthy life!