Celebrate National Skilled Nursing Care Week (May 8-14) with your residents by recognizing this year's theme: Creating and Nurturing Connections. Throughout the week, provide residents with fun activities that allow them to connect through a variety of activities, including art, crafts, music, nature, and movement.
Connecting Through Art
Tap into your residents' artistic skills as you provide them with art projects throughout the week that they can finish together, like a collaborative ocean art kit that allows multiple residents to work together. Simply have residents use markers to color the fish and canvases before hanging in your Activity Room.
For those who would enjoy working on their own projects during your art classes this week, supply them with individual bird paintings that they can fill in with paints. Another option is to supply residents with jars that they can decorate with paints and glazes.
Finally, for your residents who may have a difficult time with painting, provide them with aqua-paintings that allow them to simply brush water over the paintings to reveal the designs.
Connecting Through Crafts
Organize a fun Crafts Club in your facility that meets each day this week to complete a different craft. For instance, on Sunday – Mother's Day – assist residents with making personal bisque plates that they can give as gifts to their grandchildren.
On Monday, supply residents with stained glass and markers to decorate memento boxes that they can gift or keep for themselves. Then on Tuesday, invite residents to decorate personalized oven mitts using fabric markers that they can wrap and give to a loved one who enjoys cooking.
For Wednesday, encourage residents to paint Love frames in vivid paint colors to place on their dressers for the season. Next, for Thursday, show residents how to assemble wooden boxes that they can use to keep trinkets and smaller items that can easily get lost.
When Friday rolls around, show residents how to assemble candle collages that can be used as illumination for a few of your upcoming outdoor evening festivities on the back patio. Finally, for Saturday, invite residents to use markers or crayons to create velvet roll-up flowers that can be placed throughout your facility this spring.
Connecting Through Music
Besides having residents connect through the music of entertainers who perform for your residents this week, plan a few activities in which you provide the music. For instance, organize Sing Alongs, in which residents sing familiar songs played on piano. In addition, plan a few Karaoke Battles, where residents compete against one another to see who can put on the best karaoke performance. Another fun option includes hosting Band Sessions during the week that allow residents to play musical instruments while listening to music.
Connecting Through Nature
Don't forget to enjoy the warm weather outdoors, where you can provide fun activities that allow residents to connect through nature. For example, pass out river rocks and set up a space on the back patio tables for residents to paint the rocks before placing them in your garden. In addition, while outdoors, show residents how to assemble garden rain gauges that can be set in the yard and monitored by residents on those rainy days this week. And for those residents who enjoy nature – without being in nature – invite them to watch a DVD that shows nature scenes as music plays in the background,
Connecting Through Movement
Finally, help residents connect through movement by providing fun activities that get your residents up and moving. For example, help residents stretch their muscles as you show them a few moves with chair yoga. Then when you want to get your residents' heart rates up, lead them in chair exercises or join them in a fun dance charades game. For those residents who are unable to move as much, guide them through musical hand therapy that will allow them to stretch and relax their hands.
Find more ideas from Notjustbingo on the S&S blog here.
---
About Not Just Bingo: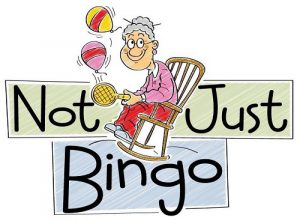 Not Just Bingo is an online resource of fun, senior activity ideas for activity professionals of nursing homes and assisted living facilities. They have been providing fun activity ideas online since 2009, and continue to assist activity professionals across the country by creating meaningful and engaging activity ideas for their residents that go "beyond bingo." Not Just Bingo feels privileged to help activity directors better the living experiences of their residents while demonstrating that a senior's quality of life can actually improve when they move to a nursing facility!
Want even more ideas each month? Visit www.notjustbingo.com for how-to activity ideas, monthly newsletters, and daily holiday ideas. You can also sign up for the Notjustbingo Membership to receive specialized activity ideas to keep your residents and staff engaged, active, and having fun!