Help your residents celebrate this year's theme – Capture the Moment – for National Assisted Living Week (Sunday, September 9 through Saturday, September 15) by providing a weeklong series of activities that get your residents reminiscing about their favorite past moments. Here's a sample week of fun ideas to try out with your residents.
Sunday – Scrapbooking Sunday
Since Sunday, September 9 is also National Grandparents Day, expect to have lots of family members stopping by to visit with your residents. So why not take advantage of their presence by hosting a scrapbooking party for your residents and their family members to record and document their family photos.
Beforehand, contact family members and encourage them to bring old photos and mementos that can easily be placed in a scrapbook. Then during the activity, pass out scrapbooks for residents and their family members to use. Be sure to supply stickers, decals, metallic pens, and other scrapbooking supplies to decorate the scrapbooks.
Monday – Journaling Monday
Get your residents to write about their memories so that they can pass them on to their loved ones. For example, pass out journals for residents to fill with their fond memories, important dates, or even a mockup of their family tree.
Help residents get going with activity by having them write about one of their most memorable days, like their wedding day, the birth of their first child, or even what their first job was like. Afterwards, pass out color pencils and markers for residents to decorate the outside of the journals before mailing them or giving them to their loved ones.
Tuesday – Bucket List Tuesday
Host a fun day full of fun bucket-list events featuring activities that your residents always wanted to check off their bucket list. For example, start the day with a French-inspired Plein Air (outdoor) Painting Class held on your back patio where you provide residents with pre-printed canvases for residents to fill in with paint. Play relaxing music on the patio as you encourage residents to tap into their inner Monet to paint the beautiful landscape pictures.
Next, invite your residents to travel to a foreign land by hosting an Armchair Travel to various world cities. During the activity, make sure to provide snacks that relate to the destinations, like serving eclairs for a trip to France, egg rolls for a trip to China, or salsa and chips for a trip to Mexico.
Finally, wrap up this Bucket List Tuesday by teaching your residents how to play a musical instrument. Grab a variety of musical instruments and pass them out for residents to use as you play popular big band music in the background for residents to play along with. After each song, encourage residents to swap their instrument with someone else.
Wednesday – Reminiscing Wednesday
Use Wednesday as a fun day to reminisce with your residents. Consider playing interesting games to get residents thinking and sharing about their fondest memories. For instance, play a game of reminiscing ball in which residents toss an inflated ball back and forth while answering the questions on the ball. If tossing a ball is not appealing to your residents, then engage them in another fun icebreaking game like Table Topics, where you ask interesting questions for residents to answer.
After all the games have been played, continue with your reminiscing activities by hosting a fun afternoon Reminiscing Tea Party in your facility's Dining Room. Invite residents to dress up for the special event, where you serve tea and cookies while passing around vintage photos to initiate discussion and reminiscing.
Thursday – Oral History Thursday
Recruit lots of volunteers to pair up with your residents to document their stories. Provide the volunteers with a phone or tablet to record your resident answering questions about their early lives, like where they were born, how many siblings they had, and what it was like growing up in their city.
After all the recordings have been done, recruit a few more computer-savvy volunteers to create simple Power Point slides where they can embed the videos before sending to family members.
Friday – Happy Hour Friday
Host a happy hour for your residents where you encourage them to have fun socializing with other residents. Before the event, coordinate with Dining Services to provide tasty appetizers and nonalcoholic drinks for residents to enjoy.
During the happy hour, use your facility's camera to take lots of pictures. In fact, set up a photo booth where residents can come and have their photos taken together using fun photo props, like hats, funny faces, and masks.
Saturday – Yearbook Saturday
Wrap up this National Assisted Living Week by having residents recall the fun they had all week by helping you create photo albums that capture the week's events. Provide residents with photo albums, books, or even contact paper to place all the photos that were taken throughout the week. In addition, provide residents with stickers to make the photos in the albums even more festive.
After the albums and books have been filled, be sure to scatter them on the different coffee tables throughout your facility to encourage residents and visiting family members to look at how much fun you all had this week.
About Not Just Bingo: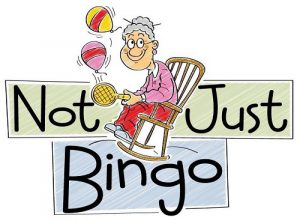 Not Just Bingo is an online resource of fun, senior activity ideas for activity professionals of nursing homes and assisted living facilities. They have been providing fun activity ideas online since 2009, and continue to assist activity professionals across the country by creating meaningful and engaging activity ideas for their residents that go "beyond bingo." Not Just Bingo feels privileged to help activity directors better the living experiences of their residents while demonstrating that a senior's quality of life can actually improve when they move to a nursing facility!
Want even more ideas each month? Visit www.notjustbingo.com for how-to activity ideas, monthly newsletters, and daily holiday ideas. You can also sign up for the Notjustbingo Membership to receive specialized activity ideas to keep your residents and staff engaged, active, and having fun!