S&S had the opportunity to be a part of the Maker Meetup at Jack Jackter Intermediate School in Colchester, CT. Barbara Johnson, the Library Media Specialist, hosted school librarians and other educators from across the state looking for makerspace ideas to try in their own programs. The theme of this event was "Unplugged", where we discovered how many different ways you can "make" with low-tech/no-tech supplies.
One of the best aspects of Makerspace is that it's an outlet for creativity. You can be flexible, open to ideas, and have fun with different items that you may never have imagined could be used for building. At the event, we met several librarians, teachers, and other professionals in the field that were passionate about Makerspace and STEAM. These topics allow kids to explore learning through hands-on activities that allow their imagination and creativity to flow. They can then make connections between the "making" and the subject matter it relates to. It encourages them to learn and aquire knowledge on their own.
MakerMeetup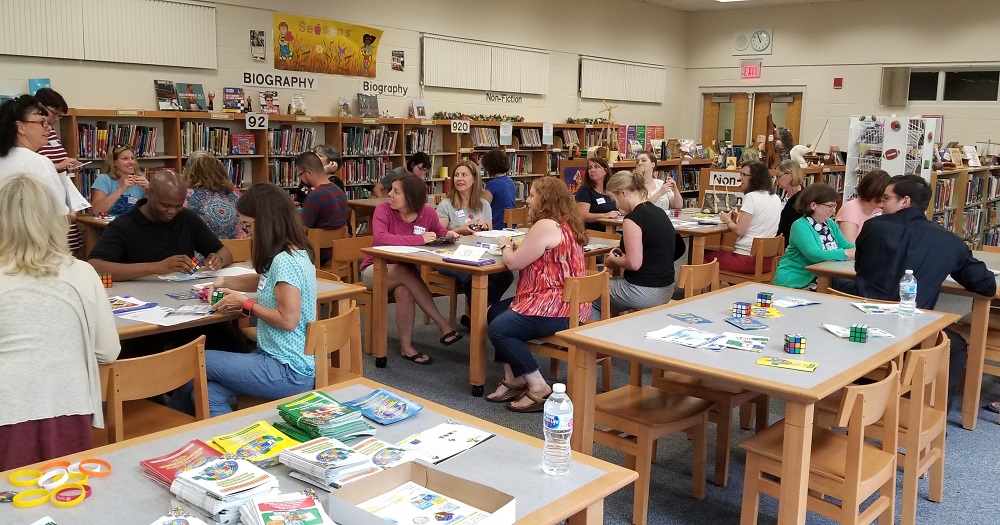 Kickoff Makerspace Activity
The meeting kicked off with a fun Makerspace activity right away! Each group had an activity on their table and were given 30 minutes to create. Groups had plastic cups to make a tower, Play-doh, construction paper, geometric shapes, pattern blocks, and more. S&S had a KEVA Structures Plank Set, and we used them to create a library!
Guest Speaker – Heather Lister
We then had the opportunity to meet with Heather Lister, M.Ed, an international speaker and blogger on the topics of maker education, educational technology, and innovative leadership. She spoke about how she led un-plugged STEAM Challenges in her classroom and lessons she has learned to keep improving the activities each day. Her suggestions and explanation on why Makerspace is so important for student learning is so helpful to educators looking to add this to their program.
To learn more about Heather and get inspired by her ideas, visit www.heatherlister.com.
Featured Makerspace & STEAM Activities
As a proud sponsor of the Maker Meetup event, S&S held a Stations and Rotation Playground. A selection of our STEAM and Makerspace products were displayed for participants to experience hands-on. One product was placed at each table, and everyone had about 10 minutes to either work on a specific challenge, or create their own designs!
Station #1 – Craft Sticks & Connectors
Products:
We all enjoy building, creating, and making with craft sticks. Now you can take it one step further by adding connectors! They allow you to connect your jumbo craft sticks together to create different structures. The set of 348 connectors includes 5 different designs to use for making. The challenge at the MakerMeetup was to build a house or a bridge as a group.
Station #2 – Stick Together Collaborative Sticker Mosaic
Products:
The Hot Air Balloon Sticker Mosaic from StickTogether was among the favorites at the MakerMeetup. This activity is great for groups of all ages. It can be used as a main activity, or a side project for your program when kids have some down time. The kit contains a poster grid, all the stickers you need to create the image, a color key, and instructions.
Station #3 – Zoob Builders
Product:
The ZOOB Challenge features 175 ZOOB pieces, string, wheels, a ball, rubber bands, a foam play pad, building guide for 40 creations, and 14 cards with 35 challenges based on STEM skills. You can also use the pieces to create your own designs and contraptions. The pieces snap together, and you are also encouraged to use other items from your Makerspace to add to the activities.
Station #4 – Roller Coaster Marble Slide
Product: 
With this activity, you can introduce users to motion, momentum transfer, gravity, and centrifugal force. The set comes with wood pieces that you punch out and assemble together. The step by step instructions show you images on how the pieces fit together, and you use small rubber bands (included) to hold them in place. Once it is assembled, you can use the marbles for several fun games! It was one of the more challenging activities at the event, as it takes time to put all of the pieces together.
Station #5 – Snap Circuits®
Products:
Some participants at the MakerMeetup were hesitant to try out the circuits, but once they got familiar with the parts and how it works, it was a success and everyone enjoyed the activity! The goal of this set is to teach you about energy sources and how to think green. You can build over 125 projects and it includes full-color manual with over 100 pages and separate educational manual. Learn about environmentally friendly energy, and even how the electricity in your home works.
Station #6 – Morphun Lion & T-Rex
Product: 
This huge block set by Morphun includes instruction sheets to make a giant lion and a T-Rex – the sheets show how to make each of the 2D layers to then create a finished 3D project! You can also use your imagination to create anything you'd like. The blocks connect vertically with the studs and also sideways. The set is designed for up to 8 groups to work together as a team.
Station #7 – Plus-Plus®
Products:
The most popular item at the MakerMeetup was the Plus-Plus® bricks! The mini mix tub comes with 3,600 pieces and includes basic, neon, and pastel colors (21 colors in all). The simple shape can be used to make so many different animals, flowers, buildings, figures, and more. You can assemble them flat to create a 2-D mosaics or work in 3-D to make more complicated structures. Even curves are possible thanks to the unique design!
Visit their Youtube channel to learn how to make simple project in just a few minutes, and read our article on How to Make a Sea Turtle for step by step instructions and visuals. It was one of the favorites we displayed at the Maker event.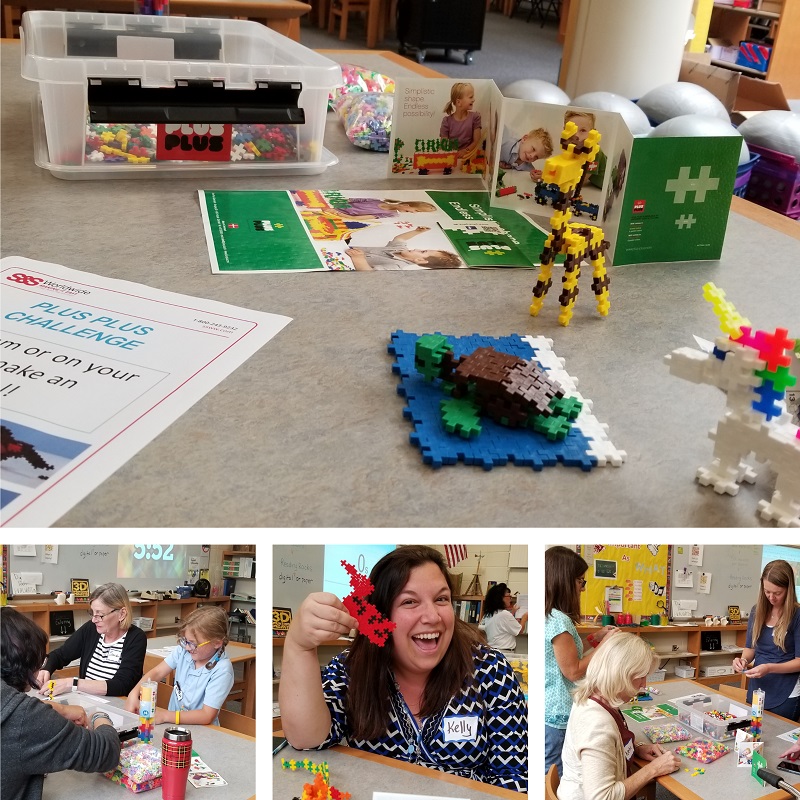 Station #8 – K'NEX® Education
Product:
The K'NEX® Education Gears set is designed to introduce kids to the scientific concepts associated with gears. They can build, investigate, discuss, and evaluate scientific principles in action. The set includes 198 K'NEX parts – enough to build 7 fully-functioning replicas of real-world machines, one at a time. It supports 2-3 students working as a team and is recommended for grades 3-5. Building instructions and comprehensive teacher's guide aligned to STEM Standards are also included.
Station #9 – Brackitz®
Products:
With Brackitz®, students can design and build an endless variety of structures from skyscrapers to submarines, dinosaurs to story-book characters using the unique, flexible connecting hubs and planks. The Wheels & Axles module allows students to create simple moving machines, then explore STEAM concepts as they measure distance and speed, or experiment with the impact of variable incline.
At the MakerMeetup, we instructed the groups to build a hexagon, then either build off of that design or create something from the images we provided. The other challenge was to build a wheel, then create a vehicle, such as a Space Rover or Dragster! The groups did an awesome job.
Station #10 – E-Blox® Circuit Builder
Product:
With this builder set, you can match the circuit pieces to create a real working FM radio, a fan, a light, and more! Kids can have fun building while growing their knowledge in the sciences and engineering fields. They can create dozens of toys and games that light up, make sounds and create motion. Discover how lights, alarms, motors, switches, integrated circuits, FM receivers, amplifiers and more work all while building fun projects.
Rubik's Cube Activities
At the Maker event, everyone was given opportunity to try a few "You Can Do The Rubik's Cube" challenges, which included creating different mosaic patterns and trying to solve puzzles. The activities proved to be quite challenging, but had the group very engaged and it was a great lesson in perserverance. An incentive for completing a challenge was winning a pin and a bracelet, which was a great motivator!
To learn more about the Rubik's Cube Challenge, visit the You Can Do the Rubik's Cube website.
Global Carboard Challenge
One of the highlights of the day was when we participated in the Global Carboard Challenge, where the groups were asked to make an arcade game using duct tape, paper, cardboard, scissors, and any other materials we could find in the Makerspace room. The creativity really shined during this event! There were toss games, pinball, a wrecking ball game, and so many other unique ideas. The activity was inspired by the Caine's Arcade video, a story about a boy who created an entire arcade out of cardboard and other maker materials.
We are so thankful to have been a part of this event. The MakerMeetup was so helpful in allowing educators to learn hands-on activity ideas, as well as strategies on how to implement Makerspace and STEAM into their programs. These fields are such an important part in today's learning environment!
For even more Makerspace resources, visit www.ssww.com/makerspace