What inspires you? Use these awesome crafts and activities to allow kids in your program to express and share their creativity and uplifting messages. Inspirational projects are very popular and a great way to spread kindness and positivity.
Watercolor Crafts
Create a beautiful watercolor message with our special "resist" art design. Makes painting with watercolors easy!
These resist art prints are an easy art activity with outstanding results! Simply brush watercolor paints onto the textured, watercolor paper for beautiful, frame-worthy pieces! The paper is printed with positive quotes in a special metallic gold color resist coating, which repels other colors from the coated area. The hand written quotes stand out in shiny gold as color fills in around the words. A beautiful and inspirational craft for all ages!
Paint Palettes
A convenient way to create a beautiful watercolor painting with a positive message! Use the watercolor palette included on the painting to paint the phrase and the feather. Brushes and instructions included. Printed on cardstock.
This new paint palette design by Crafty Kate is an S&S exclusive. Use the watercolor palette included on the painting to paint and blend colors to paint the fish, ocean, and lettering. Trim off the palette and your artwork is suitable for display or framing!
Simply brush these prints with watercolor paints to achieve a beautiful finished piece suitable for framing! You can paint right over the black velvet flocking, making this an easy success for almost any age and ability. You can also use crayons to create a resist effect with different designs. The watercolor will resist the crayon. It's velvet art taken to a whole new artistic level!
Collages
This exclusive kit allows each person to create their own collage that describes and expresses who they are with words and the shape of their hand. Background design is printed on cardstock. All supplies and instructions are included. You will also need access to a photocopier for the collage words.
Create an inspirational mandala collage that speaks to you! Either use one of the included quotes (2 faith-based and 2 everyday quotes) or create and print your own! Simply choose your quote, color the mandala, cut the quote up, and collage a design on the mandala. All supplies and instructions are included but access to a photocopier is required.
Velvet Art
Posters
All of our velvet art posters have unique designs and patters, and they are all inspiring in their own special way! See all of our inspirational velvet art posters below.
Hang these velvet mandalas on the wall for colorful inspiration! Positive words like "Dream", "Inspire", and "Hope" have been designed right into this innovative spiral mandala shape. White border can be used for writing additional words, phrases, or freehand coloring. Color with markers, colored pencils, or crayons.
Each of these inspiring designs is cut out from durable cardstock and is made to be able to stand by folding the flap, which can also be seamlessly removed to allow the project to hang flat. Accent with glitter glue or gems for extra sparkle and this uplifting project is surly one to be admired!
Personalize your crafts and activities with fuzzy word stickers that inspire and motivate! These stickers can be added to most paper, wood, or plastic projects to send a positive message. Decorate boxes, ornaments, and other gift ideas. The pack includes 12 identical sheets with words like "Be Confident", "Be Happy", "Believe", "Dream", "Fearless", and so many more!
Bead Crafts
Inspirational Beads
All three of our packs of inspirational beads are perfect for expressing a positive message! See them listed below. Or, you can always use any of our letter beads to spell out what inspires you!
Inspirational Beads – A beautiful way to proclaim faith and spirituality! Great for scrapbooking and accents for tons of art projects.
Inspirational Beads Pack, 20mm – Great for making jewelry that expresses who you are and what inspires you. Includes meaningful words such as "IMAGINE", "INSPIRE", "FRIENDS", "DREAM", "BELIEVE", "BREATHE", "DISCOVER", and "JOURNEY".
Inspirational Beads Pack, 12mm – Includes the following 8 meaningful words: "HAPPY", "WISH", "HOPE", "LAUGH", "PEACE", "SOAR", "SHINE", and "LOYAL".
Stitching
No needle required for these stitching plaques! Simply tightly roll a piece of tape onto the end of the floss or yarn that you are using to "stitch" through the holes. Works perfectly and is great for those people who cannot thread or use a needle for safety. Decorating and stitching supplies not included.
Coloring and stitching come together to illustrate this sweet and uplifting design! Use the included markers to color the image, then "stitch" the details. Artwork is pre-cut to make stitching easy. Plastic needles, colorful embroidery floss, markers, and instructions included.
Collaborative crafts
Let your group work together to color and create the velvet art letters that spell out "Persevere". In addition, there are 25 printed writing prompt sheets so that kids can create an Acrostic Poem. Once completed, the words can be displayed in a classroom or common space to motivate your group!
This "Imagine Peace" collaborative craft is a perfect way to inspire your group. Once completed the words can be displayed in a classroom or common space.This  project is ideal for a group between 6-25 kids.
Let your group work together to create this meaningful painting! Stretched canvas and canvas hearts combine to make a thoughtful piece of artwork. Perfect for groups of 6-35 people.
Jewelry crafts
Perfect project for group discussions and as a reminder to be courageous, even when things are difficult. The creator can color and customize the center wood bead and additional bracelet beads with words or decorations by using the included markers!
Perfect for character-building discussions and as a reminder for everyone that kindness and tolerance matter! Customize the center wood bead and additional bracelet beads by using the included markers.
DIY Craft Activities
Wood Crafts
These laser engraved wood discs are a must-have for creating inspirational bracelets and necklaces! Each smooth, uncoated wood piece can be left natural or painted/dyed any color for one-of-a-kind positive message jewelry. Pack of 48 includes 6 each of the following eight words: "INSPIRE", "HAPPINESS", "COURAGE", "PEACE", "KINDNESS", "IMAGINE", "EXPLORE", and "DREAM."
Decorate and personalize these unfinished laser cut wood plaques with what inspires you! Use paint, markers crayons and more! Decorating supplies sold separately.
Paint them, stain them or even leave them natural. These laser cut wooden letters are perfect for personalizing any inspirational art project or craft!
Create coasters, decorative art, and more with these mini wood pallets! Made of unfinished pine, they are ready to be decorated with paint, stain, markers and more. Decorating supplies sold separately.
This double-sided plaque has "Blessed" on one side and "Welcome" on the other, giving you twice as much space to get inspired and create! The lettering is lightly laser burned so that you can easily paint or stain the lettering and add your own designs around the edges. Jute is included for hanging.
You can use any of our Color-Me™ items to create an inspirational work of art. Find several examples below!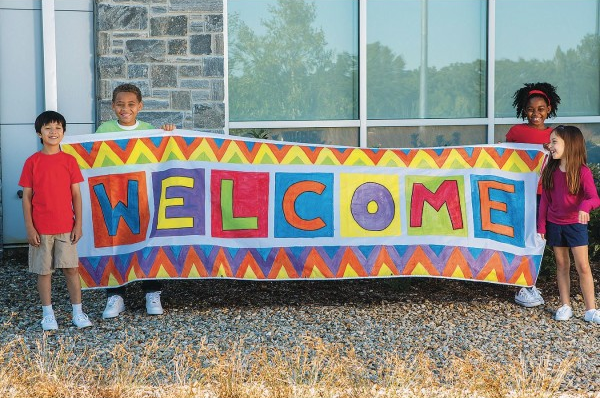 White rip-stop nylon banner is ready to color with fabric markers, acrylic paint, fabric paint and more! Perfect for pep rallies, ball games or anything you can think of. Display your inspirational message loud and proud! Features include grommets for hanging, ties and a sleeve for holding a dowel. Decorating materials sold separately.
Decorate these fabric banners with acrylic paints, permanent, or fabric markers and hang them on the wall. You could even stitch on a design! Pack includes wood dowels and cord for simple assembly. Decorating supplies sold separately.
These blank, self-adhesive bumper stickers are the canvas for your inspirational message! Markers and supplies are not included.
Use as a fan or a sign! Perfect to create paddle signs for use in the classroom. We recommend markers, paint, stickers, glitter and more! Decorating supplies sold separately.
Magnets
A magnetic canvas with a message! Customize this magnet by adding, "I am," "You Are," or "Be" inside the sun. Decorate using paint markers and more. Sticks to most metal surfaces. Decorating supplies sold separately.
Decorate and post a happy wish with our "Be Happy magnet!" Decorate in so many ways, it accepts paint, markers, collage materials, and more! It's a magnetic canvas with a wish. Sticks to most metal surfaces. Decorating supplies sold separately.
"Be Kind" is always a good message to share! These magnets can be decorated in so many ways, and with a variety of materials! Sticks to most metal surfaces. Decorating supplies sold separately.
Paint A Dot
Easy as brushing on the water – the paint is in the paper! Paint and decorate a poster size design of Christopher Robin's famous quote written by A. A. Milne. Markers, glitter glue, brushes and instructions included.
Paint a positive message and hang it on a door! Create watercolor blends in the doodle areas. All door hangers fit over a variety of doorknobs. Brushes and instructions included.
Other Creative DIY Ideas
Our exclusive Tissue Paper Painting Easy Pack makes it so convenient for your group to create with this innovative painting technique! Simply pre-wet the watercolor panel then apply the paper squares randomly or in a planned arrangement. Pieces can be removed while still wet or after drying. The color will have transferred onto the art surface and a beautiful, uplifting piece of artwork will emerge! View the tutorial and video here.
Get in on the rock-painting craze! Perfect for creating Kindness Rocks and for adding natural elements to vases, fairy gardens, terrariums, and any craft! Decorate with acrylic paints and permanent markers (sold separately). Decorative rocks have a polished finish and will vary in shape, size, and color.
For more inspirational ideas, visit our kindness page here.