Celebrate Presidents' Day on February 21st with senior residents by planning a few presidential games and activities to keep them engaged. They can also show off their historical knowledge and work on their mental and motor skills. Here are a few ideas from notjustbingo.com to get you started:
One-on-One Games
Search and Find Challenge -Test your resident's knowledge of our nation's landmarks by playing a fun search and find game using a large poster of the United States

.

Coin Club – Start a two-person coin club with you and your resident as you take out a few state quarters and other coins to examine.
Large-Group Games
Who Came First? – Go online and download a list of the American presidents to see if your residents can correctly guess which president came first when you state the names of two different presidents.
American History Comprehension – Play a fun patriotic trivia DVD

 that shares historic photos and commentary about our nation's history that also test your residents' memories of that history.
Independent Games
Jigsaw Puzzle Challenge – Invite your residents who like to work independently to work on an American road trip jigsaw puzzle. Simply find a location in your facility to place the jigsaw puzzle and encourage residents to stop by throughout the day to complete a portion of the puzzle.
Probability Tally – Set up a table with coins and a tally sheet for interested residents to stop by and flip coins to see how many times out of 100 they get heads. Record the results for residents to compare.
Team Games
Log Cabin Challenge – Divide residents into teams to compete to be the first team to construct a log cabin. Supply the teams with single-serve milk cartons, pretzel sticks, and peanut butter. Award a prize to the first team to finish. For a non-food related option, use blocks like these Lincoln Logs for them to build with.
Debate Team – Host a fun debate activity in which you pick an interesting topic and invite teams of residents to argue for or against. As a fun way to get the activity started, find out how residents feel about the topic – whether they are for or against – and then have them argue the opposite. So, for example, if you asked residents whether the minimum driving age should be raised from 16 to 18, be sure to have those who agree with the statement to argue against it, and to have those who don't agree with the statement to argue for it.
Team Trivia Challenge – Divide residents into teams to see which team can answer the most patriotic trivia questions correctly.
---
About Not Just Bingo: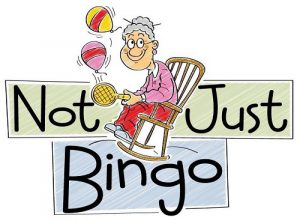 Not Just Bingo is an online resource of fun, senior activity ideas for activity professionals of nursing homes and assisted living facilities. They have been providing fun activity ideas online since 2009, and continue to assist activity professionals across the country by creating meaningful and engaging activity ideas for their residents that go "beyond bingo." Not Just Bingo feels privileged to help activity directors better the living experiences of their residents while demonstrating that a senior's quality of life can actually improve when they move to a nursing facility!
Want even more ideas each month? Visit www.notjustbingo.com for how-to activity ideas, monthly newsletters, and daily holiday ideas. You can also sign up for the Notjustbingo Membership to receive specialized activity ideas to keep your residents and staff engaged, active, and having fun!