For Groundhog Day on February 2nd, treat your residents to fun and games in your Activity Room to celebrate six more weeks of winter!
1. Host a Punxsutawney Phil Breakfast
Arrange to have a special breakfast for residents, featuring all their favorites (items that they may not normally receive) like sunny-side-up eggs, blueberry waffles, and country ham. Encourage residents to dress-up for this special breakfast.
2. Make Sock Puppets With the Grandkids
Schedule an intergenerational activity for residents to make and decorate animal hand puppets with the grandkids. They can even work together to design a puppet theater and put on a show.
3. Organize a Peanut Party
Encourage residents to snack on one of the groundhog's favorite treats: peanuts. Simply cover the tables in your Activity Room with paper and place buckets of roasted peanuts on them for residents to enjoy as an afternoon snack.
4. Snow Toss
If you're in a warmer climate, treat your residents to a day of snow with snow balls to toss into a hoop or bucket.
5. Teach a Shadow Puppet Exercise
Teach residents how to exercise their fingers while making shadow puppets. Use a flashlight to reflect the puppets onto a wall for residents to see the puppets clearly.
6. Host a Groundhog Day Movie Marathon
Show the 1993 movie Groundhog Day, featuring Bill Murray and Andie MacDowell, throughout the day in your Activity Room for residents. Encourage residents to stop in and watch the movie while snacking on popcorn.
About Not Just Bingo: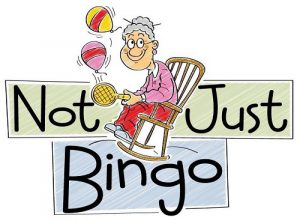 Not Just Bingo is an online resource of fun, senior activity ideas for activity professionals of nursing homes and assisted living facilities. They have been providing fun activity ideas online since 2009, and continue to assist activity professionals across the country by creating meaningful and engaging activity ideas for their residents that go "beyond bingo." Not Just Bingo feels privileged to help activity directors better the living experiences of their residents while demonstrating that a senior's quality of life can actually improve when they move to a nursing facility!
Want even more ideas each month? Visit www.notjustbingo.com for how-to activity ideas, monthly newsletters, and daily holiday ideas. You can also sign up for the Notjustbingo Membership to receive specialized activity ideas to keep your residents and staff engaged, active, and having fun!