How are you planning to celebrate Cinco de Mayo (May 5th) at your senior livng facility this year? Here are 5 games to host at your upcoming Cinco de Mayo celebration as you recognize the Mexican holiday.
Piñata-Hitting Party
Fill a beautiful donkey piñata with candy for your residents to participate in a Piñata-Hitting Party. For the game, provide the residents with a plastic bat to hit the piñata two times. Whoever cracks the piñata gets to pass out the candy.
Taco Bar
Coordinate with Dining Services to provide a Taco Bar Lunch for your residents where they can assemble their own tacos. Provide a variety of tasty toppings for residents to sample like cheese, onions, shredded lettuce, and refried beans. Decorate the scene with a fiesta decorating kit.
Salsa Tasting
Purchase several different brands of salsa from your local supermarket and encourage residents to participate in a Salsa Tasting to see which brand of salsa they prefer. For the activity, decorate a large table with a fiesta tablecloth and place a scoop of each type of salsa into small Dixie cups for residents to sample.
Pass the Sombrero
Play a fun seated game of Pass the Sombrero with your residents. To play, seat residents in a large circle and have them pass a sombrero around a circle for everyone to wear while the music plays. When the music stops, whoever is wearing the sombrero is out of the game.
Peso Toss
Pass out Mexican pesos or gold coins for residents to flip into sombreros during a fun game of Peso Toss. To play, place several sombreros on the floor and have residents toss their pesos into the rim of the hats. Award different point values for each of the sombreros, and provide a fun prize to the participant who accumulates the most points at the end of the game.
About Not Just Bingo: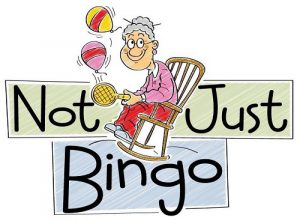 Not Just Bingo is an online resource of fun, senior activity ideas for activity professionals of nursing homes and assisted living facilities. They have been providing fun activity ideas online since 2009, and continue to assist activity professionals across the country by creating meaningful and engaging activity ideas for their residents that go "beyond bingo." Not Just Bingo feels privileged to help activity directors better the living experiences of their residents while demonstrating that a senior's quality of life can actually improve when they move to a nursing facility!
Want even more ideas each month? Visit www.notjustbingo.com for how-to activity ideas, monthly newsletters, and daily holiday ideas. You can also sign up for the Notjustbingo Membership to receive specialized activity ideas to keep your residents and staff engaged, active, and having fun!