Chinese New Year is on February 1st this year, as it is based on the Chinese lunar calendar. Help get your senior residents involved in the traditional festivities by adding a few of these ideas from notjustbingo.com to your activity program:
Host a Chinese Tea Party – If you have lots of tea drinkers in your facility, consider hosting a special Chinese New Year tea party, featuring popular Chinese teas like oolong or lavender. Encourage residents to dress up for this special afternoon tea.
Teach a Fan Dance – Play music and pass out paper fans for residents to use to work their arm muscles as you lead them in a fan-waving exercise. Ahead of time, organize a craft activity for residents to decorate the fans.
Organize a Lantern Festival – Invite residents to use red construction paper make Chinese lanterns to hang in your Dining Room for a special lantern festival lunch. Beforehand, coordinate with Dining Services to provide a "lucky" lunch featuring some of the traditional lucky foods for the Chinese New Year, including dumplings, chicken, and noodles.
Demonstrate How to Use Chinese Yo-Yos – Show residents how to properly use Chinese yo-yos to extend them about four feet before recoiling them.
Play Chance or Luck Games – Encourage residents to play games that try their luck, such as rolling a slot machine ball, or even host a Casino Night, featuring a fun game of Roulette, for residents to see how lucky they are on this Chinese New Year.
Plan a Dim Sum Happy Hour – Arrange to provide a variety of Chinese appetizers, like spring rolls or dumplings, for residents to sample to celebrate the Chinese New Year. During the happy hour, invite residents to paint their tiger nature scene that they can hang in their window to honor this "Year of the Tiger."
Take Residents to China – Organize a "trip" to take residents to China through an Armchair Travel activity. Show residents a travel DVD so they can see Asia up close.
Organize a Mahjong Game – Teach residents how to play the popular Chinese tile game, Mahjong, where residents learn how to make matching suits and pairs using the colorful tiles.
Host a Chinese Checkers Tournament – Gather residents and teach them how to play Chinese Checkers. If enough residents want to play, set up several tables of the game and encourage the winners from each of the tables to play one another.
---
About Not Just Bingo: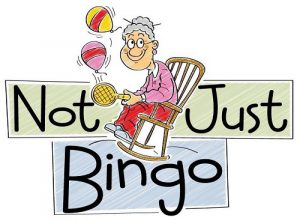 Not Just Bingo is an online resource of fun, senior activity ideas for activity professionals of nursing homes and assisted living facilities. They have been providing fun activity ideas online since 2009, and continue to assist activity professionals across the country by creating meaningful and engaging activity ideas for their residents that go "beyond bingo." Not Just Bingo feels privileged to help activity directors better the living experiences of their residents while demonstrating that a senior's quality of life can actually improve when they move to a nursing facility!
Want even more ideas each month? Visit www.notjustbingo.com for how-to activity ideas, monthly newsletters, and daily holiday ideas. You can also sign up for the Notjustbingo Membership to receive specialized activity ideas to keep your residents and staff engaged, active, and having fun!