Are you looking for a few fun projects that your senior residents can make? If so, then consider using these DIY kits that include easy-to-follow step-by-step instructions and are really fun for your residents to create, for either personal use or as gifts.
1. DIY Wind chimes
Provide residents with a wind chimes kit to create colorful wind chimes that can be hung on their balconies for the season. For the project, have residents paint the wooden lighthouses before attaching the wind chimes using the twine that is supplied in the kit. Be sure to make a few more to set outside of your facility's back patio for residents to enjoy during the summer.
2. DIY Lotion
Invite residents to whip together several different scents of hand lotion that they can use or give away as gifts. Encourage residents to have fun as they experiment with the lotion base, fragrance oils, and liquid coloring to create a unique hand lotion. Just like the wind chimes, be sure to have residents make a few extra bottles. That way you can use them for your hand massage and manicure activities with the residents.
3. DIY Wooden Birdhouses
Use a wooden birdhouse kit  to get your residents showing off their creative painting skills. Invite residents to use the finished birdhouses to create a colorful bird sanctuary in your facility's backyard.
4. DIY Coasters
Encourage residents to tap into their artistic ability to create fun patterns while assembling wood and tile coasters. For the project, supply residents with the wooden coasters to fill in by gluing tile pieces in a fun design. Beforehand, help residents map out their design onto paper before securing the tiles in place. Save the finished coasters for your upcoming summer backyard patio parties.
5. DIY Air Fresheners
Show residents how to make their own air fresheners using fragrance oils. Simply provide residents with markers to decorate the air freshener circles that come with the kit, and then have residents use one or multiple fragrance oils, like lemongrass or lavender, to create their own summer scents. Encourage residents to hang the finished air fresheners in their cars or homes, or to give them as gifts to loved ones.
Find more ideas from Notjustbingo on the S&S blog here.
---
About Not Just Bingo: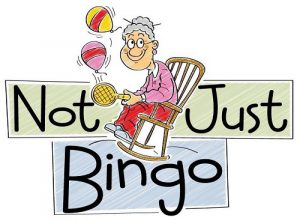 Not Just Bingo is an online resource of fun, senior activity ideas for activity professionals of nursing homes and assisted living facilities. They have been providing fun activity ideas online since 2009, and continue to assist activity professionals across the country by creating meaningful and engaging activity ideas for their residents that go "beyond bingo." Not Just Bingo feels privileged to help activity directors better the living experiences of their residents while demonstrating that a senior's quality of life can actually improve when they move to a nursing facility!
Want even more ideas each month? Sign up for the Notjustbingo Membership to receive specialized activity ideas to keep your residents and staff engaged, active, and having fun!