Are your residents artistic and creative? If not, then use National Assisted Living Week (September 8-14) as a way to incorporate art therapy activities into your senior activity program. This year's theme is "A Spark of Creativity," so be sure to help your residents explore their creativity through fun art therapy activities that include a variety of art forms.
Painting
Provide residents with fun painting kits where they can showcase their creative design. For example, use ceramic piggy banks that residents can easily paint in fun colors or even ceramic bisque plates so that residents can try to replicate popular China patterns.
Another painting option is to use watercolors instead of acrylic paint. For instance, if your residents would prefer to create their own design and choose their own colors, then supply them with watercolors and watercolor paper panels, where they can freehand their own artwork. If, however, your residents need more guidance on shape and color, then provide them with paint-by-number prints or watercolor velvet art that they can easily fill in with the water-soluble paint. Furthermore, if you have residents who need even more help with painting, try Paint-a-Dot kits or super simple Aquapaintings, where residents only need to add water to the prints to reveal the design.
A third painting option is finger-painting. For this activity, simply supply residents with finger paints and finger paint paper, and then encourage them to get their hands messy while having fun.
Sculpting & Molding
If you want to see how well your residents do with sculpting, then supply them with air-dry sculpting clay so that they can create their own sculptures. Encourage residents to use their hands to mold the clay, or supply them with sculpting tools if they would rather sculpt the clay. Then allow the clay to dry overnight so that it can harden before residents start painting the sculptures. If the clay is still really cold to the touch, then it's not dry yet.
If, instead, you want to use colored clay or to use clay that can be reused, then supply residents with playdough or modeling clay. Just make sure to place the lid back on the playdough container so that it doesn't dry out. In addition, when using reusable clay, you can even add in fun games. For example, invite residents to play a game of Clay Pictionary, in which you supply each resident with a mound of clay and then name an animal to see who can create the animal the fastest.
Drawing
Another art therapy idea is to use colored pencils to teach residents how to draw basic shapes and use shading to create dimension. Simply provide residents with drawing paper, and encourage them to have fun creating their own designs. To create a textured surface that is great to color/draw on with colored pencils (especially if your using budget brand pencils but want bold color) base coat your paper with white tempera paint and allow to dry before starting your drawing.
Another fun project to try is providing crayons first to create an abstract design on the drawing paper and then use watercolor paint mixed with plenty of water to wash color over the crayon design to create an interesting wax resist! You can see a finished sample of a flower resist design that was made using this same process here.
Photography
Have your residents ever wondered how to use their phones to take pictures? If so, then host a fun photography class where you teach residents how to take high-quality photos using their phones while making sure to pay attention to focus, natural light, and perspective when taking the shot. Then once the class is done, encourage residents to pick out their favorite photos to download and place in a wooden frame that they can decorate or stain to match the colors in their photograph. Or mat the finished pictures with these cardboard frames for display and host a gallery opening!
Textiles
If your residents are more receptive to textiles, then host a fun decorating class where residents use fabric markers or fabric paint to decorate plush sea animals or these teddy bears that can be given as gifts to their grandchildren. Another project to try would be creating personalized pennants that can be decorated using fabric paint or fast-drying fabric markers used as room decor.
Doodling & Scribbling
Do your residents like to doodle? If that's a yes, then teach them the technique of scratch art. For instance, provide them with scratch art paper, and then show them how they can "doodle" on the paper using a stylus that removes the top black layer to reveal the color underneath.
Printmaking
For your more creative residents, introduce them to block printing, where they can use a linoleum carving set to create a block print on clear linoleum plates that can be easily transferred to paper or fabric. Or for residents that can't use carving tools, have them quickly paint a design with acrylic paint onto the clear linoleum plate and press paper onto the wet paint to create a monoprint!
Another great "no carve" project to try is using basic ball point pens to create a design by drawing on these foam plates, rolling on acrylic paint with a brayer and pressing paper on top to create a print! The ball point pens seem to effortlessly glide on the styrofoam surface, making it easy for residents with limited hand strength or dexterity. These budget friendly foam printing plates can be used over and over, so this is a great way to use the same design to make multiple cards!
Weaving
Finally, encourage residents to use their hands to weave fun crafts, like baskets, bracelets, or even the classic woven potholder.
---
About Not Just Bingo: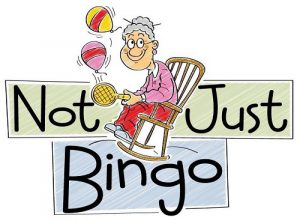 Not Just Bingo is an online resource of fun, senior activity ideas for activity professionals of nursing homes and assisted living facilities. They have been providing fun activity ideas online since 2009, and continue to assist activity professionals across the country by creating meaningful and engaging activity ideas for their residents that go "beyond bingo." Not Just Bingo feels privileged to help activity directors better the living experiences of their residents while demonstrating that a senior's quality of life can actually improve when they move to a nursing facility!
Want even more ideas each month? Sign up for the Notjustbingo Membership to receive specialized activity ideas to keep your residents and staff engaged, active, and having fun!