Use fun puzzles with your senior residents to keep them alert and engaged. Try adding in a few puzzle activities each week in your Activity Program that can work as either group or individual activities. Here are 7 puzzle activity ideas to get you started:
1. Picture Puzzles: Challenge one of your bedridden residents to a fun Picture Puzzle Book Contest to see who is first to Spot the Differences between two pictures.
2. Word Puzzles: Make copies of puzzles from Word Search Books and Crossword Puzzle Books to pass out to residents for a fun group puzzle game. To play, divide residents into teams and have each team work together to try to solve their word search or crossword puzzle first.
3. Tactile Puzzles: Help improve your resident's finger mobility by challenging him to a fun tactile puzzle where he can use his hands to solve a Rubik's Cube. If multiple residents are involved in the activity, be sure to time each one to see who can solve the cube puzzle the quickest.
4. Maze Puzzles: Engage your hallway walkers by setting up a Maze Station in a common area of your facility where you encourage people to stop to solve a maze game. Use either a spiral maze or a magnetic maze for the activity.
5. 3-Dimensional Puzzles: Use fluorescent lights from a 3-dimensional puzzle to challenge a resident to complete a puzzle card using the pieces that light up on the board.
6. Simon Memory Puzzle: Introduce your senior resident to the fun sequence memory game of Simon, in which your resident tries to remember and replicate the sequence from the electronic game.
7. Jigsaw Puzzles: Finally, use fun jigsaw puzzles to keep your residents engaged cognitively. Set up puzzle contests where teams of residents compete against one another to solve their jigsaw puzzle first. If the typical jigsaw puzzles are too hard for your residents to maneuver, then try using these large jig-stick puzzles instead.
Find more ideas from Notjustbingo on the S&S blog here.
About Not Just Bingo: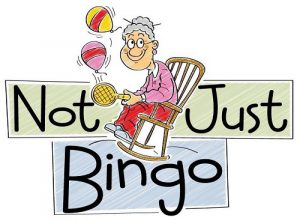 Not Just Bingo is an online resource of fun, senior activity ideas for activity professionals of nursing homes and assisted living facilities. They have been providing fun activity ideas online since 2009, and continue to assist activity professionals across the country by creating meaningful and engaging activity ideas for their residents that go "beyond bingo." Not Just Bingo feels privileged to help activity directors better the living experiences of their residents while demonstrating that a senior's quality of life can actually improve when they move to a nursing facility!
Want even more ideas each month? Sign up for the Notjustbingo Membership to receive specialized activity ideas to keep your residents and staff engaged, active, and having fun!