With every November comes National Take a Hike Day, which is a perfect opportunity to get your residents up and walking outside of their routine paths. To make the activity sound more appealing for your residents, add in a fun craft beforehand that allows residents to create their own personalized walking equipment. Here are some activity ideas from our friends at Not Just Bingo for your inspiration: 
Walker Bags: Recruit residents to decorate their own canvas walker bags to add to their walkers using fabric markers, fabric paint, and self-adhesive gems. Better yet, host a decorating competition to see who can create the most unique walker bag. 
Walking Sticks: Invite residents to dress up their boring canes by using self-adhesive gems that you can peel in stick in strips or patterned duct tape. Simply wrap the tape around the canes to create colorful designs and add gems for extra sparkle. 
Walking Shoes: For those who don't need walkers or canes, get them into the act by decorating shoelaces for their sneakers.You can also provide your group with simple embellishments like chenille stems or funky patterned shoelaces or to jazz up their footwear.  Another idea is to provide residents with white cotton laces and fabric paint or fabric markers (for less drying time) to create unique designs that will liven up their walking shoes. 
Walking Exercise: Finally, once everyone has decorated their walking equipment, host a fun Walk-A-Thon in your facility for residents to get their exercise. For a change of scenery try hanging some interesting new posters or festive decorations along the walking route. If possible, contact family members ahead of time to sponsor $1 for each lap that their loved one takes in your hallways and then donate the proceeds to a local charity!  
It's important to include even those residents with limited mobility who can't participate in the actual Walk-A-Thon event. Encourage them to play an outdoors themed board game or perhaps hand out water to the mobile participants and cheer them on with pom poms and megaphones!
Find more ideas from Notjustbingo on the S&S blog here.
About Not Just Bingo: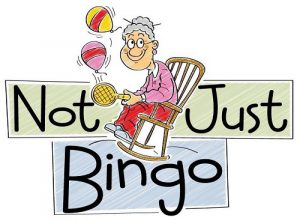 Not Just Bingo is an online resource of fun, senior activity ideas for activity professionals of nursing homes and assisted living facilities. They have been providing fun activity ideas online since 2009, and continue to assist activity professionals across the country by creating meaningful and engaging activity ideas for their residents that go "beyond bingo." Not Just Bingo feels privileged to help activity directors better the living experiences of their residents while demonstrating that a senior's quality of life can actually improve when they move to a nursing facility!
Want even more ideas each month? Sign up for the Notjustbingo Membership to receive specialized activity ideas to keep your residents and staff engaged, active, and having fun!