Cactus crafts are taking the craft world by storm! You can draw them, paint them, color them, create sand art, make velvet patches to go on your backpack, or even use embroidery to create a nice keepsake art project.
This can even go along with a Western theme, or you could plan a whole week of activities around hanging plants, succulents, and cactus crafts!
Cactus Bookmarks
Our Color-Me™ Cactus Clip Bookmarks are a customer favorite! The pack of 24 features 6 each of 4 cactus and plant designs! Kids can decorate them with markers, watercolor, and more. Then clip them to your book page to save your place! These make great gifts – they can even be use for a fundraiser to raise money for your craft program. Use markers or wiggly eyes to add a silly face.
Cactus Embroidery Kit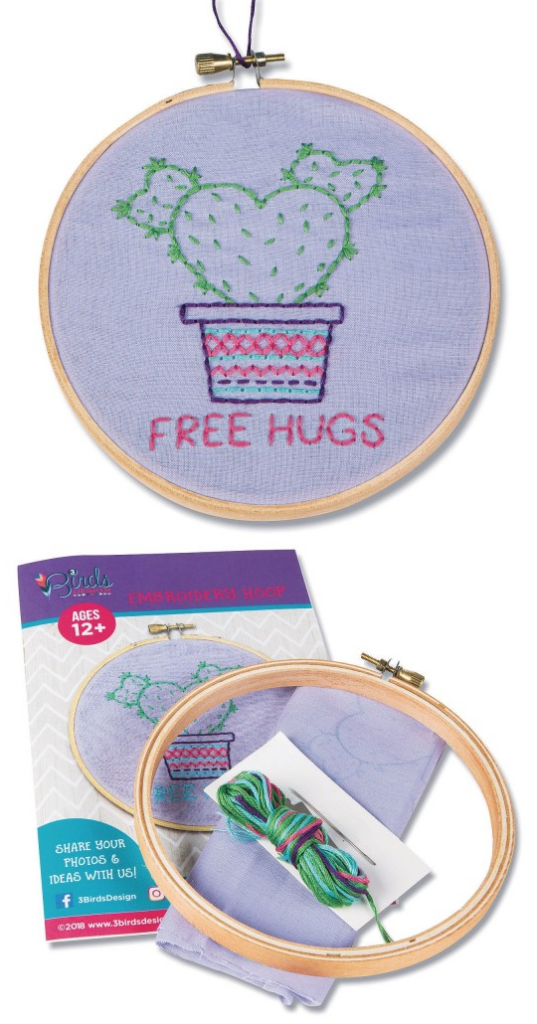 Our new Cactus Hugs Embroidery Craft Kitis a perfect stitching activity for older groups of kids in your craft program. The kit comes with 12 individually bagged projects, making it easy to pass out materials. Each bag includes a hoop, floss, printed fabric, needle and threader, and instructions.
Cactus Shapes
There are so many fun ways to color and decorate these Watercolor Paper Shapes! They are made out of extured white watercolor paper, die-cut into 2 unique cactus shapes. Kids can color them with watercolor paints, watercolor colored pencils, or water-based markers. You can also add some details with a fine point marker, add a face with with marker or use wiggly eyes, and even glue on a pom pom for a 3D flower. The pack of 60 includes 30 each of the two designs, so this is perfect for a large group if you are planning a cactus theme.
Use these shapes as embellishments to other projects, or to add dimension to watercolor paintings using 3D glue dots!
Cactus Sand Art
Add a sand art project to your cactus theme with this new Velvet Sand Cactus pack. Simply peel off the protective paper and sprinkle colorful sand to the sticky side of the velvet chipboard designs. Then use the included scratch tool to scratch designs into the sand. The pack includes 24 designs, sand, and the scratch tools.
You can even sprinkle sand on the scratched designs for a truly unique piece of artwork!
DIY Wood Cactus Plant
How cute is this little mini wood cactus plant? And you don't ever have to water it! First, color mini wood shapes with your own cactus pattern – we used green and white acrylic paint. The insert a piece of foam into a mini terra cotta pot or paper mache pot. You may need to cut slits into the foam depending on what type you are using. Then insert the wood pieces you decorated!
DIY Cactus Canvas Art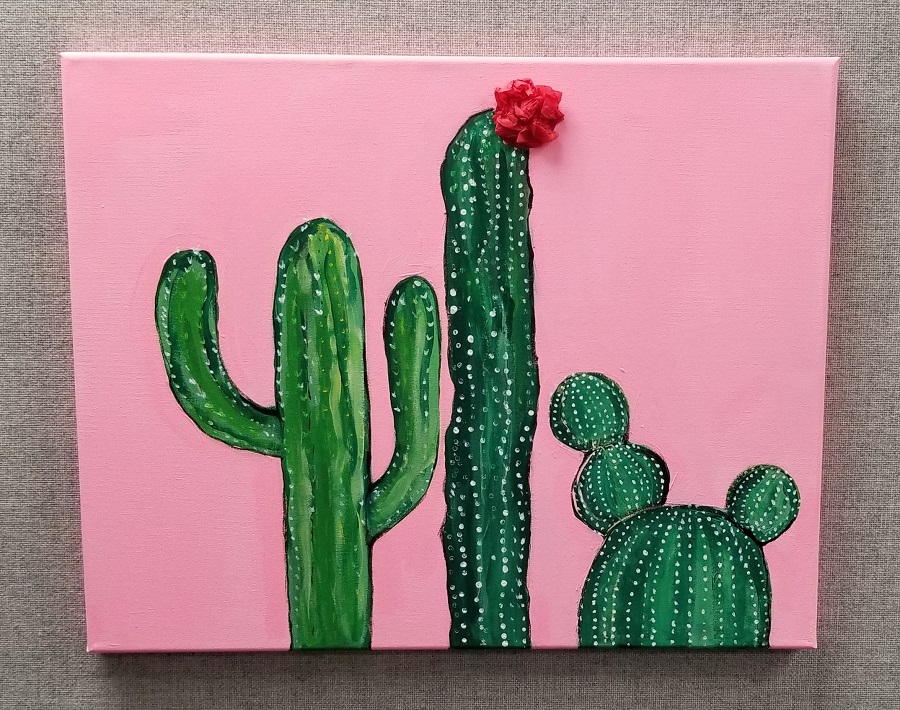 Create your own work of art with a blank canvas and some acrylic paint! Color your canvas with a background color, draw your design in pencil or marker, then paint it. Mix standard green paint with yellow to get different shades of green. Add white and black markings and outlines for more detail. You can also make it 3D using tissue paper, pom poms, and other craft trims for the cactus flowers.
You can even turn this into a Paint Night activity for an older group of kids or adults. Have a master copy and take them step by step through the painting process. Provide the following materials at each station or work area:
Squishy Cactus Craft
These new Color-Me™ Squishy Cactus are one of our new favorites! It combines sensory and crafting! It's like a stress toy that you can design. Decorate them with permanent markers and then squeeze! The pack comes with 12 white cactuses to color.
Craft Packs with Cactuses
Velvet Art Patches
Even though this pack of Velvet Art Iron-On Patches has 10 different design options, we just had to include it because it comes with a cactus patch – plus so many other popular trendy designs. Collecting patches is a classic summer camp favorite activity, and now kids can choose their own colors and decorate them with their own creativity!
Color the patches with permanent or fabric markers, gel pens or fabric paints. The iron-on adhesive backed cotton patches are also easy to adhere to fabric surfaces, like this white Color-Me backpack.
You can also use these as incentives and "rewards" and encourage a collection of multiple designs.
Paint Pins Craft Kit
This pack of 24 includes 4 different designs – a cactus, rainbow, heart and flamingo! Paint the metal pin bases with the included glass stain, attach the pin back, and you have a super cute accessory to wear! Note that dry time is approx. 2 hours.
Cactus Balancing Game
Want to add a fun cactus activity to your cactus theme? Try this balancing cactus game! Players try to build a whole cactus themselves, or take turns adding pieces. The player who can build and balance the cactus without making it fall is the winner! The pack includes 18 pieces in 3 different sizes and 5 colors, plus one big cactus base.
For ideas on creating your own cactus gardens, succulent projects, and hanging plants, visit our blog DIY Succulent Crafts, Hanging Plants & Air Gardens.