Unicorns are a super trendy theme this year, so we've picked out some of our favorite crafts and activities for you to try. Whether you are hosting a unicorn themed birthday party, summer camp event, or just looking for ideas for your program, these ideas are sure to inspire you and your group!
Unicorn Half Mask
Decorate these pre-printed unicorn half masks with paint, markers, sequins, glitter, gems, and more! Great for dramatic play and imaginative role-playing. The pack of 24 also includes elastic. The masks are made of cardstock.
Squishy Unicorn Craft
A squishy is like a stress toy that you design! Decorate these Color-Me unicorns with permanent markers – then squeeze!
Paper Roll Unicorn
These cute unicorns by Red Ted Art are made from recycled toilet paper rolls! Cut strips of coloful paper, wrap them around the roll, then glue yarn for the mane and tail. Add ears, and don't forget the horn – use glitter foam to make it sparkle! Then draw the eyes using a black marker, and add some rosy cheeks by dipping your finger in pink paint. View the full instructions here.
Materials: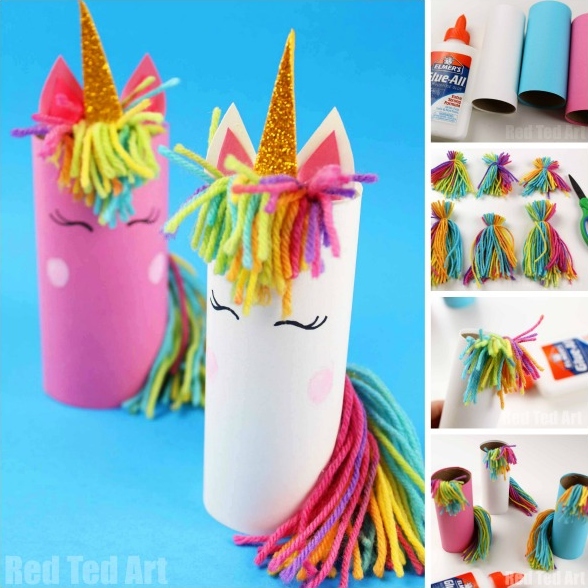 Fuse Bead Unicorns
Use fuse beads to make unicorn magnets! Choose the color you'd like to make the mane, tail, and hooves. Separate them in a craft cup to make it easier when creating your designs. These unicorns were made on a square pegboard. Follow the pattern in the download from Cutesy Crafts. Add a magnet to the back so you can display them!
Materials:
Colorful Pool Noodle Unicorns 
Grab a few pool noodles and make some colorful unicorns! There are a few different ways to make them, but these ones from Pinterest are our favorite. First, fold the top of the noodle over and hold it in place by wrapping it with a piece of decorative paper, felt, or tie a ribbon around it. You can also use crepe ribbon or burlap. Get creative with your materials! Then fold and tape some colorful pieces of paper or foam to create the ears and the horn. Glue them to the noodle, along with some wiggly eyes. We also love the idea of using sparkly sticky gems for the nose!
Materials:
Unicorn Piñata
Are you having a unicorn themed birthday party this summer? It's not complete without a uncicorn piñata! Fill it with candy and party favors, and have each guest pull one of the colorful strings at the bottom to see who gets lucky and releases the candy. Make sure to hand out some favor bags when the contents drop so kids can gather up all the goodies. The best part is, pull string piñatas can be saved for a room decoration or keepsake.
Unicorn Tattoos 
These temporary unicorn tattoos are great party favors for goodie bags at your unicorn themed event! The pack comes with 144 tattoos, which is perfect for large groups and events like field day, summer camps, and park and recreation programs. There are 6 brightly colored and unique unicorn designs. They apply easily with water and wash off just as easy.
Unicorn Finger Puppets 
Our Color-Me™ Paper Finger Puppets come with the perfect horse shape to make a unicorn! This DIY craft is perfect for young kids and encourages dramatic play. The puppets are made out heavy weight uncoated card stock and can be decorated with markers, watercolor, and other easy craft materials. View our Animal Finger Puppets – Easy Craft for Kids blog post for step by step instructions on how to make the unicorn design below.
Unicorn Slime
Combine unicorns and slime for the perfect trendy craft activity! There are many ways to make it, but our favorite is this glittery pink, gold, and blue slime from The Best Ideas for Kids. Follow our blog tutorial on How to Make Slime – A Safer Reciper for Kids – just add glitter before adding the contact solution.
Materials:
If you would prefer to make rainbow unicorn slime, view this tutorial from the Kids Activities blog.
Unicorn Flower Pot 
What's just as popular as unicorns right now? Succulents! Make this unicorn flower pot by painting a mini terra cotta pot with white acrylic paint, then cut a horn out of glitter foam and glue it to the inside. You can also add flowers and leaves for a creative summer look. Then draw the eyes with a black marker. Fill with soil, plant your favorite succulents, and display in a sunny window! View the full tutorial at Easy Peasy and Fun. 
Materials:
Share your favorite unicorn crafts and activites below, along with any photos of your DIY projects!