How to Throw a Patriotic Carnival for Independence Day (or for Memorial Day, Flag Day, or Even Labor Day)
Host a fun patriotic carnival at your nursing facility to get your residents in the patriotic mood and having fun this summer. To have a successful patriotic carnival, be sure to include four elements: a concession stand, games, patriotic decorations, and entertainment.
1. Concession Stand
Set up a few concession stands in the backyard for residents and visitors to stop by for food. For instance, coordinate with Dining Services to provide a carnival-themed lunch by setting up a hot dog stand to serve hot dogs and drinks.
In addition, set up other concession stands in the backyard that serve candy and treats, like a funnel cake station where you make funnel cakes using a waffle iron, a pretzel stand where you use a mini pretzel maker to make tasty mini pretzels, a popcorn stand to serve fresh popcorn in bags, and a cotton candy stand to pass out cotton candy bags.
2. Games
Use some of your residents' favorite games in your activity closet for the carnival. In addition, provide a few carnival-themed games, like a duck pond game where you fill the pool with water and have residents try to toss rings around the ducks to win prizes.
Other fun games include a knock-down can game or even a bubble blowing contest for the little ones where they try to blow bubbles that stay in the air the longest.
Be sure to reward residents with fun patriotic prizes, like key chains, patriotic yo-yos, or patriotic paddle ball games.
3. Decorations
Before the fun begins, recruit volunteers to help you set up for the carnival. Use patriotic bunting to decorate the backyard. Then once residents arrive, pass out a few patriotic souvenirs for residents to use, like mini flags for residents to wave, patriotic topper hats for residents to wear, and patriotic fans for residents to keep themselves cool.
4. Entertainment
During the carnival, provide a few entertaining activities, like an Uncle Sam Sing Along using a sing along CD where residents sing patriotic songs together, or a fun patriotic kite show where residents decorate and fly their own plastic kites to see whose kite can fly the highest.
About Not Just Bingo: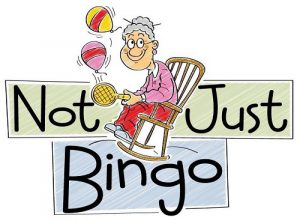 Not Just Bingo is an online resource of fun, senior activity ideas for activity professionals of nursing homes and assisted living facilities. They have been providing fun activity ideas online since 2009, and continue to assist activity professionals across the country by creating meaningful and engaging activity ideas for their residents that go "beyond bingo." Not Just Bingo feels privileged to help activity directors better the living experiences of their residents while demonstrating that a senior's quality of life can actually improve when they move to a nursing facility!
Want even more ideas each month? Visit www.notjustbingo.com for how-to activity ideas, monthly newsletters, and daily holiday ideas. You can also sign up for the Notjustbingo Membership to receive specialized activity ideas to keep your residents and staff engaged, active, and having fun!