April is Stress Awareness Month! These Color-Me™ Squishy Toys can be personalized and decorated with permanent markers. Give them a squeeze when you're done! It's a stress toy that you design! See all of our new squishy toy products highlighted below.
This is a great way to teach stress management to kids, and allow them to express how they are feeling, especially during a time where kids are at home and doing virtual learning.
Don't you love this squyishy donut!? Kids can get creative and make different donut flavors, like chocolate with sprinkles, strawberry, or create a whole new flavor! We used permanant markers to color the outside of the donut, and left the frosting white but drews sprinkes with a fine tip marker and then colored in the sprinkles with rainbow colors.



Kids will love decorating this magical unicorn! We used purple, blue, pink, and green markers to color the unicorn's mane and tail. We also added some stars on it's body and stripes on the horn. Don't forget the eye and eyelashes! Kids can then use the unicorn as a stress or fidget toy and for dramatic play.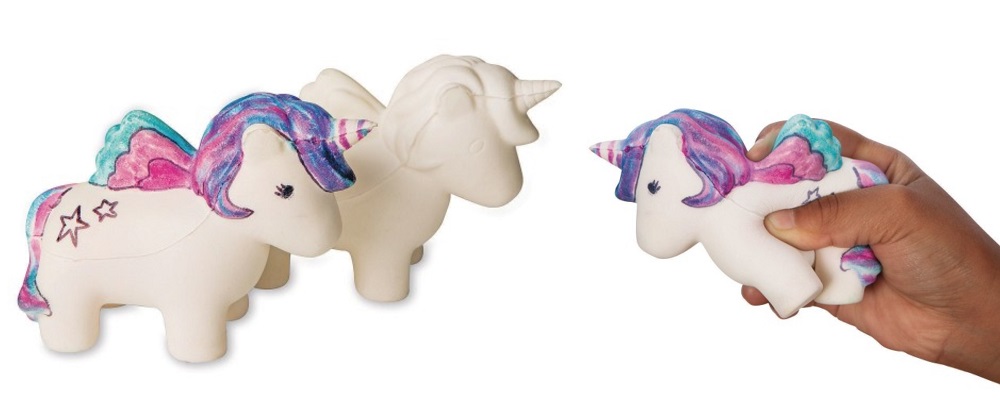 Color your heart pink, red, yellow, multi-color, and more! There are so many fun ways you can decorate this squishy heart. Draw a silly face, or write a kind message and give them as gifts. These hearts can then be used as a stress reliever – you can even give them out in the classroom as incentives, and even for lessons on the heart muscle.
For dog lovers, this squishy dog craft is an all time favorite. Kids can create a replica of their own dogs. We used brown for the body, then left some spots white! Add a collar and other details like the nose, eyes, and mouth. Use these Color-Me™ Doghouses  for a fun imaginative play activity!
This silly cactus is our favorite! There are several elements to decorate, including the pot, flower, growing cactus on the side, and facial features. These squishy toys have some guidance on where you can color with it's beveled sections to make it easy for young groups. Plan a fun cactus theme this summer with these fun ideas!