With everyone focused on going back to school, consider adding a few new classes to your senior activity calendar. Here are a few ideas from notjustbingo.com that will allow you to teach your residents a few new skills.
1. Pottery Class – Use air-dry clay to teach your residents how to make clay projects like bowls, dishes, and even clay animals. Explain to residents how working with clay can improve their dexterity. Find a place in your Activity Room to display the finished pieces each week.
2. Knitting Class – Gather residents who know how to knit to be the helpers in this relaxing class. Pair residents together as you teach them how to stitch a scarf using colorful yarn and knitting needles. If your residents find knitting too difficult, consider showing them how to use latch hook kits instead.
3. Tie-Dye Class – Teach residents how to tie-dye t-shirts or bandanas. Use tie-dye colors that are appropriate for the season (e.g., bright colors for summer, muted colors for fall). Consider selling the finished items to raise money for your craft supplies. Visit this Tips & Tricks to Tie Dye blog for step by step tutorial.
4. Mosaic Tile Class – Show residents how to create beautiful tile coasters using small ceramic tiles. Once your residents have become pros at creating mini coasters, show them how to create larger mosaic projects using fiberboards, plaster, and tiles.
5. Woodshop Class – Use easy-to-assemble wooden kits to teach residents the art of building great wood pieces. Show residents how to assemble, sand, and paint the pieces. Encourage residents to wrap up their finished projects to give as gifts or toys to their grandkids.
6. Painting Class – Set up areas in the backyard to host an "en plein air" (French for open in full air) painting class for residents to paint the landscape that they see around them onto a canvas. Find a space on the wall to hang the art canvases. After you have enough samples of art, organize an art gallery in your Activity Room and invite family members and other residents to browse and admire the artwork.
7. Entomology Class – Take advantage of the warm weather this season by leading residents outdoors to catch butterflies and other insects using nets. Place the captured butterflies in a Butterfly Garden and place the insects into bug viewers for residents to inspect and observe before letting them go.
8. Music Class – Invite a piano player to help lead the class as you teach residents the proper pitch for singing along. Pass out instruments for residents to play as they hear the music.
About Not Just Bingo: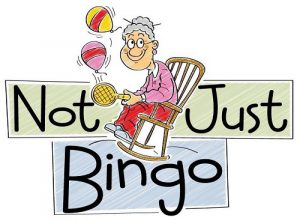 Not Just Bingo is an online resource of fun, senior activity ideas for activity professionals of nursing homes and assisted living facilities. They have been providing fun activity ideas online since 2009, and continue to assist activity professionals across the country by creating meaningful and engaging activity ideas for their residents that go "beyond bingo." Not Just Bingo feels privileged to help activity directors better the living experiences of their residents while demonstrating that a senior's quality of life can actually improve when they move to a nursing facility!
Want even more ideas each month? Visit www.notjustbingo.com for how-to activity ideas, monthly newsletters, and daily holiday ideas. You can also sign up for the Notjustbingo Membership to receive specialized activity ideas to keep your residents and staff engaged, active, and having fun!